I was using safari. Suddenly a white box pop up appeared saying I had been using sites related to illegal porn. I was not viewing anything illegal. I powered off my phone quickly in fear of a virus, I remembered it was asking for money. I was not sure whether it was real, because the white box pop up looks so genuine (identical box that appears when your iOS update is available but was a bit longer) any way would this be a scam pop up or do apple ever send things like this? It happens again, I go a screenshot. Is this a piece of malware? Who can help me remove this virus? Please help!
Description of White Virus Page Pops up Hits Your Smartphone
If your phone is locked, you see a white warning page pops up asking you for money while you are trying to visit a website. That means your mobile phone is infected with a piece of malware known as white virus page. So what is white virus page pops up, do you have any knowledge about this virus? For this virus, we call White Screen virus. It's an unpleasant program that has recently started scaring many phone users. A huge white screen will occupy your smartphone out of nowhere and block all your programs. In effect, once a white virus page pops up that occupies on your phone whole screen, it means your mobile phone has been hacked. You may have already heard about a series of fake police virus related ransomware programs that block user's phone claiming the users have acted against law. Some infamous viruses like FBI MoneyPak virus, United Kingdom Police virus, Cerber2 virus and many more. Scammers attempt to utilize this virus and trick you pay a fine in this way.
Once this white virus is installed on your phone, the white virus page will display a bogus notification that pretends to be from a law enforcement agency and states that your smartphone has been locked. Maybe you may ask why your mobile phone is always attacked by virus. You just surf the Internet likes many people do. But first I may want you to recollect whether you opened some malicious websites or click some strange-looking links pop-ups while you was surfing the Internet, or sometimes you watched some child porn on illegal websites. These behaviors would make your phone was vulnerable to the threat of the virus.
Possible Danger Caused By White Screen Virus Scam
It will take control of your smartphone rapidly once it is downloaded.
It will pretend itself as a legit warning and then ask for a ransom.
It will not allow you to change your phone settings or download antivirus program.
It will not let you power off the phone or do anything else except for inputting the demand Moneypak code or Ukash code.
It may damage your mobile phone system.
Tips to Prevent White Virus Page from Installing on Your Phone
1. Pay attention to apps you are trying to install. You should always be judicious about which apps are safe and where they come from. The best way is to stick with downloading well-known apps from reputable markets like Google Play in order to have some security apps.
2. Avoid visiting some phishing websites or pornographic sites. There are a large amount of viruses involved in these shady websites. They could get your personal data and steal your credit card details. Experts suggest you go to some legitimate sites to watch movies.
3. Install a reliable antivirus app. An antivirus program can help you obstruct most of suspicious apps when you install apps on your android device, it will minimize the risk of your phone being infected with white virus page pops up.
Screenshots of White Virus Page On iPhone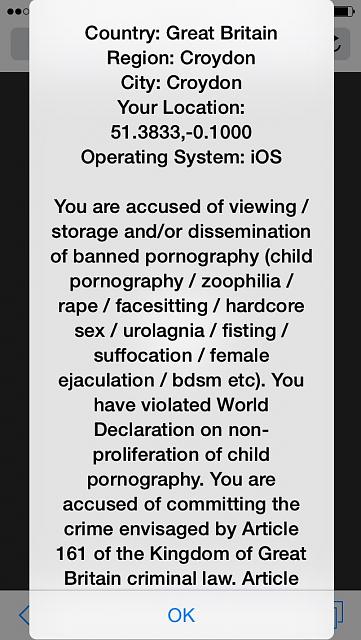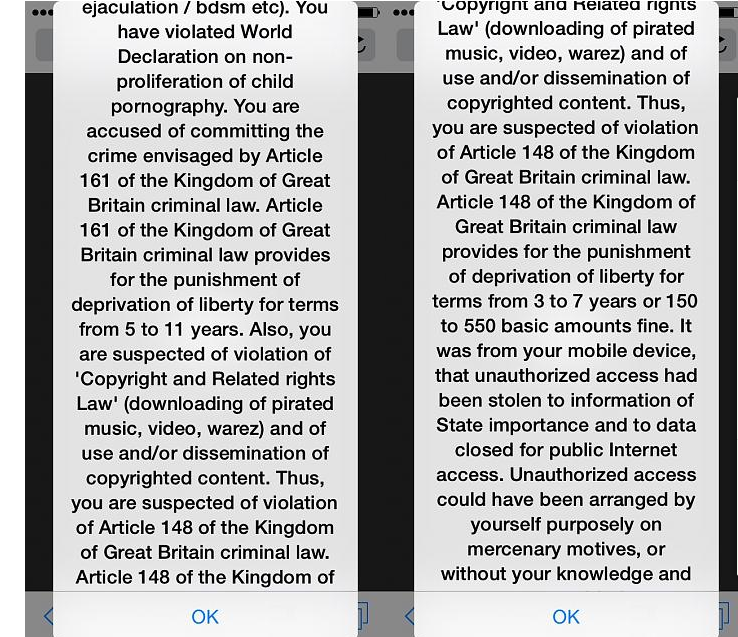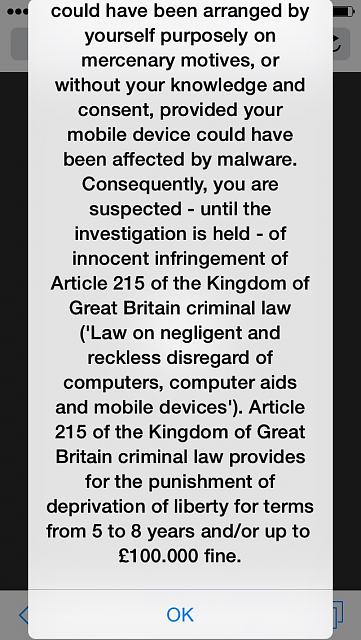 Removal guide White Virus Page From Android Phone
1. Restart your android device to safe mode.
Safe Mode is a mode that allows your phone to uninstall any suspicious apps which cannot be removed in the normal mode.
Guides to get to safe mode: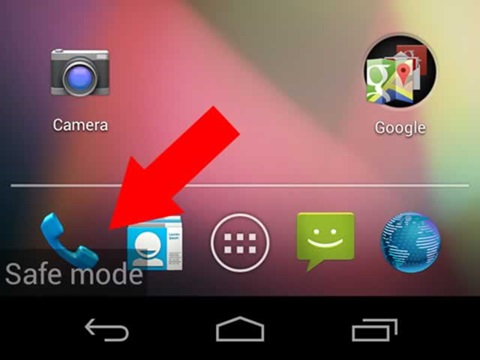 *For Samsung Phones
With the device powered off, press and hold the Power button (located on the right edge) until the Samsung logo appears then release.
With the Samsung on the screen, hold down the Menu button (the soft key at lower left corner) and then hold the Volume down key at the same time until safe Mode displays in the lower left then release.
*For LG Phones
With device powered down, press and hold the Power button until the LG logo appears then release.
With the LG logo still on screen, press and hold the Volume down button (located on the left-edge of the device).
Continue to hold Volume down button until 'Safe mode' appears in the lower-left of the unlock screen then release.
Note: The process may take up to 45 seconds to complete.
*For HTC Phones
With the phone powered off, press and hold the "Power" button for a couple of seconds to turn the device back on.
When the "HTC logo " appears on the screen, press and hold the "Volume Down" button.
Continue holding the "Volume Down" button until the Android OS is completely loaded.
Conclusion
There is no doubt that the white virus page pops up is very nasty and dangerous. Most of users may choose to pay the non-existed fine to fix the problem. However, we disapprove of such action. Because some users say when they finish the payment, the virus is still there blocking their phones. It is useless. In order to protect your phone from the virus attacks, you should remember the tips which we have mentioned before. Do not underestimate this virus, it can access the phone numbers on your device, collect your personal information to the third party and block your Internet. So next time when you encounter the same problem, the most sensible thing to do is removing the white virus page pops up as soon as possible. Do not hesitate any more. Take action before it is not too late.
Published by & last updated on September 7, 2016 6:25 am