How can I free up disk space on my computer? My hard drive is nearly out of free space. I keep getting a low disk space warning. I always failed to install software even if its size is pretty small. Now my computer runs extremely slow and freezes suddenly. I hardly can use it to work. It is a Dell computer with Windows 7. It's not an old one and I bought it 6 months ago. Is it because I downloaded too many files? I receive pictures, videos, music and various files from my partner every day. I was about to remove some of the files, but I was afraid that I might remove the wrong ones as I know little about computer. Important files are stored in my office software. Do not want to lose them. Please help me free up the hard drive without losing important data. Thank you.
Is Your Hard Drive out of Free Space?
Did you get low disk space warning? Does your computer run slow? In those years, the size of computer hard drives have been enlarged at an amazing rate. You can have 1 TB of storage on your device. However, you may find that no matter how large your hard drive is, it is still possible to run out of memory. As we all know, the software we use has been undated regularly. Meanwhile, the more functions it has, the larger size it has. You may install more software to meet your need and download more files for work. In this way, your hard drive will be filled soon.
Why should You Free Up Hard Drive Space?
First of all, the full hard drive slows down your computer. When you are about to hit your memory limit, you can feel that your computer responds slowly when you run a program or open a folder. It lags badly. You need to wait for a while before you can type. The network speed also is affected. You barely can load a website or download a short video. Sometimes, your computer freezes without no reason. Your system just crashes down suddenly. When you run several applications at the same time, your computer freezes easily though you always could run more applications in a time. You can not run the application properly or close them. You only have to wait until it recovers itself which is a time consuming thing. It is very upsetting when your computer crashes down before you save changes of your files. All the work you have done is in vain. No matter you use your computer to work, study or play game, you will not expect those situations. You deserve a faster and better computer. This not mean you need a brand new computer. You can make your computer run more effective after you free up your hard drive. If you are not close to filling your hard drive, freeing up some disk space can help your overall computer performance.
How to Free Up Your Hard Drive?
How to get more free space? Is it a easy job? To free up your hard drive, you ought to remove unnecessary files and programs. Though it sounds like a easy job, we don't suggest you do it yourself if you are not good at computer. You must be very careful and recognize which file you can delete permanently. A small mistake can cause vital error. We suggest you ask computer experts for help. If you are confident in this job, just locate all the unneeded files and delete them completely.
Freeing up hard drive is supposed to have a certain level of computer literacy. If you are not sure how to start and are afraid of making any critical mistakes damaging the computer system, please live chat with YooCare Expert now.

Note: Please do a backup before you start in case you make vital mistake.
Guides to Free Up Your Hard Drive
1 Click on Computer and right click on C Drive. Then select Properties.

2 Click on Disk Cleanup in disk properties window. Select the types of files you want to delete and click OK. It will delete your temporary files, log files and other unimportant files. You can also clean up system files by clicking  Clean up system files button if you also want to delete system files.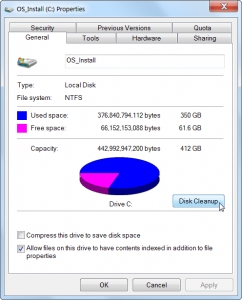 3 Remove useless files of your browser which Disk Cleanup does not remove. You need to delete temporary files used by your Google Chrome or Internet Explore, such as the browser caches which can use gigabytes of hard drive space. 
4 Remove Duplicate Files. Duplicate files exist on your computer if you download the same files several times by mistake. You can keep one and remove the rest ones.


5 Empty the Recycle Bin. The files you have deleted still are on your hard drive in the Recycle Bin. You need to empty the folder to remove them completely.
6 Delete old setup files. When you download an application from the internet, it comes onto your computer with several programs. Some of them can be removed safely after you install the program.
7 Uninstall unnecessary programs that you haven't run in years. If you need it in the future, just download one off the Internet. Hence, uninstall them right now. Click on Start menu to run Control Panel. Select Programs and click on Programs and Features. You can see your files and their sizes there. Just uninstall the ones you don't need any more.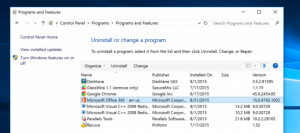 8 Compress the programs you don't use frequently which will help you save space.
Conclusion
As time went by, more and more files will take up much space of your hard drive. Though every single of them can be very tiny, normal files, leftovers, rubbish and cookies files can add up quickly. It is necessary to clean your hard drive regularly. Once you do it usually, you can discover suspicious programs like viruses and remove them in time. Do not understate those files though you have large hard drive. After you use the computer for a period of time, you will always have unpleasant experience with bad performance. You will not regret after you free up the hard drive on your computer.
Have no idea to free up hard drive and are afraid of making any critical mistakes damaging your computer? please contact YooCare Expert for further removal help.

Published by & last updated on September 9, 2016 3:31 am