I have "Your Mac has been blocked error #268D3" pop up on my brand new Mac. I believe that it is a piece of malware. Back then, I clicked on a link and got a notification saying to call a number for Mac osx support; otherwise, this virus would get access to banking information, photos, etc. It sounds like a simple web pop up. The pop up wouldn't go away and I gave into the fear. I stupidly called the number and gave them my credit card detail to pay. They said they would help me remove the virus over the phone. I got scared and made the mistake of doing it without thinking. My gut told me to end the call and hang up after 3-4 minutes. Can they still grab the money in my account or use my credit card to do shopping without my permission? What can I do to get rid of the pop up and virus?
Brief Information about "Your Mac has been blocked error #268D3" Malware
If you see "Your Mac has been blocked error #268D3" on your browser, your mac is infected with a piece of dangerous malware. In those days, the cyber criminals use malware to scam people randomly. They made up fake alerts to scare people by prompting them to contact the fake mac os x support, Microsoft certified technicians or McAfee computer experts. Once the malware accesses your Mac, it shows you fake warnings saying that serious virus and vital error have been detected. The fake warning page can hijack your Google Chrome and Safari and make it difficult to close. You may wonder why your Mac could be infected with virus easily while you have famous antivirus program on the computer. We have to tell you that this malware is able to block your antivirus program and other security programs. In this way, the malware can not be detected or removed before you notice it with your naked eyes. Though you can't delete virus under the help of antivirus, you can't call the given for help. They are fake tech support and will not help you fix the problem. You ought to remove this "Your Mac has been blocked error #268D3" malware manually.
How this Malware Come to Your Mac?
The malware that brings you "Your Mac has been blocked error #268D3" pop up is widely spread nowadays. It has become a common infection. It is bundled with the third party software that has been compromised. Most of them are ad-supported software. At the beginning, it is installed a small component. However, it can be powered and upgraded by itself after it is connected to the network. You should not understate any plug-in or component. Next time, read the items of installation carefully and know clearly what you are going to install to avoid potential unwanted programs on your computer. The malware also can sneak into your system when you click on malicious link. Sometimes, you may see ads pop up computer. Not all the ads are legit and safe. If you click on the malicious ones, the malware will seize the opportunity to get into your system. Do not click on unknown pop-up ads and close them immediately.
How this Malware Work?
"Your Mac has been blocked error #268D3" malware is trying to trick you into sending money to the criminals for non-existed computer threat. It blocks your browser and reports bogus system scan results. Once you are redirected to the the error #268D3 page, you can't close or minimize it. You are not supposed to ignore this vital alert. It lies that your Mac access will be disabled soon as your computer informs the so-called tech support that virus and spyware have been detected. It urges you to call the given number for support. When you click on your security program trying to remove the virus, it tells you that the security program is off. If you want to run it again, it will not turn on. You only see a notification "Learn more". It will redirect you to its websites and ask you call for help again. Once you contact them, they will spare no effort to scam you. Their goal is to sell you useless software or unnecessary service. In fact, they are not able to fix your problem. You may see unknown extensions, toolbars, banners and other useless programs on the browser. All those programs support this "Your Mac has been blocked error #268D3" virus. Your computer will run slow and freeze frequently for no reason. This malware will damage your system badly. Please stop it immediately.
Processing manual removal is supposed to have a certain level of computer literacy. If you are not sure how to start and are afraid of making any critical mistakes damaging the computer system, please live chat with YooCare Expert now.

Notice: Please do a system backup before you start to delete "Your Mac has been blocked error #268D3" malware manually
1. Since your browser is already blocked by error #268D3 malware, you can't exit out the virus page in a normal way. If your Safari browser is hijacked by this Ransomware, you can click the Search button in the top right corner like the picture shows. And then type in: Safari and hit Enter key to reopen a browser without virus page first.

2. On the Apple menu bar, click Safari, and then click Preferences.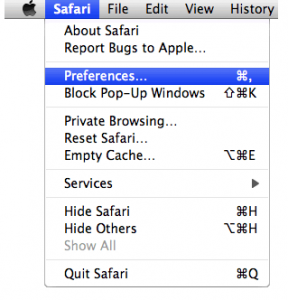 3. On the Extensions tab, delete all the suspicious add-ons.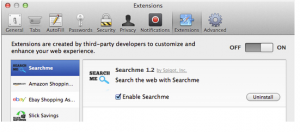 4. Next, select "Preferences", go to the "General" tab and change the "Default Search Engine" to Google. Then, in the "General" tab, find the "Home Page" and change it to "google.com".
5. If the error #268D3 page still appears, please contact YooCare experts online for further help.
Conclusion
There is no doubt that the "Your Mac has been blocked error #268D3″ malware is harmful to your system. As you know, it blocks your browser and does not allow you to access the Internet. Besides, it monitors your online activities for sensitive information thus helping the cyber criminals make illegal money. Never give the criminals any chance to access your precious information. We don't know what the criminals will do with them. The most important thing you need to keep in mind is that the error #268D3 pop up can't be trusted. The real threat is the malware behind it. Do not call the owner of malware for help. They will not help you remove the virus. They may just hide the fake alerts temporarily if you buy their service or software. The malware is still on your computer and will bother you again and again eventually. Do not waste your money on it. You need to get the error #268D3" pop up off your system manually. Get rid of all the fake alerts and errors once for all.
Can't remove the virus and are afraid of making any critical mistakes damaging your computer? please contact YooCare Expert for further removal help.

Published by & last updated on April 20, 2017 2:13 am