When I woke up in this morning, I just wanted to check my message. I neither turned on nor turned off my tablet. I had no idea how to do. Why would I get this virus? Then I saw there was a message on my tablet and said: "As a result of full scanning of your device, some suspicious files had been found and your attendance of the forbidden pornographic site also had been fixed." I must pay $500 for the police within 24-72 hours. It said that I had been under constant supervision of the police. It accused that I did some illegal things. That's ridiculous! I just texted messages with my family as usual, or read some news on my tablet. What can I do? Plz help!!!!!
Brief Description of FBI virus on Mobile Devices
Some people maybe have the same question of this problem. But I have to say, this information just is a virus scam. Calm down please. You will not be arrested by police. When you see these messages on your phone/tablet, just clam down, and do not scare about it. This spurious message says that the user's Internet address is identified by the FBI or the Department of Justice's Computer Crime and Intellectual Property Section as having been associated with child pornography sites or other illegal online activity. To unlock their machines, users are required to pay a fine using a prepaid money card service. But some people have no idea about it, so they have actually paid the so-called fine. But when they restart their phone/tablet, the virus will back on the phone next time. And here are some pictures about this virus scam.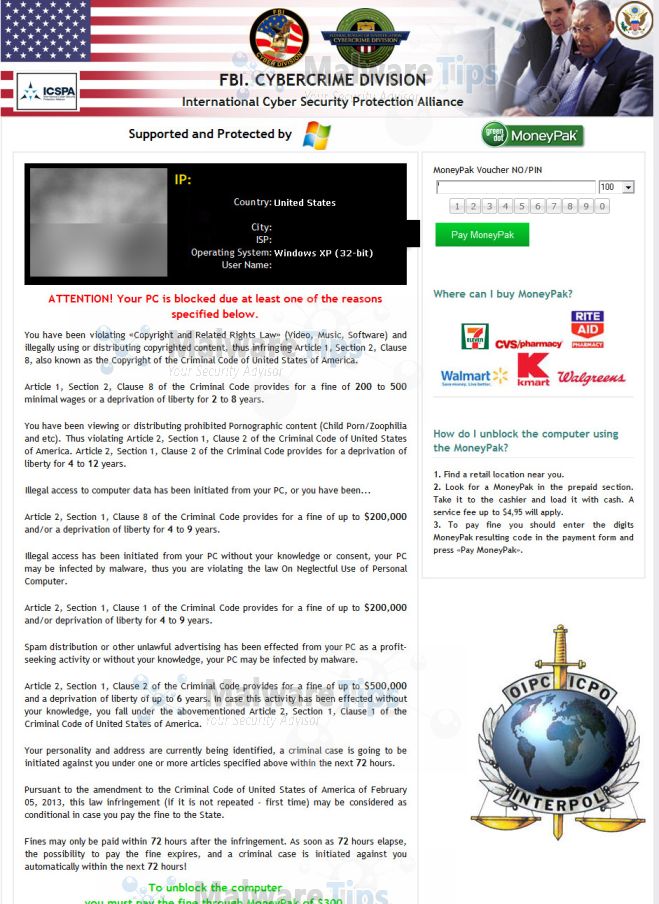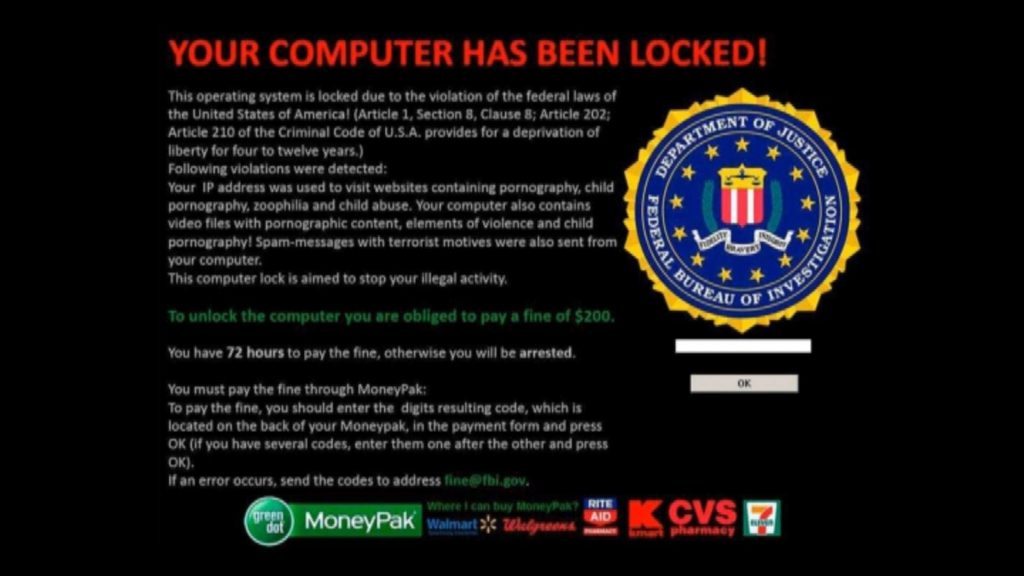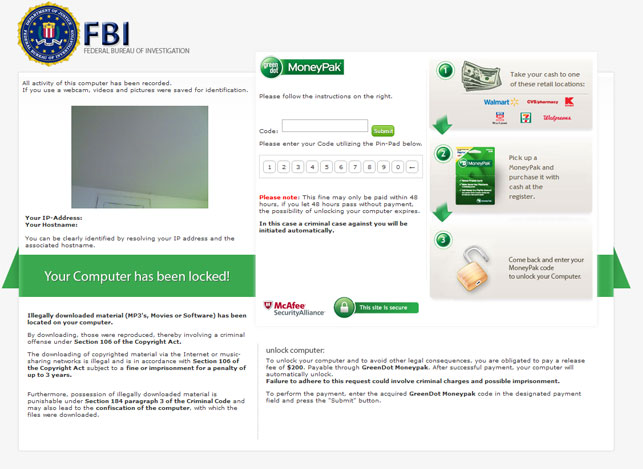 So what is the RANSOMWARE?  Recently, a new Police or FBI virus (FBI moneypak) is delivered from Android Smart Phones and apple devices, which are often short of appropriate security protection. It is one of the most famous viruses. When you turn on your phone or computer sometimes, you will find this scam occupping the whole screen. You cannot do anything. You feel frustrated. You do not know how to remove it. You must be afraid of being sent into jail. The virus on screen points out that you do some things are illegal, such as visiting pornographic website or spreading corrupted pictures, so the polices detect , and block them computers.
Moreover, this scam virus will infect your mobile device, for example android phones, tablet or apple products. The scam virus will block safari or chrome in apple products, and normally appears in browser windows. In android device, it not only blocks the browser, but the whole screen. If the virus blocked the whole screen, so you cannot do anything. But if not, the virus just block the internet browser, you also can make a phone call to someone, text any messages, except for suffering on the internet.
how to get in the safe mode?
When our phones are blocked by these viruses, what can we do? I think it's very easy to remove this scam.
First step, we should in the safe mode.
Restart your phone, when you see the logo on the screen, Press the Power button to start your device. During startup and When the logo appears on the screen, hold down the Menu button (the soft key at lower left corner) and then hold the Volume down key at the same time until you access safe mode.
If you have this virus scam also, please contact us, we specialize in virus removal and I would be happy to help you step by step to remove it.
Conclusion
The virus will stay in your phone and block your Internet until you get it off. It will dangerous for your personal data, your Bank account number and the password will be stolen. What's more, the criminal will use your chat tools to send bad information to your friends and family. So how can I stop this? here are some tips, when you are going through the web pages, first of all, you should be cautious when clicking links. It can point your browser to download threats or visit malicious web site. Second do not download any unknown"free"software. Third, avoid opening unknown e-mail attachments.
Here is some advice if you become a victim of the RANSOMWARE virus:
1. Do not pay any money or provide any personal information.
Contact a computer/phone professional to remove RANSOMWARE from your computer/phone.
2. Be aware that even if you are able to unfreeze your computer/phone on your own, the malware may still operate in the background. Certain types of malware have been known to capture personal information such as user names, passwords, and credit card numbers through embedded keystroke logging programs.
3. Do not go through any website which is free, or download any documents which are not illegal.

Published by & last updated on August 14, 2016 10:58 pm