Hi there. I need your assistance. Why did I get a screen pop up on my phone about a threat for porn? I was simply browsing the Internet when suddenly a pop-up comes on my screen. The pop-up was a police threat with legal-sounding text saying that it's from the FBI and my phone is blocked. It basically said I was accused of viewing child porn and I owed a fine of "500$" (that's how it was written). It said if I didn't comply I'd be arrested and all data on phone would be deleted. Is it a scam? I don't have so much money to spend it, but I don't want to go to jail. What should I do? Please help me. Thank you in advance.
Brief Description of Fake Police Threat for Porn on Mobile Devices
After visiting some malicious websites or downloading porn, you may get a pop-up police threat for porn on your mobile devices. You may ask, "Why did I get a screen pop up on my phone about a threat for porn?" It is because your device has been attacked by a scam virus. The fake police threat takes over your screen saying that your device is blocked for safety reason. You are accused of viewing child porn or other illegal activities. To unblock your device, you must pay a fine which ranges from $100 to $500. For this reason, people also name it ransomware. This kind of scam virus is spread all over the world. In the names of law enforcements and polices, it made many victims lose a large amount of money. The scam virus pretends to be different departments in different countries and regions. In United State, it may claim that it is FBI, NSA, U.S. Marshals, U.S. Cyber Security Cyber Police. In United Kingdom, it pretends to be United Kingdom police/Cyber police, PCEU, ICSPA or Cheshire Police Authority. In addition, the scam virus also steals the names of AFP, CSIS, RCMP, Abu Dhabi Police GHQ and so on. Though the above scam viruses have different names, they share the same characters. They are aggressive powerful enough to attack all mobile devices with Android, Windows or ios systems. As we said, the scam virus with police threat on your phone/tablet is only a tool that helps cyber criminals swindle money out of innocent users. If you get the police threat asking for a fine, do not pay fine. Just remove the virus so as to get rid of the fake police threat.
How to Avoid Fake Police Threat?
More and more people suffer from this fake police threat. It is very important to learn how to avoid it. So,let's talk about it. Internet has been widely used nowadays. The cyber criminals seize the chance to spread viruses and scare people with fake police threat everywhere. They use the third party programs to deliver virus to users. Viruses can be bundled in free software. You must be careful with the free software from unknown websites as most of them carry viruses or adware inside. According to the research, people always are attacked by viruses when they view malicious websites or watch porn on suspicious websites. It is necessary to note that the criminals tend to hack those websites and embed links of viruses into pictures or texts. If you click on any one of them, your device will be attacked. Besides, be cautious against spam. The criminals dispatch spam with virus attachment or links to millions of people every day. Hence, if you receive spam from people or company you don't know, ignore and remove it immediately. Do not click on the attachment or links for fun. It is not worth taking a risk to download viruses. To avoid fake police threat from scam virus, download software on legit websites or app store. Do not visit unsafe websites and open spam.
How Fake Police Threat Work?
As soon as the scam virus sneaks into your device, it displays fake police threat to scare you into paying non-exited fine. On Android devices, it can lock the screen totally or only lock your Internet browser. On ios devices, it blocks your internet browser. When the fake police threat takes over your screen, it will not allow you access your apps or home screen. No matter you shut it down or restart it, the virus will appear soon after your device is turned on. If your iPhone/iPad/Mac is infected, it blocks your Safari or Google Chrome. The scam virus hijacks the browser and does not allow you access the Internet every time you open Safari or Google Chrome. The fake police threat says that your device is blocked due to being involved in viewing, storing and spreading child porn. To make the police threat look authentic, it displays logos of related departments, photos of political leaders, specific laws that you "violated". Sometimes, it also has your location, IP address, device model and even a small part of your contacts which make you believe that the police are spying on you. It asks you pay via prepaid card like paysafecard, vanilla card, Amazon/iTune gift card, Moneypak or Ukash within 48 or 72 hours. Why does the criminal demand this kind of payment? The reason is that it is very difficult to track the money after you pay via prepaid card. It lies that the police will arrest you and interrogate your friends if you don't send money in time. Do not be panic when seeing such a police threat. It is fake. To get rid of the fake police threat, you only need to remove the scam virus which is installed on your device.
Since paying the so-called fine won't help you remove this scam virus, manual removal is an effective solution for this. Processing manual removal is supposed to have a certain level of tech skill. If you are not sure how to start and are afraid of making any critical mistakes damaging the cellphone, please live chat with YooCare Expert now.

Screenshots of the Fake Police Threat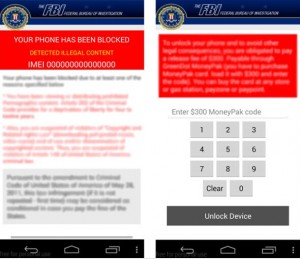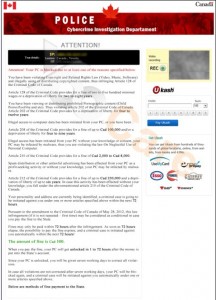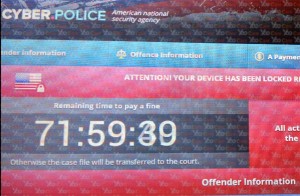 Why did I get a screen pop up on my phone about a threat for porn?: How to get rid of it?
Step-by-step Guide to Unlock Your Tablet/Phone from this scam virus
Step 1: Please try to put the infected android phone into Safe Mode at first to unlock the screen temporarily from the powerful scam virus
(1). For various android phones: hold down the power button to bring out the menu with Power Off and Reboot option—-hold down the Power Off option (If nothing happens, please tap and hold the Reboot option instead)—-click OK on the pop-up box asking if you want to access safe mode
(2). For Samsung Galaxy S4 and Samsung Galaxy S5: power off the device—-turn on and tab the soft-touch Menu button repeatedly
(3). For Samsung Galaxy S3 and other phones with similar customized android system: power off the device—-turn on and hold down the Volume Down button (try Volume Up or Volume Down and Volume Up together if Volume Down does not work) when the brand logo shows up
You will see "Safe mode" at the lower left corner of the screen if you access safe mode successfully

Step 2: Search and remove suspicious files which are related to the virus
Step 3: Reboot the device to get out of safe mode
Conclusion
In those years, the cyber criminals spread ransomware to scam people rampantly. You must stay alert to avoid being scammed. Never trust any pop-up police threat on your device. No law enforcement or police will punish a crime without any evidence and demand a prepaid card for fine. The real police will come to your house directly and ask you go through legal process. You have the right to hire a lawyer to defend yourself. Hence, do not pay a fine to the fake police. Or you are supporting the criminals. We understand how hopeless you would be when seeing this "horrible" police threat. Most of you would choose to follow its guide to get rid of trouble. However, paying the fine will not fix the problem. According to victims, the fake police threat was still there and locked the device though they paid. You ought to calm down and think twice before you take action. If you are a victim of the fake police threat and now reading this article, it is the very right time to remove the nasty virus and unblock your device. Get rid of it before it can do further damage to your device and access your sensitive information.

Published by & last updated on August 26, 2016 9:25 am