Hi there. I'm a bit scared. This fake police scam virus happened to me today. I was casually watching video on youtube when all of a sudden I got redirected to a porn website and a POLICE ATTENTION pop up came on my screen. It said it was from the Cyber Police. I was accused of watching child porn which I do not and it said pay 100 dollars or face 5-8 years in prison. It also gave me my real location and IP address. It looks so real. I am afraid that the police will come to my house and take me to court. Please tell me that it is a scam. I am fine, right? By the way, please help me remove this virus. I don't know how to get rid of it. Thanks in advance.
Brief Information about Fake Police Scam Viruses on Android Phone/Tablet
Fake police scam viruses belong to the ransomware family. In those years, numberless Android devices have been hacked by those nasty viruses. They are very tricky and aggressive. By stealing the names of law enforcement departments and other authority departments, they grab money from innocent users every day. In order to scare you, they may claim that they are Cyber Police, FBI, AFP, NSA, ICSPA, CSIS, and PCEU. The fake warning says that your device has been blocked for safety reason. You may be accused of doing lots of illegal things that you haven't done. To terminate your crime and have your device back, you are demanded to pay a ransom. This is the reason why we call it ransomware. Many people thought that they did have trouble with the police and sent money away. We do not suggest you pay them ransom. You are dealing with a virus. The only thing you need to do is removing the virus. You don't have to pay ransom or go to jail.
How Fake Police Scam Viruses Spread?
You may wonder how come fake police scam viruses attack your Android device so easily while a larger number of antivirus programs have been written to protect the device. On one hand, the fake police scam viruses are very powerful and aggressive. They are able to attack most of the Android devices, such as Samsung, Asus,HTC, Huawei, LG phones/tablets, etc. On the other hand, they disguise themselves very well and have been spread via the Internet throughout the world. Commonly, the cyber criminals spread them by using the third party programs like unknown free software, spam and websites that are not highly protected. First of all, fake police scam viruses can be bundled with free software, video and music from unknown websites. Once you download the infected software and programs, virus will block your device immediately. Secondly, scam virus programs can be embed in a spam. Sometimes, it's a link to a video or compromised website. Sometimes, it's an attachment which asks you to click on to confirm fake delivery information or something else. If you do as it says, scam viruses will be downloaded. Last but not least, your device can be infected with the fake police scam virus while you are visiting the malicious websites or legit websites that have been hacked. On the compromised websites, the hackers turn pictures into hyperlinks. If you click on them, you can be redirected to download viruses. Hence, it will be a better idea to download software in app store and watch video on official websites. You should ignore and remove spam from unknown users. Do not visit unprotected and suspicious websites. In this way, your device will be fine from the fake police scam viruses.
How Fake Police Scam Viruses Work?
As soon as the fake police scam virus attacks your Android device, it can block everything on your device. In this case, it will not allow you access anything when you start your device in normal mode. After you turn on the device, you may have 3 to 5 seconds before the virus takes over your screen. There also is a special case on kindle fire. According to our customer, he had about 30 seconds before the virus appeared.The whole screen is filled with fake police warning. No matter what department the scam viruses claim to be, the warnings are in the same form. Except for name of police, logo, picture of leader, specific laws and language, the general contents are the same. They all say that your device is blocked due to being involved in viewing, storing or spreading child porn, violating copyright law and other similar activities. To make it look authentic, they may list your location, IP address, device os, several contacts of your friends. They tells you that you must pay $200 or $50within 48 hours or 72 hours. If you don't pay in time, you will be taken to the court and spend 5 to 8 years in jail. Your friends will be interrogated. Everything on your device will be deleted. Do not be panic though it looks horrible in a way. Do not worry. None of them will happen. It is only a bluff. Just get rid of the fake police scam viruses.
Since paying the so-called fine won't help you remove this scam virus, manual removal is an effective solution for this. Processing manual removal is supposed to have a certain level of tech skill. If you are not sure how to start and are afraid of making any critical mistakes damaging the cellphone, please live chat with YooCare Expert now.

Screenshots of the Fake Police Warning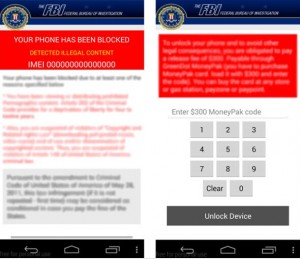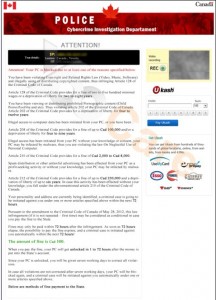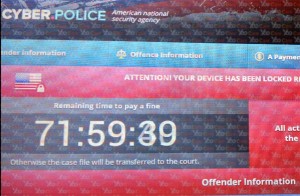 Fake Police Scam Viruses on Android Phone/Tablet: How to Get Rid of them?
Step-by-step Guide to Unlock Your Tablet/Phone from this scam virus
Step 1: Please try to put the infected android phone into Safe Mode at first to unlock the screen temporarily from the powerful scam virus
(1). For various android phones: hold down the power button to bring out the menu with Power Off and Reboot option—-hold down the Power Off option (If nothing happens, please tap and hold the Reboot option instead)—-click OK on the pop-up box asking if you want to access safe mode
(2). For Samsung Galaxy S4 and Samsung Galaxy S5: power off the device—-turn on and tab the soft-touch Menu button repeatedly
(3). For Samsung Galaxy S3 and other phones with similar customized android system: power off the device—-turn on and hold down the Volume Down button (try Volume Up or Volume Down and Volume Up together if Volume Down does not work) when the brand logo shows up
You will see "Safe mode" at the lower left corner of the screen if you access safe mode successfully

Step 2: Search and remove suspicious files which are related to the virus
Step 3: Reboot the device to get out of safe mode
Conclusion
There is no doubt that the fake police scam viruses are very nasty and dangerous. We understand how upset you may be when seeing the police warning without knowing it is fake. Most of you may choose to pay the non-existed fine to fix the problem. However, we disapprove of such action. We have to tell you that you are sending money to the criminals instead of the police. Besides, it will not help your blocked device. Our customers told us that the virus was still there blocking the device after they paid ransom as the virus demanded. They just took the money and ran away. Hence, do not pay money to the fake police any more. Do not spend your hard-earned money for nothing good. Finally, it is necessary to know the harm of the fake police scam viruses. As you know, they can access the phone numbers on your device. We do not know whether they can access other precious information on the infected device if they have enough time to download more malware. Therefore, you must remove the fake police scam virus out of your device right now. Do not hesitate any more. Take action before it is too late.

Published by & last updated on August 26, 2016 9:15 am