Hey, there. Early this morning as soon as I woke up, I started to browse the Internet looking for Movies for my coming holidays. I clicked on a movie ad which saying it will offer me lots of interesting movies for free. Without any doubt, I visited that website! However, when I was on that website, just a minute, I got a warning message from Cheshire police crime saying I broke the law. I didn't know what it was going on with my Sony phone. All I see on my phone screen is the Cheshire Police Fine Scam asking for £100 fine warning message. I couldn't exit out that warning page. I had no any idea on what I should do next. Should I pay for that penalty? Was that Cheshire police crime notification real? If I pay for that fine, will the message disappear and my phone gets unblocked? I was so scared. Please help!
Cheshire Police Fine Scam Asking For £100 Fine Locks Android Device—Is It Real?
Cheshire Police Fine Scam Asking For £100 Fine has been classified as ransomware which aiming at tricking android device users' money. This virus is similar with other ransomware variants, such as Metropolitan Police Ukash Scam Virus, Cheshire Constabulary Scam, U.S. Marshals warning, United States Cyber Security virus, etc. As same as other scam virus, once this virus gets into your android device, it will stop you from doing anything normally by locking your screen with a warning message. In order to convince android device users to believe that this warning message is real, it will disguise itself as a legitimate government department, such as the Cheshire Police Authority, United Kingdom Police of Police Central e-crime Unit (PCeU) or Metropolitan Police. On the warning message, it will claim that you are accused of doing illegal actions online such as watching banned pornography (child pornography/zoophilia/rape etc. ), copyright violations stemming from the illegal download and sharing of copyright files as well as the distribution of SPAM emails. Due to the mentioned reasons, your android device has been locked. The fake alert just likes the message below:
"IP: 85.255.235.26
Name: Jordan Middleton
Country: United Kingdom
Cellurar Network: Vodafone
Offender device: Samsung GT-I9300
Android Version: 4.3

ATTENTION!
Your device has been blocked up for safety reasons listed below.
All the actions performed on this Device are fixed.
All your files are encrypted.
AUDIO AND VIDEO RECORDING IN PROGRESS.
You are accused of viewing/storage and/or dissemination of banned pornography (child pornography/zoophilia/rape etc). You have violated World Declaration on non-proliferation of child pornography. You are accused of committing the crime envisaged by Article 161 of the Kingdom of Great Britain criminal law.

Article 161 of the Kingdom of Great Britain criminal law provides for the punishment of deprivation of liberty for terms from 5 to 11 years…"
As soon as you see such kind of message relating to the police, you must be really scared and will set yourself into panicky. But please calm down! Cheshire Police Fine Scam Asking For £100 Fine is a scam virus which is made by cyber scammers with the purpose of cheating you into pay the non-existent penalty money. This virus used to get into victims' android device through spam emails, junk emails' attachments, suspicious websites, and unsafe links/ads/pop-ups etc. Once your android device gets locked, you should know that the real police will not lock your phone and ask you to pay for a fine of £100 within 24/72 hours via Ukash or Paysafecard online. In most case, people who suffered this scam virus, choose to pay for the scam fine of £100 as this Cheshire Police Fine Scam requests in order to get rid of any trouble of lawsuits or criminal case even serving into jail. Please don't trust it! All the information the virus stated on the warning message is fake and non-existent content. You don't need to worry about being sent into jail or caught by the police. What you have to do immediately is to get rid of Cheshire Police Fine Scam Asking for £100 Fine from the infected android device as soon as your device gets locked. So far, only step-by-step manual removal guide is the most effective and quickly way to remove this malicious scam virus from the infected android device within shortest time.
Please Contact YooCare 24/7 Online PC Expert now if you don't know how to start the removal on your phone.

Similar Screenshot of Scam Virus on Android Device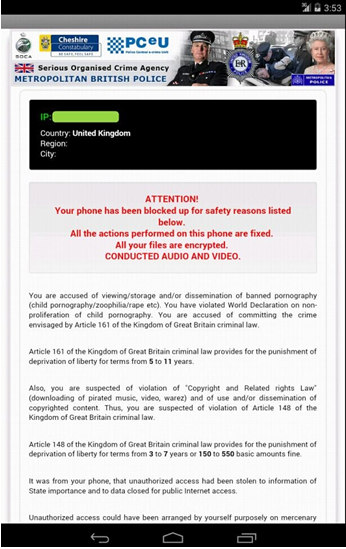 Similar Screenshot of Scam Virus on Computer Device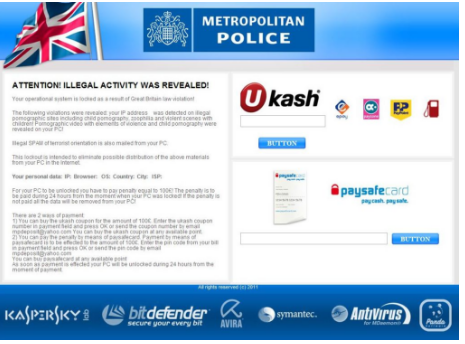 Learn about the Symptom of Cheshire Police Fine Scam Asking For £100 Fine Virus
1. Once infected, it will block the screen of your device immediately and make you do nothing with it.
2. Once infected, it will send you a fake notification which states that you violate the local laws and be required to pay for a fine.
3. You are warned that your picture has been taken and will be sent to court if you don't pay for the payment.
4. You are told that your basic information are recorded in the warning massage.
Note: Once your tablet/phone is infected by this malicious virus, you should delete it immediately. Since if you leave it in your tablet/phone with the passage of time, there will be a big threat to your financial security and the damaging of your android system. In order to protect the tablet/phone from being ruined by the Virus and in case of losing money, measures should be taken to get rid of Cheshire Police Fine Scam Asking For £100 Fine from your android tablet/phone as soon as possible.
Never Become The Victims of Cheshire Police Fine Scam Asking For £100 Fine Ransomware.
Even though the warning of Cheshire Police Fine Scam Asking For £100 Fine seems to be real and legitimate. As a contrary, it is a 100% fake scam. It is designed by the cyber criminals to trick the innocent smartphone users and set them into a panic and then threaten them to pay for the ransom erroneously. If your phone gets infected, your camera may turn on automatically and then takes a picture of yours immediately. Then it will mislead you that your picture has been taken and will be sent to the police, or it will tell you that the police is monitoring all the things you are doing now. The fake warning will inform you that your phone will be locked forever and block you from doing anything as well, the only way to unblock your device is to pay a fine within hours. How a nasty virus it is! It is skilled in using scare tactic to trick money from the innocent users. Thus, once your phone is infected, you must remove this Virus from your android device immediately.
Manual Removal Guide to Unblock the Virus from Android Tablet/Phone
Step 1: Restart the safe mode on your infected device.
For Samsung tablet: Power it off, and then power it on. During startup and when you see the Samsung Logo screen, press and hold the Volume Down key until you can see safe mode writing below the screen at the left hand angle of the screen.
For Samsung Galaxy S6 S5 S4: 1. Power down. 2. Turn on and repeatedly tap the soft-button for "Menu."
For Samsung Galaxy S3 and others: 1. Power down. 2. Turn on, then press and hold Volume Down (Galaxy S3 and others), Volume Up (HTC One and others), or Volume Down and Volume Up together (various Motorola devices) when the vendor's logo appears.
Note: "Safe Mode" on Phone starts up without loading any third-party add-ons and different devices have different ways to access safe mode.
If you have managed to select Safe Mode successfully, you will see the text "Safe Mode" at the bottom left corner of the screen. As the picture shows below: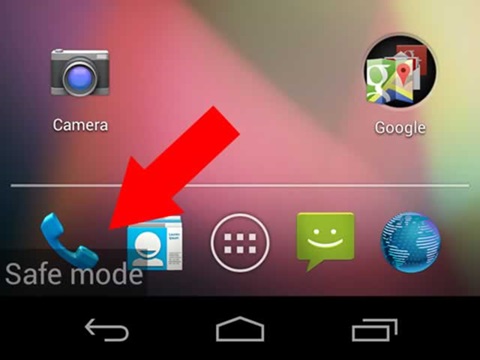 Step 2: If you can find "Safe Mode" on the left hand corner, that means your tablet/phone is in safe mode already, please contact an expert for further removal instruction.
Note: The above provided removal guide is so complicated. If you are not an Android Phone repair expert, do not try by yourself. In case you lose your confidential data and photos, an expert is needed during the process of manual removal.Yoocare/Yoosecurity experts can provide the most professional service for you for manual removal.
Sum Up
Cheshire Police Fine Scam Asking For £100 Fine is a malicious scam virus which has the ability to infect all brands of android device (android phone/tablet, iPhone & iPad), such as Samsung, Sony, HTC, Huawei, LG, Motorola, Lenovo, iPhone, and iPad. This virus may get the opportunity to hack your android device due to your unsafe activities doing online, such as visiting a phishing site, opening a junk e-mail attachment, clicking on an unknown link or downloading an application from an unsafe source, especially after you jailbreak your android device. Once your android device gets blocked by Cheshire Police Fine Scam virus, you must take immediate action—step-by-step manual removal way to get rid of it as soon as you can. You should know that even though you don't pay the penalty of £100, you will not be caught by police or put into prison. And if you pay £100, your tablet or phone still can't be unlocked as it promised. Only one way to take care of your money, that is to remove this virus from your infected android device right now!
Suggestion: Manual removal is a skillful and risky job, if any mistakes are made during the removal process, you may damage your phone immediately. If you are not sure how to start, please contact YooCare PC experts 24/7 online for help right now.


Published by & last updated on July 19, 2016 11:10 am