Hi. I was just on my phone it's an iPhone6s. I don't know if you need to know that or not, but I will describe my problem in detail. When on the Internet and there was a whole load of opened tabs, I wanted to delete them which were all porn and stuff so obviously. I was worried that I had been hacked, so I tried to end and delete them. However, I was not able to. Now it comes up with a data://(null) on my Safari saying I could go to jail for up to 5 years and had to pay a 500 pound fine. If I don't pay £500 within the next 24 hours, everything on my phone will be wiped and it wants to me to type in some sort of code. I don't know what I should do. I looked it up and a whole load of sites said it's a scam but I have to get it off my phone as soon as possible. This is why I come here. Can you help?
Brief Description of data://(null) message
data://(null) message is indentified as a scam virus which blocks your browser in the name of law enforcement department. Commonly, it pretends to be from the PCeU, Cheshire Police Authority, Metropolitan Police, Usmarshals.gov/crime, FBI etc. saying that your browser is blocked due to being involved in downloading and spreading illegal content. In fact, its owner is the cyber criminal which has nothing to do with the police or any other authority. It steals the name and logo of the authority department to scare you. To access your browser again, you have to pay a fine which may ranges from £100 to £500. Hence, we also classify it as a piece of ransomware. This virus has been spread widely throughout the world. It not only attacks people in the United Kingdom and United States, but also attacks people in Canada, Australia, Germany, China, Japan and so on. This data://(null) message can be translated to different languages in different countries. Though the fine it demands and other content of the data://(null) message are different, it is the same virus program.
How data://(null) Message Virus Spread?
data://(null) message virus program is spread via the Internet with the third party programs. It may sneak in to your iPhone/iPad when you click on the infected ad pop-ups. This kind of ad pop-ups is designed to be very attractive in order to make you click on it effectively. Do not click on ads supported by unknown parties as we don't know whether they are safe or not. If you download illegal stuff like children porn or music has been hacked, virus can be downloaded along with them. At the same time, this scam virus can access your device via email. The criminals place the virus program in an attachment and dispatch it to thousands of email users every day. If you click and open the attachment, the virus has your permission to access your device. Hence, it is a wise idea to ignore email from unknown people. In addition, many people's iPhones/iPads have been infected with scam virus when visiting malicious websites or legit websites that have been corrupted. It is important for you to know that links on those websites usually redirect you to unsafe website to download virus programs. Do not visit unsafe websites to pick up virus. It does not worth it.
How data://(null) Message Virus Work?
As soon as data://(null) Message virus infects your iPhone/iPad, it takes over your Safari and Google Chrome with a name of the law enforcement department. On the message, you will be told that you are accused of viewing/storage and/or dissemination of banned pornography (child pornography)/zoophile/rape and other similar content. You have violated World Declaration on non-proliferation of child pornography and a bunch of other laws. To avoid spending years in jail and other serious punishment, you must pay a ransom via Ukash, Paysafecard, iTunes gift card or other prepaid card. It may give you 24 hours to 72 hours to pay. To make sure that you will pay the fine, it displays your IP, location, device os and other information and threaten you that all data on your phone will be wiped if you don't send them money in time. Later, the police will come to take you away and put you into prison for 5 to 11 years. It seems that there is no way to get rid of it. Though you quit the browser and even restart your iPhone/iPad, the data://(null) massage is still there. No option is provided to close data://(null) Message. Every time you open Safari app or Google Chrome, the virus message appears immediately. Sometimes, you can open a new tab along with the virus page and access the Internet there. Sometimes, the virus can be more aggressive. It will not allow you access the Internet at all. Though the virus is strong, you still can remove it manually.
Since paying the so-called fine won't help you remove this scam virus, manual removal is an effective solution for this. Processing manual removal is supposed to have a certain level of tech skill. If you are not sure how to start and are afraid of making any critical mistakes damaging the cellphone, please live chat with YooCare Expert now.

Screenshot of data://(null) Message and other similar infection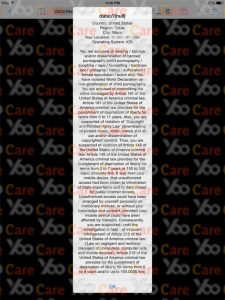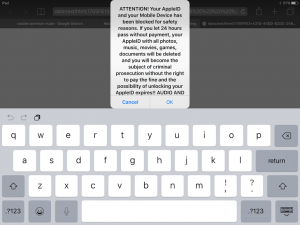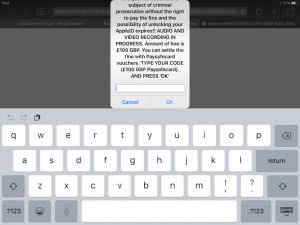 Conclusion
From what we discussed about, we know that data://(null) Message virus is a nasty scam that you never should trust. We understand how upset it would when receiving a police warning. However, you should calm down and figure out what is happening in fact. Do not be panic. Fear is the weapon that the criminals use to defeat you. Do not fall in the trap and send money to the criminals. We have to tell you that it is useless to pay ransom. Lots of customers told us that they did not get rid of data://(null) Message after they sent the money. Never pay money to the criminals in vain. The criminals do not care about your device at all. They just take your money and leave the virus on your device. In order not to be scammed, you keep the follow information in mind. First of all, the police will not give you warning via a pop-up web message. Secondly, no law enforcement department will collect fine in this way. Finally, if you do violate the laws, the police will knock at your door and arrest you directly. They will not waste time to give you warning. In the end, we have to tell you that data://(null) Message virus is harmful to your iPhone/iPad. No one knows if it will download more malware to access your bank card detail for more money or not. Do not leave it on your iPhone/iPad for too long. We strongly suggest you remove data://(null) Message virus right now.

Published by & last updated on August 26, 2016 9:10 am