I was on the internet on my 2 year old samsung tablet and received a fake police mobile lock warning that states I violated Federal Law (I did not) and demands $500 in Paypal prepaid card as a "fine" for breaking the law. It states i have 24 hours to pay the fine, or else all my information, photos, movies, games and documents will be deleted and I will be prosecuted. I am really scared and I have never done anything illegal before. I searched online and then I know this is fraud, but the warning will not go away and will not allow me to reboot my tablet. My screen is locked up with this notice I cannot do anything on it. What should I do? Does anyone know how to make this go away? I really need my tablet for working, please help me unlock it as soon as possible. Thanks.
Fake Police Mobile Lock Warning on Android? – What's This?
If you ever get a fake police mobile lock warning on your android phone tablet, don't panic. It's a scam – you've done nothing wrong, and what the violation claims most likely have nothing to do with you because it's not a warning from the real police. Such pop-up window is just a fake warning designed by cyber criminals to extort money from innocent users. The fake warning usually pretends to be from a law enforcement agency (FBI, Australian Federal Police, Metropolitan Police, U.S. Department of Justice), scaring people and blocking them from using the device. When the device is infected, a fake alert titled with "ATTENTION! Your phone has been blocked up for safety reason" will pop up as soon as the phone is on. It takes control of the phone screen and will not allow users to close the warning or even power off their device. By locking up your phone screen, the fake police mobile lock warning falsely accuses that you have violated Copyright laws, and your device has been used for visiting websites containing pornography, child pornography, and child abuse, therefore victims are threatened to pay a fine of $100-$500 within the limited period of time in order to get the device unlocked. Otherwise, criminal cases will be automatically started against infected users and they could face the chances to be caught to jails. Everything seems real and scary. No one wants to be trapped by illegal issues so some people are willing to pay the fine to avoid further problems, however it only gets things worse. They lost their money after the fine has been sent from a prepaid card and they got no idea how to get a refund when they realized it is a scam. The fake police mobile lock warning is merely a scam. It is known as the "Police virus" which is often distributed through malicious website and spam emails. Once found, an immediate removal is needed.

Fake police mobile lock warning virus targets both Apple users and Android users. On Apple devices like iPhone or iPads, it stops users from going online by blocking the web browser Safari. While on Android devices, it not only attacks web browser, but also freezes the entire screen, locking you out of all your apps. You can neither call, nor text to your contacts. Also you are not allowed to access system settings to make any changes. On the fake police warning page, it displays your IP address, location, user name, and even grabs a few numbers from your contacts. It misleads victims into thinking they are being recorded and caught by the police so this information should be an evidence of the alleged offence. But in fact, the warning is far from real. Even worse, the virus limits the way you pay and you can't use your own debit or credit card to transfer the ransom. These scammers want you to go out and buy a prepaid card, like Ukash, Paysafecard, Greendot Moneypak card or Paypal prepaid card, load it with several hundreds, and then enter the card's information in order to collect your money. Even though you pay the fee, they still refuse to unlock your device.
And one thing should be noticed that real department or authorities will never ask money from someone guilty by only locking his device. Not to mention the money is transferred from a prepaid card. So the locked message on phone/tablet is definitely fake. In a word, if your android device has been blocked by a fake police mobile lock warning, you are recommended to remove it manually with the following guide.
Please Contact YooCare 24/7 Online PC Expert now if you don't know how to start the removal on your phone.

Possible Danger Caused By Fake Police Mobile Lock Warning Virus:
It will take control of your mobile phone or tablet rapidly once it is downloaded.
It will pretend itself as a legitimate warning and then ask for a ransom.
It will not allow you to change your phone settings or open Google Play to download antivirus program.
It will not let you power off the phone or do anything else except for inputting the demand Amazon Gift Card code.
It may damage your data and the whole Android system.
Important Things You Have To Know If Your Android Phone Has Been Blocked by a Fake Police Mobile Lock Warning:
1. "Fake Police Mobile Lock Warning" scam can attack smartphones running with Android or Mac OS X system.
2. Don't pay for anything or provide your personal information to this hoax, it won't help lock out of the warning but just waste your money.
3. Currently no app is able to detect or remove this malware, even for preventing the virus from attacking the mobile device again.
How to Unlock Device from A Fake Police Mobile Lock Warning Page Step By Step:
1. Restart your phone to safe mode.
Note: "Safe Mode" on Phone starts up without loading any third-party add-ons and different devices have different ways to access safe mode.
For example:
For Samsung Galaxy S4: 1. Power down. 2. Turn on and repeatedly tap the soft-button for "Menu."
For Samsung Galaxy S3 and others: 1. Power down. 2. Turn on, then press and hold Volume Down (Galaxy S3 and others), Volume Up (HTC One and others), or Volume Down and Volume Up together (various Motorola devices) when the vendor's logo appears.
If you have managed to select Safe Mode, you will see the text "Safe Mode" at the bottom left corner of the screen.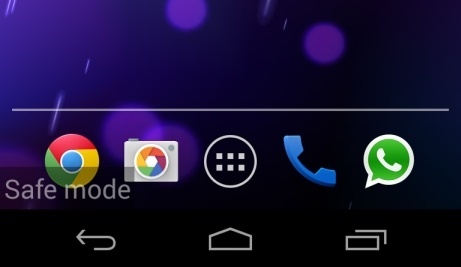 2. Once you have put your phone in safe mode, contact an expert for further removal instruction.
If you got a fake police mobile lock warning saying that your device is blocked for safety reasons and you are asked to pay $100, $200 or $500 fine via a prepaid card within 24/48/72 hours to unlock the device, then you must suffer with a piece of malware known as Trojan Reveton. This virus can be downloaded on Samsung, LG, Huawei phone, Kindle Fire, RCA tablet or other Android devices without any consent. It pretends to be a good app to trick users into downloading, usually as a "flash player" app or a useful app helping users to update the system. Once downloaded, it locks users out of their device immediately and then it displays a fake warning from government department such as FBI, AFP, Mandiant USA Cyber Security, Cyber Police to scare people. Most people start to panic when they see such fake warning, even though they are innocent. They don't want to let others know this happened and they are afraid of being arrested or having a criminal record so they will choose to pay the fine. Eventually they got nothing and the device still remains blocked after money loss. The only solution to unlock the phone is to manually get the ransomware off your device. Paying the fine is always not an option. Don't spend any money on the scam.
Note: Manual removal is a skillful and risky job, if any mistakes are made in the process, you may damage your phone immediately. If you are not sure how to do, please contact YooCare PC experts 24/7 online for help right now.


Published by & last updated on June 20, 2016 10:52 am