Earlier today I was on a "normal" porn website when suddenly my phone screen turned black and subsequently I got a message from supposedly Cheshire Constabulary. It asked me to pay £100 to unblock the phone because I was doing illegal things, like view pornography. I duly did pay the fine and then it said "YOUR PAYMENT WILL BE PROCESSED IN THE NEXT 24 HOURS". After 24 hours when I turned on my phone, it was still blocked. I don't know what to do now. I am worried that the authorities might prosecute me. So is this message real or fake? And if this is a scam how do I get my money back? I need my phone urgently, please help!
Cheshire Constabulary Scam on Android Device – How to Unlock?
Cheshire Constabulary Scam is a form of malware, similarly to Cheshire Police Authority virus that can hold your entire phone/tablet hostage or block access to Internet browser. It tricks users into paying £100 through Ukash or Paysafecard in order to gain access to the infected device. This malware is widely distributed on hacked websites or spam emails and it can be installed on android devices without any permission, therefore the number of the victims keeps increasing every day. People usually get infected by downloading and installing a so-called "video player" apps. When they believe that they have downloaded a good software, in fact the threat is approaching their phone stealthily because Cheshire Constabulary Virus is bundled with the software. Now Android users in United Kingdom, Australia, New Zealand and Canada are the main target of this scam.

The cyber criminals hacks people by taking control of their phone or tablet, and sending a fake warning to scare them into paying a fine. In such cases, every time you turn on your device, Cheshire Constabulary scam virus pop-up will appear immediately. Users are not allowed to call or text, even power off the device. Worse still, restarting the phone is not helpful to exit out the scam page because the virus pops up right away as soon as system is launched. On this virus scam page, it claims that your device is blocked due to several reasons such as violating Copyright and Related Rights Law (Video, Music, Software) and illegally using or distributing copyrighted content, viewing or distributing prohibited Pornographic content. You will see your IP address, location, user name, and other information listed there. Except for these information, you may also see a count down there which gives you an ultimatum to pay the fine, usually it is 48 hours or 72 hours. The message even provides a simple guide on how to pay a fine. It requires users to pay the fine via prepaid card like Ukash and Paysafecard, or other gift cards and tells them where to buy the card. But all these information is misleading. Real department or authorities will never ask money from someone guilty by only locking his device. Not to mention the money needs to be transferred from a prepaid card like Ukash or Moneypak. You will not be able to trace the money or ask for a refund once the fine is transferred by such payment system. The cyber criminals behind this scam makes unwary users believe this is a real message from the law enforcement agencies or local authorities and then ask them to pay an unnecessary penalty fine for extorting money. Don't be fooled by it. Cheshire Constabulary Scam should be removed from the android device as early as possible.
Please Contact YooCare 24/7 Online PC Expert now if you don't know how to start the removal on your phone/tablet.

Possible Danger Caused By :
It will take control of your mobile phone rapidly once it is downloaded.
It will pretend itself as a legit warning and then ask for a ransom.
It will not allow you to change your phone settings or open Google Play to download antivirus program.
It will not let you power off the phone or do anything else except for inputting the demand Paysafecard or Ukash code.
It may damage your data and the whole Android system.
Important Things You Have To Know If Your Android Phone Has Been Blocked by Cheshire Constabulary Scam Message:
1. Cheshire Constabulary Virus can attack smartphones running with Android or Mac OS X system.
2. Don't pay for anything or provide your personal information to this hoax, it won't help lock out of this fake virus warning but just waste your money.
3. Currently no app is able to detect or remove this malware, even for preventing the virus from attacking the device again.
How to Remove Cheshire Constabulary Scam Warning From Android Phones?
1. Restart your phone to safe mode.
Note: "Safe Mode" on Phone starts up without loading any third-party add-ons and different devices have different ways to access safe mode.
For example:
For Samsung Galaxy S4: 1. Power down. 2. Turn on and repeatedly tap the soft-button for "Menu."
For Samsung Galaxy S3 and others: 1. Power down. 2. Turn on, then press and hold Volume Down (Galaxy S3 and others), Volume Up (HTC One and others), or Volume Down and Volume Up together (various Motorola devices) when the vendor's logo appears.
If you have managed to select Safe Mode, you will see the text "Safe Mode" at the bottom left corner of the screen.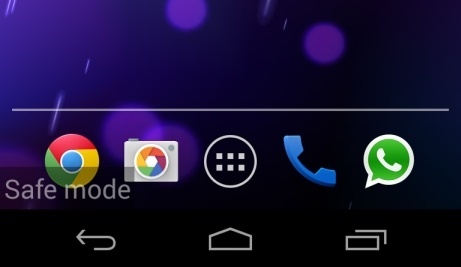 2. Once you have put your phone in safe mode, contact an expert for further removal instruction.
Regarding to Cheshire Constabulary scam, a large number of victims have shared this horrible experience on some forums and are eager to get a solution to unlock the cell phone or tablet. They mention that the virus will not allow them to power off the device. When the virus alert pops up wanting £100, they cannot do anything else. Some of them even have anti-virus apps installed, but they still get infected and can't find a solution to unlock the device. They wonder how this virus gets into the phone and if it is necessary to pay the fine. Ransomware is not something new, instead it is very rampant and common to Internet users nowadays. It not only attacks computers, but also hacks mobile phone and tablet. The virus presents a fake message from law enforcement agency or government, falsely accusing the owner has been used the mobile device for doing something illegal so that FBI, PCeU or other agencies detect it from the IP address. A lot of people got freaked out when the first time they saw Cheshire Constabulary Virus on the device. But paying the fine is not an option to fix the problem, otherwise users will be scammed and lose their hard-earned money immediately. If your phone/tablet is blocked by this scam, please get rid of it manually.
Note: Manual removal is a skillful and risky job, if any mistakes are made in the process, you may damage your phone immediately. If you are not sure how to do, please contact YooCare PC experts 24/7 online for help right now.


Published by & last updated on June 10, 2016 4:00 am