Hi, i was watching regular pornography when all of a sudden a cyber.police pop up ad appeared on my screen completely blocking my access to anything, it said i needed to pay a fine with itunes gift card or something like that which i can buy at a local cvs store, and it said if i do not do so i will be subject to prosecution and all my pictures and storage on my phone will be deleted. It really freaked me out and now I can't access my phone at all. I almost paid $500 to unlock my phone until I found the pop up was actually a scam. I searched online from my laptop and it seemed many people had the same cyber.police itunes scam blocking Samsung, HTC, LG and ZTE etc. So what should I do now? And if i don't pay the fine, will i get any trouble and will it really delete data on the phone? I have a lot of important photos and I don't want to lose them. Please help!
Cyber.Police itunes Scam Blocked Your Cell Phone? Is It Real Or Just A Virus?
Cyber.Police itunes Scam, as known as Cyber Police Virus is categorized as Ransomware, which is a form of malware, works by either holding your entire phone/tablet hostage or by blocking access to Internet browser. The number of the victims is increasing every day because scammers keep creating new scams like this one in order to extort as much money as possible from unwary mobile users. The scam hacks people by taking control of their phone or tablet, and then sending a fake Cyber Police warning and blaming them with a threatening tone that they were being accused of activities against copyright laws, such as viewing or distributing pornography, spam distribution etc. As long as the virus is running, users are not allowed to access the cell phone/tablet anymore. Sometimes they cannot even turn off the device because of the cyber.police itunes scam page which keeps forcing them to pay a fine through itunes gift card, not to mention that they cannot browse the web or access system settings. A lot of people got freaked out and mistakenly paid for the fine because this CYBER POLICE virus page looks so real and it even shows them their IP address, location and other information. Victims are afraid of being caught by the cyber police so they would rather pay the fine, in case of getting involved in those crimes, even if some of them did nothing wrong at all. But paying the fine is not an option to unlock the device because it cannot guarantee that you can exit out the virus page and use your phone soon. The warning blocking the device is merely a scam which is arranged by cyber scammers to steal money from your pocket. Don't be fooled by it and all you have to do is to get rid of cyber.police itunes scam from android device manually and quickly.

The malware is known to affect all android devices and mostly it infects Samsung phones/tablet, LG phones, HTC phones, ZTE phones and RCA tablets etc. According to the research, this scam is usually downloaded from hacked website or spam emails. People usually get it by clicking malicious links on hacked sites or through downloading and installing a so-called "video player" app. When people believe that they have downloaded a good software, for instance a bogus update for Adobe Flash Player or another piece of software, in fact the threat is approaching their phone stealthily. To stay away from this scam, stick to download apps from legitimate app stores like Google PlayStore because it filters out the reliable application from what's not reliable. Be cautious at opening attachments even though it is sent by your contacts. Don't click any suspicious pop-up ads from your web browser or it can redirect you to malicious page and download cyber.police itunes virus without your permission. In a word, cyber.police itunes scam warning should be ignored and deleted as soon as it is found.
Please Contact YooCare 24/7 Online PC Expert now if you don't know how to start the removal on your phone/tablet.

Possible Danger Caused By :
It will take control of your mobile phone rapidly once it is downloaded.
It will pretend itself as a legit warning and then ask for a ransom.
It will not allow you to change your phone settings or open Google Play to download antivirus program.
It will not let you power off the phone or do anything else except for inputting the demand Paysafe card or Ukash code.
It may damage your data and the whole Android system.
Important Things You Have To Know If Your Android Phone Has Been Blocked by Cyber.Police itunes Scam Message:
1. Cyber.Police itunes Scam can attack smartphones running with Android or Mac OS X system.
2. Don't pay for anything or provide your personal information to this hoax, it won't help lock out of this fake virus warning but just waste your money.
3. Currently no app is able to detect or remove this malware, even for preventing the virus from attacking the device again.
How to Remove Cyber.Police itunes Scam Warning From Android Phones?
1. Restart your phone to safe mode.
Note: "Safe Mode" on Phone starts up without loading any third-party add-ons and different devices have different ways to access safe mode.
For example:
For Samsung Galaxy S4: 1. Power down. 2. Turn on and repeatedly tap the soft-button for "Menu."
For Samsung Galaxy S3 and others: 1. Power down. 2. Turn on, then press and hold Volume Down (Galaxy S3 and others), Volume Up (HTC One and others), or Volume Down and Volume Up together (various Motorola devices) when the vendor's logo appears.
If you have managed to select Safe Mode, you will see the text "Safe Mode" at the bottom left corner of the screen.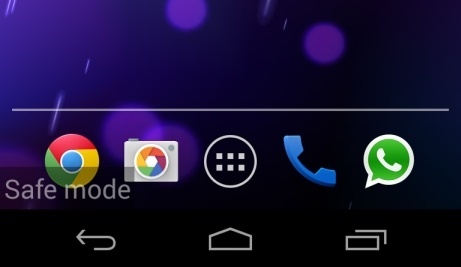 2. Once you have put your phone in safe mode, contact an expert for further removal instruction.
Cyber.Police itunes Scam virus is created by cyber hackers who want to get illegal incomes by threatening people for nonexistent crimes. It can show up on an android phone or tablet without asking for any permission. The virus pop-up is with an officially looking alert, which reports about different kind of violations and asks paying the fine via itune gift cards. Many users have already been tricked by such warning and wrongly paid the fee but they still cannot unlock their device. The malware wants the unwary users to go out and buy an "itune Gift Card", load it with $100, $200 or $500, and then enter the card's information. Don't pay the fine anyway because no authorities use such methods to collect fines for copyright-related or other law infringements. Money transfer through a prepaid card is always untraceable. Be careful and do not be the next victim of Cyber.Police itunes scam. This virus has to be removed manually in a hurry.
Note: Manual removal is a skillful and risky job, if any mistakes are made in the process, you may damage your phone immediately. If you are not sure how to do, please contact YooCare PC experts 24/7 online for help right now.


Published by & last updated on June 6, 2016 11:35 am