Help! Interpol police is coming to arrest me. My computer files have been encrypted. It will not allow me access them until I pay a $100 fine. I am confused. How can the police encrypt my files because of porn? Though it is embarrassing, I have to admit that I did watch porn on my computer. So, it's illegal to watch porn? Those videos about my children and photos of my parents all are not accessible. It's too bad that I didn't backup them to my icloud. Those files are invaluable. I can pay money to get them back. However, I have to figure out whether I am facing the real Interpol police or not. Is the Interpol police thing real? Can I trust it? Please answer me soon. I do need your help. Thank you in advance.
Brief Introduction to Interpol Police Scam Virus
If your computer files are encrypted and you are seeing a "Attention! All important files and information on this computer are encrypted." notification from the Interpol police, your computer is infected with a scam virus. Interpol police scam virus is categorized as a piece of ransomware which belongs to the Urausy virus family. The cyber criminals create it to swindle unexpected computer users out of money in the name of authority. They take your important files as a hostage demanding for bogus fine. The fake message warning states that suspicious illegal activities have been detected on your computer, such as violating the law by distributing illegal content, offending copyright, etc. In fact, the Interpol police would not encrypt your computer files to collect fines for any law violations. Do not ever trust it and pay the fine to get your files back. There is no guarantee that the criminals will let you have your files back. We strongly suggest you ignore this fake warning and remove the Interpol police scam virus out of your system as early as possible.
Interpol police scam virus is a common infection in those days. According to the virus removal experts, after you visit malicious websites, legit websites that have been corrupted, it can infect your computer via exploiting kits. Vulnerabilities on your computer are used to install this virus without your permission of knowledge. When you watch porn on suspicious website, virus can be downloaded easily. Sometimes, you may receive a notification saying that your media player, Java or other application is out of date and you need to update it immediately through clicking on the provided link to download. We do not advise you trust this kind of message that pops up on your computer from unknown website. It is not helping you update your application but tricking you into download virus instead. In addition, virus can hide in attachment of email spam. The criminals embed virus into attachment and dispatch this spam to thousands of email users every day. If the users click on the attachment accidently, the virus will be installed. Therefore, you ought to ignore spam and just delete them to keep your computer away from viruses like Interpol police scam virus.
Once Interpol police scam virus gets installed on your computer, it scans your systems without your permission and encrypts the predetermined files with specific code immediately. After that, it displays fake warning to tell you that your personal files have been encrypted by the Interpol police. It claims that illegal activities have been detected on your computer. Detail laws that you violated are listed. To make it more authentic, it displays your IP address, location, local date and time, etc. When you try to open your files, it says your files are not available to use. You are required to pay a fine to get a decryption code to your encryption files. What's worse, it blocks your antivirus program so as to avoid itself being removed. This scam virus will not go away, though you turn off your computer which scares you surely. However, you must calm down. Do not be fooled by it. This message is fake. Do not follow its guide to pay the fine. You should not trust the criminals. The most important thing you need to do is to remove this Interpol police scam virus from your computer.
Manual Removal Guides:
Removing the Interpol police scam virus seems to be difficult for ordinary computer users, even those famous antivirus programs cannot do that successfully. Hence, manual removal can ensure that the stubborn virus will be gone completely. As mentioned above, manual removal needs professional knowledge, because the lack of experience may cause errors resulting in some other unpredictable problems. The following guide provides a general concept of the removal. You may not be able to find out some certain files for the virus can be changed. If you fear the loss of important data, please consider making a backup before starting the computer encryption scam virus removal.
1. Restart the Infected Computer into Safe Mode with Networking
(* Usually the malware will be temporarily disabled in Safe Mode which will provide users a chance to get this problem fixed. If you are still getting the virus popup in safe mode with networking, please try safe mode with command prompt instead.)
Restart your computer, immediately, quickly and repeatedly hit F8 key before the Windows start-up screen shows. Select "Safe Mode with Networking", and then press Enter key.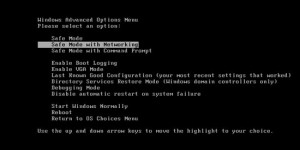 2. Stop the Processes Related to Interpol police scam virus in Windows Task Manager
Press Ctrl+Shift+Esc keys together and end the virus processes in the Processes tab of Windows Task Manager.

3. Show Hidden Files
(1). Press Win+R to get Run window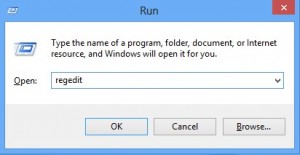 (2). Type Control Panel in the Run window and hit enter to get Control Panel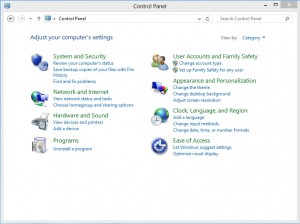 (3). Click on Appearance and Personalization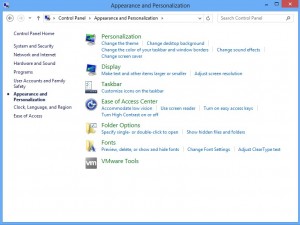 (3). Click on Folder Options

(4). Click on View tab in Folder Options window
(5). Tick Show hidden files, folders, and drives under Hidden files and folders tab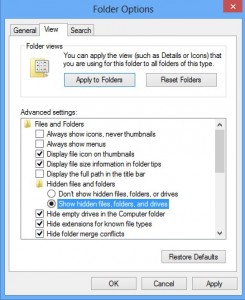 (6). Click Apply to take effect, then click OK at the bottom of the Folder Options window
4. Delete Virus Files
(1). Using Registry Editor to delete or adjust all the related registry entries of computer encryption scam virus
*Guides to open Registry Editor:
Press Win+R key together to get the Run box, type in 'regedit' then click OK, Registry Editor window will pop up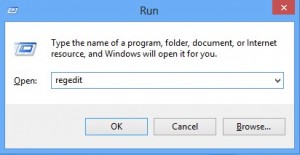 (2). Find out and remove the associated files of this Interpol police scam virus
Video Shows You How to Safely Modify Windows Registry Editor:
Conclusion
We can understand that how upset you would be when facing a problem with Interpol police without knowing it is fake. Many people were so scared when seeing this message. Therefore, they paid $100 to the fake police immediately as it required. It said that the payment would be confirmed in several days. Unfortunately, their files still are encrypted after 10 days they sent the money. The criminals only want money and do not decrypt the files. We suggest you google information about this Interpol police scam virus before you pay the fine as this infection is very common. In this way, you will know that it is just a scam. The police will not come to your house and arrest you. Do not send money to the criminals for nothing. If your computer is infected and you are reading this article, remove this evil Interpol police scam virus out of your system right now. Do not hesitate. It may damage your system further for more money. Next time, be careful with unknown programs from the Internet to protect your computer from virus.

Published by & last updated on May 26, 2016 8:35 am