Earlier this morning I was watching a video on my Samsung tablet and then a small window with ads came up out of nowhere. I tried to close the ads but then it popped up another message saying how I am being accused of viewing child pornography. It blocked my tablet and said I have 72 hours to pay a $200 fine through Amazon Gift Card fine or otherwise I will be arrested. It showed a big warning "ATTENTION! Your device has been blocked up for safety reasons" on the top and even gave me my location. Is this a scam or is it real? How do I unlock my tablet without paying $200 Amazon Gift Card?
$200 Amazon Gift Card Virus on Tablet/Phone is a Scam:
If your phone or tablet has been locked by $200 Amazon Gift Card Virus and you are seeing this "ATTENTION! Your phone has been blocked up for safety reasons" notification from a law enforcement agency (FBI, Australian Federal Police, Metropolitan Police, U.S. Department of Justice), then your Android phone is infected with a piece of malware known as Trojan Koler. This malware is going around on mobile device now; therefore mobile users from different countries can be targeted by this virus. Once the virus is downloaded, users can see a fake screen-locking message displayed in their local language and exploiting names of authorities from their countries. It says the device is blocked as a penalty for online crimes like downloading copyright-protected music, watching porno sites or distributing illegal contents. All the images on the message are high resolution and it even shows the user's IP address, location and other device information. Infected users are not allowed to minimize or exit the message page until they pay $200 fine through Amazon Gift Card. This scam is similar to the previous Ukash scam, Moneypak scam or Paysafecard scam. It is also designed by the hackers to deceive inexperienced mobile users and lure them into pay a non-existent fine with a prepaid card like Amazon Gift Card rather than a credit card. The amount of the fine is usually $200 (in some cases it can be up to $500) and it even gives a deadline which is usually 24 hours, 48 hours or 72 hours to let the users complete the payment. But paying the fine is always not an option. Once you pay the fine your phone/tablet will be still locked. The hackers behind the scam can take your money immediately and the worse is that the money is untraceable, unlike your personal bank transactions. You will lose your money and still have the phone/tablet blocked.

How does $200 Amazon Gift Card Virus get into your phone/tablet? What if you do not pay $200 fine through Amazon Gift Card in 24/48/72 hours? Can the phone be unlocked if the time runs out? This type of malware is able to slip into android system without any consent. It will disguise to be an attractive application, usually called "Adobe Flash Player", "Adult Player" or "Private Video" to lure users into downloading. When the users open some hacked sites or click on some malicious links, this virus app can be downloaded automatically and then the device will be locked right away. In such cases, restarting the cell phone cannot help at all because the virus page pops up as soon as the phone is on. Users are not allowed to call or text, even power off the device because of the $200 Amazon Gift Card virus. However, don't rush to pay for the $200 fine even if you are under a pretty awful situation that you cannot do anything on your phone. Just calm down and think twice that real department or authorities will never ask money from someone guilty by only locking his device. Not to mention the money should be transferred from a prepaid card. That must be fishy. Refusing to pay the fine will not make the police go to your house and arrest you. Also you won't get any other legal troubles. But the only annoyance is that your device still remains blocked unless you manually get rid of it. The follow guide will help you get rid of $200 Amazon Gift Card virus scam in 15 minutes.
Please Contact YooCare 24/7 Online PC Expert now if you don't know how to start the removal on your phone.

Possible Danger Caused By $200 Amazon Gift Card Virus:
It will take control of your mobile phone or tablet rapidly once it is downloaded.
It will pretend itself as a legitimate warning and then ask for a ransom.
It will not allow you to change your phone settings or open Google Play to download antivirus program.
It will not let you power off the phone or do anything else except for inputting the demand Amazon Gift Card code.
It may damage your data and the whole Android system.
Important Things You Have To Know If Your Android Phone Has Been Blocked by Amazon Gift Card Scam Warning Message:
1. "$200 Amazon Gift Card Virus" scam can attack smartphones running with Android or Mac OS X system.
2. Don't pay for anything or provide your personal information to this hoax, it won't help lock out of the fake $200 Amazon Gift Card Virus warning but just waste your money.
3. Currently no app is able to detect or remove this malware, even for preventing the virus from attacking the mobile device again.
How to Unlock Device from $200 Amazon Gift Card Virus Scam?
1. Restart your phone to safe mode.
Note: "Safe Mode" on Phone starts up without loading any third-party add-ons and different devices have different ways to access safe mode.
For example:
For Samsung Galaxy S4: 1. Power down. 2. Turn on and repeatedly tap the soft-button for "Menu."
For Samsung Galaxy S3 and others: 1. Power down. 2. Turn on, then press and hold Volume Down (Galaxy S3 and others), Volume Up (HTC One and others), or Volume Down and Volume Up together (various Motorola devices) when the vendor's logo appears.
If you have managed to select Safe Mode, you will see the text "Safe Mode" at the bottom left corner of the screen.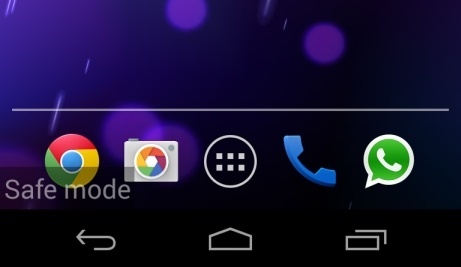 2. Once you have put your phone in safe mode, contact an expert for further removal instruction.
If you got a pop-up message saying that your device is blocked for safety reasons and you are asked to pay $200 fine via Amazon Gift Card within 24/48/72 hours to unlock the device, then you must suffer with the $200 Amazon Gift Card Virus Scam now. This is a common malware used to target mobile devices in United Kingdom, United States, Canada, Australia, Italy, Germany and others countries so don't fall for it. The virus can be installed on Samsung, LG, Huawei phone, Kindle Fire, RCA tablet or other Android devices without any consent. It masquerades as a legitimate warning from government department such as FBI, AFP, Mandiant USA Cyber Security, Cyber Police and blocks infected users from accessing their device. The malware wants the unwary users to go out and buy an "Amazon Gift Card", load it with certain amount, and then enter the card's information. There are thousands of people all around the world who have already paid this fine but eventually they got nothing because the device is still blocked even after payment is sent. To sum up, this virus is a scam designed to swindle your money and the only way to unlock the cell phone or tablet is to find out the virus apps and uninstall it quickly.
Note: Manual removal is a skillful and risky job, if any mistakes are made in the process, you may damage your phone immediately. If you are not sure how to do, please contact YooCare PC experts 24/7 online for help right now.


Published by & last updated on May 24, 2016 8:30 am