Hi there. Earlier today I clicked on a link and then I got a message saying that my phone has been locked for viewing child pornography contents and violating copyright and related right laws so I need to pay £100 via Paysafecard or Ukash to unlock my phone. I'm using a Samsung Galaxy Note 5 by the way. Now my phone had been completely locked and I couldn't do anything about it and I was incredibly scared quite frankly. I tried to exit the blocked page but it didn't give me any chance to get into settings even after restart. The message had my IP address, city and my picture. It said if I don't pay, I will be fined or sent to jail. I searched online and found many people had the same problem before. I didn't do anything wrong though. Is it actually a scam? How do I unlock my phone without paying £100?
Why Your Phone Has Been Locked Wanting £100? Is It Real or A Scam?
If your phone has been locked with a message which is supposedly from a law enforcement agency (FBI, CSIS, Australian Federal Police, Metropolitan Police, Cyber Police, International Criminal Police Organization) and wanting £100, then your Android phone must have been infected with a piece of malware known as Trojan Koler. This virus can lock up a vulnerable phone or tablet without any consent and it targets both Apple users and Android users all over the world, especially for those in United Kingdom, Australia, New Zealand and Canada. The malware is widely distributed on hacked websites or spam emails. People usually get it through downloading and installing a so-called "video player" app. When people believe that they have downloaded a good software, for instance a bogus update for Adobe Flash Player or another piece of software, in fact the threat is approaching their phone stealthily. The virus is hidden in the app and once installed it holds the phone/tablet's hostage and tricks users into paying £100 through Ukash or Paysafecard in order to unlock the device.

The virus usually starts its attacks by displaying a fake pop-up message which covers the whole phone screen or blocks the Internet access. It alerts users that the device is locked due to the violation of the laws of their countries. And then it displays IP address, location and other information to further scare innocent users. It claims that the IP address was used to visit websites containing pornography, child pornography, zoophilia and child abuse so that a fine of $100 is needed to be transferred via Ukash or Paysafecard to correct the violation and avoid getting into any legal trouble. The infected user is also given an ultimatum to pay a fine to unlock the device and stay out of jail; usually it is 48 hours or 72 hours. The primary goal of this type of virus is to extort money from unwary users. It makes them pay an unnecessary penalty fine but actually paying the fine will not remove this infection and unlock the device at all.
Regarding to this scam, a large number of victims have shared this horrible experience on some forums and are eager to get a solution to unlock the cell phone or tablet. They mention that the virus will not allow them to power off the device. When the virus alert pops up wanting £100, they cannot do anything else. The virus pops up right away and refuses to let them access the device unless £100 fine is sent via Ukash. It displays user's IP address, location, user name, and even internet service provider. Also in some cases, it opens front camera and takes a screenshot of the infected user, which seems to be an evidence of who was using the device at the time of the alleged offence. Additionally the virus page lists many bad consequences if a fine is not paid in time. It says if you do not pay £100 in three days or else it would contact all of the contacts you have in the address book about the situation and start an investigation immediately. Actually these horrible consequences will not really happen. It is merely a virus. Real department or authorities will never ask money from someone guilty by only locking his device. Not to mention the money is transferred from a prepaid card. That must be fishy. Don't rush to pay the £100 fine and all you need to do is to remove the virus from the mobile device immediately.
Please Contact YooCare 24/7 Online PC Expert now if you don't know how to start the removal on your phone.

Possible Danger Caused By A Ransomware:
It will take control of your mobile phone rapidly once it is downloaded.
It will pretend itself as a legit warning and then ask for a ransom.
It will not allow you to change your phone settings or open Google Play to download antivirus program.
It will not let you power off the phone or do anything else except for inputting the demand Ukash/Moneypak code.
It may damage your data and the whole Android system.
Important Things You Have To Know If Your Android Phone Has Been Blocked By A Message Wanting £100:
1. This scam can attack both Android devices and Apple devices.
2. Don't pay the £100 fine or provide your personal information in any case because it won't help lock out of the virus warning but just waste your money.
3. Currently no app is able to detect or remove this malware, even for preventing the virus from attacking the mobile device again.
How to Remove The Message & Unlock Device Completely?
1. Restart your phone to safe mode.
Note: "Safe Mode" on Phone starts up without loading any third-party add-ons and different devices have different ways to access safe mode.
For example:
For Samsung Galaxy S4: 1. Power down. 2. Turn on and repeatedly tap the soft-button for "Menu."
For Samsung Galaxy S3 and others: 1. Power down. 2. Turn on, then press and hold Volume Down (Galaxy S3 and others), Volume Up (HTC One and others), or Volume Down and Volume Up together (various Motorola devices) when the vendor's logo appears.
If you have managed to select Safe Mode, you will see the text "Safe Mode" at the bottom left corner of the screen.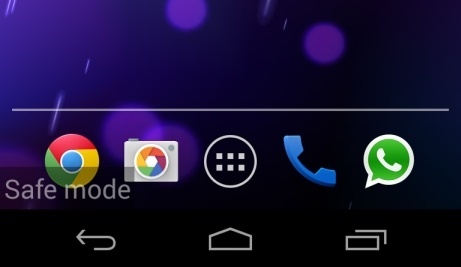 2. Once you have put your phone in safe mode, contact an expert for further removal instruction.
Be aware that paying £100 cannot help unlock the mobile device because this type of Ramsomware is a fake thing rather than a real message from the government or authorities. Due to its deceitful appearance, many users are fooled by that and mistakenly pay for the fine. The victims urgently want to get the phone unlocked because no one wants to ruin their cell phone, lose precious data or get involved in the law violation problems. Although paying £100 fine seems to be the only way that can get things corrected, in fact it just will get things worse. The virus limits the way you pay and you can't use your own debit or credit card. These scammers want you to go out and buy a Ukash or Paysafecard card, load it with £100, and then enter the card's information on the blocked screen. After entering in the PIN of the card the screen will show another message saying something along the lines of "YOUR PAYMENT WILL BE PROCESSED IN THE NEXT 24 HOURS", but after 24 hours the device still remains blocked. In rare circumstances, phone may be unlocked after the fine is transferred; however, the virus can still run in the background, sending personal information to the hackers for illegal use without your knowledge. It should be deleted manually instead.
Note: Manual removal is a skillful and risky job, if any mistakes are made in the process, you may damage your phone immediately. If you are not sure how to do, please contact YooCare PC experts 24/7 online for help right now.


Published by & last updated on May 12, 2016 5:25 am