I am freaking out now because my phone is entirely locked by an Interpol pop up. After clicking a malicious link, something was installed on my phone and then popped up a warning saying I was in violation of the law because I was watching child porn and other illegal sites. It had all my Info like my IP address, where I was located and everything else. I can't do anything on the phone. It said I had to pay 500$ or I would be persecuted for violating some rights or whatever and charged as a criminal. Also it said my contacts on the phone would be called up and interrogated as witnesses for my crime. Is that real? Am I going to jail? I have tried to reboot my phone a million times and all it does is to stay on the Interpol Virus page. I don't know what to do! How do I get rid of this?
Interpol Pop Up Blocked Your Cell Phone? Is It Real Or Just A Virus?
Interpol Pop Up (as known as Interpol Virus) is categorized as Ransomware that commonly used by criminals to infect mobile devices and computers. This pop up is a very convincing looking scam/fraud that masquerades as law enforcement agencies demanding money for fictional crimes. In order to gain more and more profit, cyber criminals spread the virus everywhere, so mobile users in United States, Canada, Australia, New Zealand, United kingdom, Germany, Ireland, France, Italy, Netherlands, Spain, Norway, Switzerland, Sweden, Belgium, Denmark and Greece can be the main target of this virus attack. There are various ways for the virus to get into target devices. It can be installed on Android phones with the brands like HTC, Samsung, LG or Motorola and Android tablets like RCA and Samsung tab without any permission.

Usually, cyber criminals put this infection onto websites which have already been hacked. Once people go to those corrupted pages or click any links on the websites, a malicious app will be downloaded and activated on their devices automatically. The virus also can be downloaded through spam emails. According to the research, more than 15,000 spam emails containing malicious files has hit the inboxes of mobile device users in the last few days. The virus hides in the attachment and waits for users to download. So, to avoid being a victim of Interpol Pop Up Virus, people should not go the unknown or porn sites. Be careful whenever you are going to open an attachment from unknown person.
Once installed the malware holds your phone/tablet's hostage and tricks you into paying a ransom to unlock your device. So your cell phone will be covered by an Interpol pop-up saying that your phone has been blocked up for safety reason. International Criminal Police Organization detected you downloading child porn, pirating copyrighted content, or some other illegal activities. Users are not able to close or bypass the fake Interpol Pop-up as it has fully controlled the device. On this scam page, it has the official Interpol logo on the top and it lists victim's IP address, location, and the name of your ISP, even gives you a fake case number and a countdown to make itself look real and authentic. Creepy, isn't it? Cyber crooks want the victims to pay a fine of $500 in 48 hours in order to unlock the cell phone or tablet. They give the instructions on how and where to send the money. The payment method is always something from which you cannot recover your money, such as Ukash or Paysafecard. Paying the fine is always not an option to unlock the device. Most Android users who paid for the fine wrongly only find that their devices still remain blocked even though the payment has been transferred. To sum up, Interpol Pop Up is nothing but a scam that should not be trusted. It only leads you to money loss. Real department or authorities will never ask money from someone guilty by only locking his device. Not to mention the money should be transferred from a prepaid card. So there is no chance that Interpol pop up is real. If your phone or tablet has been blocked by Interpol Scam, please follow the guide below to unlock it step by step.
Please Contact YooCare 24/7 Online PC Expert now if you don't know how to start the removal on your phone/tablet.

Possible Danger Caused By Interpol Pop Up Scam:
It will take control of your mobile phone rapidly once it is downloaded.
It will pretend itself as a legit warning and then ask for a ransom.
It will not allow you to change your phone settings or open Google Play to download antivirus program.
It will not let you power off the phone or do anything else except for inputting the demand Paysafe card or Ukash code.
It may damage your data and the whole Android system.
Important Things You Have To Know If Your Android Phone Has Been Blocked by Interpol Pop Up Virus Message:
1. "Interpol Pop Up" scam can attack smartphones running with Android or Mac OS X system.
2. Don't pay for anything or provide your personal information to this hoax, it won't help lock out of this fake virus warning but just waste your money.
3. Currently no app is able to detect or remove this malware, even for preventing the virus from attacking the computer again.
How to Remove Interpol Pop Up Malware From Android Phones?
1. Restart your phone to safe mode.
Note: "Safe Mode" on Phone starts up without loading any third-party add-ons and different devices have different ways to access safe mode.
For example:
For Samsung Galaxy S4: 1. Power down. 2. Turn on and repeatedly tap the soft-button for "Menu."
For Samsung Galaxy S3 and others: 1. Power down. 2. Turn on, then press and hold Volume Down (Galaxy S3 and others), Volume Up (HTC One and others), or Volume Down and Volume Up together (various Motorola devices) when the vendor's logo appears.
If you have managed to select Safe Mode, you will see the text "Safe Mode" at the bottom left corner of the screen.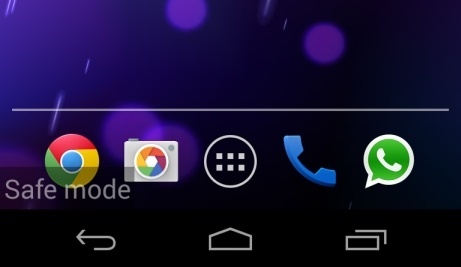 2. Once you have put your phone in safe mode, contact an expert for further removal instruction.
Interpol Pop Up does look believable. All the images are high resolution and it lists your IP address and city, but actually this is a notorious virus and has nothing to do with the real Interpol. This virus is mainly used to attack Android devices like Samsung, LG, Huawei phone, Kindle Fire or Samsung and RCA tablet and it has different variants like DOJ virus, NSA virus, Mandiant U.S.A. Cyber Security Virus, PCeU Virus which are designed to attack users in different locations. Generally speaking, this type of malware is created by cyber hackers who want to get illegal incomes by threatening people for nonexistent crimes. Once downloaded, it locks your device with an Interpol pop up immediately. It states that you've done something illegal, such as downloading or distributing copyrighted material, viewing child pornography or distributing spam. You are not able to use your phone or tablet anymore and you are asked to pay a fine of $500 within 48 hours in order to correct this violation and avoid further punishment. Actually paying the so-called fine is just a waste of money as it won't help users unlock the devices. The virus is designed for collecting money from the victims and it can still be saved on the device even after a fine is paid. All you need to do is to remove Interpol Virus manually from the device.
Note: Manual removal is a skillful and risky job, if any mistakes are made in the process, you may damage your phone immediately. If you are not sure how to do, please contact YooCare PC experts 24/7 online for help right now.


Published by & last updated on May 4, 2016 4:46 am