I was watching something on my iPad Air 2 and then I received a message in Safari titled with "Warning IOS – Crash report". It says due to a third party application in your phone ios crashed and then shows me a number and asks me to contact this support for an immediate fix. My Safari browser is disabled and I'm unable to use it. Is this a virus? I always thought that iPad is safe enough and it won't be infected by any viruses. I was wrong. I have already tried to reset by holding the power and square down until the apple icon appears, but to no avail. I cannot get the message off of the Safari screen. So how do I get rid of this warning? And is there a way I can prevent something like this from happening to me in the future? Do I need to add an antivirus or antimalware app to my iPad now? I'm grateful for any advice!
Don't be fooled by "Warning iOS Crash Report" Scam:
A new iOS scam designed to cheat people out of money is being reported by many users in different countries, especially in the United States and the U.K. We called it as "Warning iOS Crash Report" scam which is known to affect iMac, Macbook, iPad or iPhone and other Apple products. This scam starts its evil activities by displaying a phony message that claims that your iOS crashed due to a third party application in your phone, and you need to call a tech support number (sometimes claiming to be Apple) to get it resolved. If you happen to see anything like this, whether on a Mac computer or any other Apple mobile devices, do not call the number! It is not from the real Apple Tech Support. It is simply a scam designed to rip you off. If you really call the given number, a "technician" may attempt to convince you that a third-party app has caused your iPhone or iPad to crash, and encourage you to tell them your credit card details to receive a fix.

The pop-up notification appears while people are using Safari. It is a common scam done by way of a Javascript loophole. In most cases, javascript alerts are issued once when a developer needs to inform you of an error or other details, and when you click "OK" or "Cancel" the alerts go away. However, by simply implementing the alert in a loop, a a developer can make it so the message displays repeatedly, locking out all other functions of your browser and making it appear as if they really have locked your browser. After your browser is blocked, you may think that your device has viruses, spyware or adware and you need to get it fixed quickly. But actually it is a misleading message trying to rip you off. The so called "tech guy" will use the opportunity to install real malware or potentially unwanted applications (PUAs) onto the user's device if you dial its fake tech support number.
"I was googling some information on my essay and I clicked a link on a page, all of sudden this Warning iOS Crash Report message popped up on my screen. I wasn't sure what happened, but when I read the message I thought it was support from Apple telling me to call the support number because my iPad had spyware on it. Out of panic, I called the number on the screen and a woman with a heavy foreign accent answered and asked me for my email address. That's when my gut told me something wasn't right here, so I hung up and I never called back. Now every time I try accessing Safari on my iPad, this screen comes up and I'm stuck and I'm clueless as to what to do. Can someone please help me with this and tell me what to do to get me out of this? I can access the rest of my iPad's features, it's just my browser that is stuck. I really need help to unlock my Safari. Thanks."
"Warning iOS Crash Report" scam is just a JavaScript pop-up, and is limited to your web browser. Your ios is working fine expect for this hijacker. To keep your device safe, you should get rid of this fake warning manually and immediately.
The following instructions require certain levels of computer skills. If you're not sure how to get rid of "Warning iOS Crash Report" scam from Apple computer or iPhone and iPad, please live chat with YooCare experts now.

"Warning iOS Crash Report" Scam Image: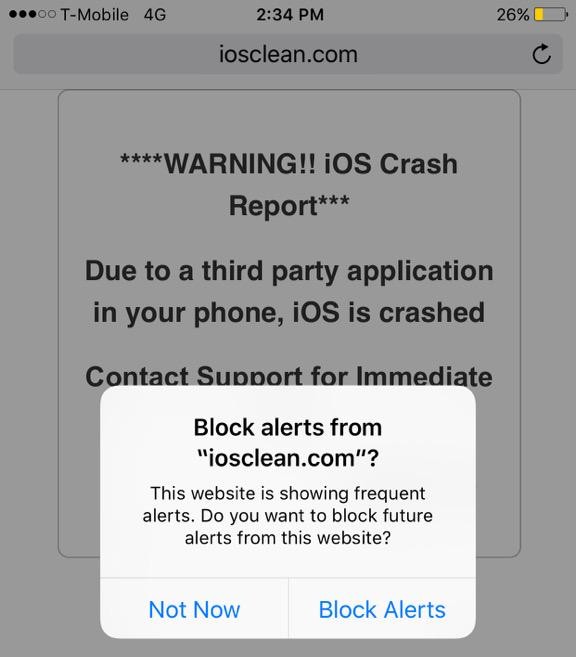 Potential Dangers Caused by A Hijacker Virus:
It belongs to browser hijacker virus which can totally mess up your browser setting.
It changes your default DNS configuration and blocks you accessing your favorite sites.
It may install some malware in your computer to make bad influence without your consent.
It degenerates your computer performance gradually.
How To Get Rid Of Warning iOS Crash Report Fake Message from Safari on Mac Computer?
Please do a system backup before you start to delete iOS Crash Report scam manually
1. Start the Safari browser.
2. On the Apple menu bar, click Safari, and then click Preferences.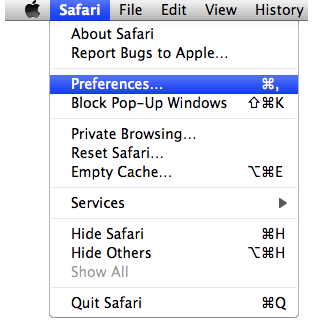 3. On the Extensions tab, delete all the suspicious add-ons.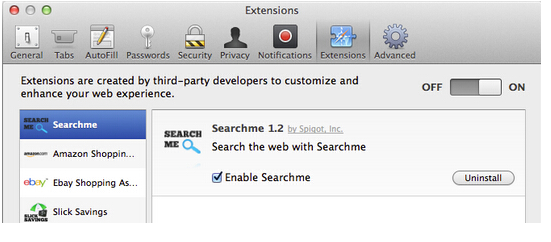 4. Next, select "Preferences", go to the "General" tab and change the "Default Search Engine" to Google. Then, in the "General" tab, find the "Home Page" and change it to "google.com".
5. If the fake 'Warning iOS Crash Report' page still appears, please contact YooCare experts online for further help.
How to Prevent Your Apple Devices from Scam Like This?
Since viruses are quite inevitable, there are some tips you can avoid being fallen into Warning iOS Crash Report Scam in the future:
1. Be careful of downloading applications in the internet because many of them are just cloned applications. Visit legitimate app stores like Apple Store because it filters out the reliable application from what's not reliable. Most viruses are from gaming and anti-virus applications which are forged. Before downloading an application, try to read some customer reviews so that you will be assured that it is truly a trusted app. Stick with apps from App Store and don't jailbreak your device and install apps from third-parties.
2. Be cautious at opening attachments thru MMS, SMS messages and e-mails because you might open an unknown attachment from unknown sender. Never open any attachments which are suspicious to you.
3. Don't open your Bluetooth connection when not in need. It would be easy for the virus to go inside the phone's application and destroy the phone's performance.
4. Read the permissions. Every app you install has to declare its permissions, meaning the app lists what it will have access to on your phone. Don't just click OK without reading what the app will do.
Note: Manual removal is a skillful and risky job, if any mistakes are made in the process, you may damage your apple device immediately. If you are not sure how to remove "Warning iOS Crash Report" scam Pop-up, please contact YooCare PC experts 24/7 online for help right now.

Published by & last updated on April 7, 2016 9:21 am