I clicked on a picture and suddenly I was sent to a pornographic page which I tried to leave. But then I got a pop up from SA Cyber Crime Police saying I had broken the Saudi Arabia criminal law, mentioning something about child pornography. I was asked for money. It said I need to pay 100$ fine with Cashu refill coupons or it will delete my data. I knew it was a scam but I was super scared that my information will be taken away from the hacker virus guy and I was wondering if I can just turn off the phone? Will that stop the guy from taking more info? Also how do I unblock my phone from this virus? I'm using Samsung S6 if that helps. Thanks in advance.
SA Cyber Crime Police Blocked Your Cell Phone? Is It Real Or Just A Virus?
SA Cyber Crime Police Virus (as known as Saudi Cyber Crime Police Malware) is a very convincing looking scam/fraud specifically designed to attack mobile users in Saudi Arabia. Actually this type of malware is very common and it can infect both Apple users and Android users in different countries, including United States, Canada, Australia, New Zealand, United kingdom, Germany, Ireland, France, Italy, Netherlands, Spain, Norway, Switzerland, Sweden, Belgium, Denmark, Greece and other Europe countries. Once installed, your cell phone will be covered by a pop-up saying that your phone has been blocked up for safety reason because the SA Cyber Crime Police detected you downloading child porn, pirating copyrighted content, or some other illegal activities. It has the official SA Cyber Police logo at the top and lists victim's IP address, location, and the name of your ISP. Specifically, you will see a fraudulent warning like this:

SA Cyber Police Case #982318732-A8732
IP:
Name:
Country: Saudi Arabia
Cellular Network: Zain SA
Offender device: Samsung GT-I9060
Android Version: 4.2.2

ATTENTION!
Your device has been blocked up for safety reasons listed below.
All the actions performed on this device are fixed.
All your files are encrypted.
CONDUCTED AUDIO AND VIDEO.
You are accused of viewing/storage and/or dissemination of banned pornography (child pornography/zoophilia/rape etc). You have violated World Declaration on non-proliferation of child pornography. You are accused of committing the crime envisaged by Article 161 of Saudi Arabia criminal law.

Creepy, isn't it? Cyber crooks want the victims to pay 100$ fine in 48 hours in order to unlock the cell phone or tablet. They give you instructions on how and where to send the money. The payment method is always something from which you cannot recover your money, such as Paypal My Cash card, MoneyPak or Cashu refill coupons. Most people start to panic when they see such fake warnings, even though they are innocent. They don't want to let others know this happened and they are afraid of being arrested or having a criminal record so they will choose to pay the fine. But your device will not be unblocked and all information will never be decrypted even after money is transferred. The problem won't go away and you will lose your money as a result.
Mostly, you are likely to pick up the SA Cyber Crime Police Ransomware because of your improper actions on the phone/tablet, such as downloading flash player, visiting doubtful sites and receiving share files from others without any caution or opening spam emails. This alert is completely fake. It is a scam that should never be trusted. Governmental authorities, such as FBI, Police Central e-crime Unit, An Garda Síochana, Royal Canadian Mounted Police, Australian Federal Police, SA Cyber Crime and many others, do NOT lock any mobile devices in order to punish people who are really guilty, not to mention you are innocent and did nothing wrong. Please, do NOT pay the fine or you will support the creators of SA Cyber Crime Police virus. You are suggested to the virus manually with the following guides.
Please Contact YooCare 24/7 Online PC Expert now if you don't know how to start the removal on your phone/tablet.

Possible Danger Caused By SA Cyber Crime Police Virus Scam:
It will take control of your mobile phone rapidly once it is downloaded.
It will pretend itself as a legit warning and then ask for a ransom.
It will not allow you to change your phone settings or open Google Play to download antivirus program.
It will not let you power off the phone or do anything else except for inputting the demand Cashu refill coupons code.
It may damage your data and the whole Android system.
Important Things You Have To Know If Your Android Phone Has Been Blocked by Saudi Cyber Crime Police Virus Warning Message:
1. "SA Cyber Crime Police" scam can attack smartphones running with Android or Mac OS X system.
2. Don't pay for anything or provide your personal information to this hoax, it won't help lock out of this fake virus warning but just waste your money.
3. Currently no app is able to detect or remove this malware, even for preventing the virus from attacking the computer again.
How to Remove SA Cyber Crime Police Malware From Android Phones?
1. Restart your phone to safe mode.
Note: "Safe Mode" on Phone starts up without loading any third-party add-ons and different devices have different ways to access safe mode.
For example:
For Samsung Galaxy S4: 1. Power down. 2. Turn on and repeatedly tap the soft-button for "Menu."
For Samsung Galaxy S3 and others: 1. Power down. 2. Turn on, then press and hold Volume Down (Galaxy S3 and others), Volume Up (HTC One and others), or Volume Down and Volume Up together (various Motorola devices) when the vendor's logo appears.
If you have managed to select Safe Mode, you will see the text "Safe Mode" at the bottom left corner of the screen.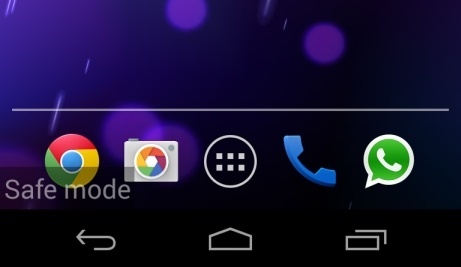 2. Once you have put your phone in safe mode, contact an expert for further removal instruction.
SA Cyber Crime Police Virus looks like a legitimate warning from law enforcement agency with your IP address and city listed on its page, but actually it is a notorious virus and has nothing to do with the Saudi Police. This virus is mainly used to attack Android devices like Samsung, LG, Huawei phone, Kindle Fire or Samsung and RCA tablet and it has different variants like DOJ virus, NSA virus, Mandiant U.S.A. Cyber Security Virus, PCeU Virus which are designed to attack users in different locations. The virus locks your phone screen immediately and according to this fake message, it states that you've done something illegal, such as downloading or distributing copyrighted material, viewing child pornography or distributing spam. You are asked to pay a fine of $100 within 48 hours in order to correct this violation. The virus blocks you from doing anything on the phone so you are not able to access settings and delete the malicious virus apps. You can't even make a phone call or text to somebody because the virus page just covers your phone screen as soon as you power on the phone. You will see a timer counting down telling you the time you had left to pay the fine. The virus really knows how to make users nervous and panic. It uses scare tactic to make victims pay the non-existent fine. Of course do not pay the fine as the SA Cyber Crime Police warning shows. If you comply with the instructions and pay the money you are only supporting the cyber criminals. This malware only can be detected manually. That means you have to find out the virus apps and delete all its components step by step.
Note: Manual removal is a skillful and risky job, if any mistakes are made in the process, you may damage your phone immediately. If you are not sure how to do, please contact YooCare PC experts 24/7 online for help right now.


Published by & last updated on April 1, 2016 3:15 am