My android phone got Cyber Police department Scam Virus! I even do not know why and how. A warning just showed up on my android phone suddenly when I woke up in the morning. It claims that I violated the laws and demands $300 to unlock my phone. If I don't pay for the fine, they will put me into prison for 5 years. I was so scared. But I learnt on the internet that it is a scam virus and it will not help me out even if I pay for the fine. So I didn't pay for it. I am trying to find a way to remove that evil virus.
How to Remove Cyber Police department Scam Virus from Tablet/ Android Phone
Cyber police department scam virus is one of the latest malware which is called ransomware and it is used to demand fine like $ 100 or $300 from the victim in order to unlock the tablets or android phones. The scam virus claims that you have visited or distributed copyrighted content such as music, software or videos illegally. As a result, the fake cyber police demand you to pay a fine within 24 to 72 hours. Otherwise, you would be arrested and put into prison. The cyber police department malware also can send off personal data pertaining to your device or account to make it looks real. As a matter of fact, it has nothing to do with the real police. It is the scam virus that pretends to be the police and scares the users. Do not be tricked by the nasty virus. Never pay for the fine because it will not help. The fake cyber police will grab your money and leave the virus on your device. What you need to do is to remove the scam virus as soon as possible.
The cyber police department scam virus is spread by the cyber criminals on the internet. They send off fake warning to the users and try to earn money by scamming mobile device users. Besides, they will continually search for other ways to get their malicious software installed on your devices further. In other words, they make use of the sophisticated techniques to fool the users. The virus is getting more and more aggressive. The cyber hackers bundle the virus to the attachments from spam, malicious links, or pornographic website. As soon as the users click on anything we mentioned above, the virus will sneak into the tablet or android phone. It can block the security software on your device. In this situation, you will find that the security software doesn't work. As the virus can overwrite your administrator, therefore, the security software even can't detect it, let alone stop it. After the fake cyber police virus adjusts itself to your device, it will continue to work for the cyber hackers. It also can install other malware on your device without your permission. To make matter worse, it may send user's personal information to the remote hackers. No one knows what kind of illegal thing the hackers will do with the personal information. Therefore, if you get the scam virus on your android phone or tablet, your personal data is at considerable risk. You need to stop it before it can grab your personal data.
Since paying the so-called fine won't help you remove this virus, manual removal is an effective solution for this. Processing manual removal is supposed to have a certain level of tech skill. If you are not sure how to start and are afraid of making any critical mistakes damaging the cellphone, please live chat with YooCare Expert now.

Step-by-step Guide to Unlock Your Tablet/ Android Phone from Cyber Police Department Scam
Step 1: Please try to put the infected android phone into Safe Mode at first to unlock the screen temporarily from international cyber police Virus
(1). For various android phones: hold down the power button to bring out the menu with Power Off and Reboot option—-hold down the Power Off option (If nothing happens, please tap and hold the Reboot option instead)—-click OK on the pop-up box asking if you want to access safe mode
(2). For Samsung Galaxy S4 and Samsung Galaxy S5: power off the device—-turn on and tab the soft-touch Menu button repeatedly
(3). For Samsung Galaxy S3 and other phones with similar customized android system: power off the device—-turn on and hold down the Volume Down button (try Volume Up or Volume Down and Volume Up together if Volume Down does not work) when the brand logo shows up
You will see "Safe mode" at the lower left corner of the screen if you access safe mode successfully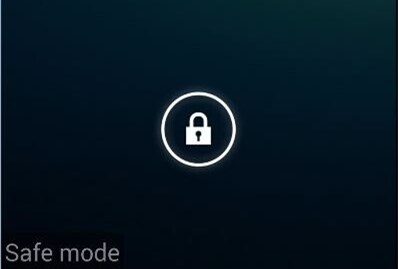 Step 2: Search and remove suspicious apps or files which are related to the virus
Step 3: Reboot the device to get out of safe mode
Conclusion
In a word, the cyber police department scam virus is pretty harmful for your device. It can block your internet. You can't use your internet at all. It just redirects you to the warning page. Or it may block everything on your device. You can't access your desktop or do anything with it. Every time you start your device, you will see the fake cyber police warning there. Even worse, more malware may be installed on your phone or tablet if you don't remove the cyber police virus in time. It may get more sensitive information from your phone or tablet. If you got into trouble with that, please remember that the warning is fake. No real police will inform you to pay fine in this way. Don't let the cyber criminals grab money from you. The only thing you need to do is to remove the cyber police department scam virus from your device completely. As the scam virus can block the security software, it can't remove the virus. Therefore, you need to remove the cyber virus manually. Take action now!
As the virus removal process is quite dangerous and complicated, you need professional guide to walk you through. Please contact experts from YooCare Online Tech Support for further assistance.

Published by & last updated on February 1, 2016 1:56 pm