I have this Cyber Crime Unit scam on my android tablet, and it is frozen. I have turned it on and off but the block is still there. My tablet comes on to a screen which says my device has been blocked by cyber police for watching child porn and I have to pay $100 itunes gift card or I would be persecuted for and charged as a criminal. I have never been on porn sites. It just happened when I clicked on a link on Twitter. What do I do? Any help you can give would be really appreciated.
Cyber Crime Unit Malware Blocked Your Cell Phone? Is it Real or just a Scam?
"Cyber Crime Unit Scam" refers to a series of Ransomware like ICSPA Virus, FBI Virus, Cyber.Police American National Security Agency Virus or many others. Such kind of scary ransomware is on rise and it mostly targets on Android tablets or Android phones. The malware holds your phone/tablet's hostage and tricks you into paying a ransom in order to unlock your device. Most victims download this virus through spam emails. According to the research, more than 15,000 spam emails containing malicious files has hit the inboxes of mobile device users in the last few days. When a user simply clicks on a link, or opens a file that attached to the spam email, Cyber Crime Unit virus can find its way to the device immediately and lock up everything on your phone or tablet. On the other hand, this virus can be downloaded after clicking on malicious links and downloading free games or music. Almost all Android viruses are delivered via apps installed on your device, therefore users should avoid installing other apps one outside of the Google Play app store.

Once Cyber Crime Unit virus gets installed, it freezes your phone/tablet screen and displays a fake warning like:
ATTENTION! Your device has been blocked up for safety reasons listed below.
All the actions performed on this phone are fixed. All your files are encrypted.
CONDUCTED AUDIO AND VIDEO.
You are accused of viewing/storage and/or dissemination of banned pornography (child pornography/zoophilia/rape etc.)
…
The message takes over the whole screen of your phone/tablet, and sometimes it just freezes your Internet browser in order to trick, embarrass or scare you into paying a fine. It locks you out of your device as a penalty for online crimes like downloading copyright-protected music, watching porno sites or distributing illegal contents. To further frighten you, it usually displays your IP address, location and case number on its page and gives a countdown to make itself look real and authentic. All the images are high resolution and it got the AFP, FBI, RCMP or other logos from different authorities. It alerts users that they only have 72 hours to pay before they initiate legal proceedings that could lead to huge fines and possible jail time. Although no one wants to get trouble from the police, paying the fine is not an option. Cyber Crime Unit Malware is nothing but a scam. Most Android users who paid for $100-$500 fine wrongly only found that their devices still remain blocked even though the payment is transferred through prepaid cards like Ukash, Paysafecard, Moneypak, Paypal or iTunes gift card. Real department or authorities will never ask money from someone guilty by only locking his device. Not to mention the money should be transferred from a prepaid card. That must be fishy. Don't rush to pay for the fine even if you are under a pretty awful situation that you cannot do anything on your phone. All you have to do is to get rid of Cyber Crime Unit scam from your device as soon as possible.
Please Contact YooCare 24/7 Online PC Expert now if you don't know how to start the removal on your phone.

Possible Danger Caused By Cyber Crime Unit Virus Scam:
It will take control of your mobile phone rapidly once it is downloaded.
It will pretend itself as a legit warning and then ask for a ransom.
It will not allow you to change your phone settings or open Google Play to download antivirus program.
It will not let you power off the phone or do anything else except for inputting the demand Ukash/Moneypak code.
It may damage your data and the whole Android system.
Important Things You Have To Know If Your Android Phone Has Been Blocked by Cyber Crime Unit Virus Warning Message:
1. "Cyber Crime Unit Virus" scam can attack smartphones running with Android or Mac OS X system.
2. Don't pay for anything or provide your personal information to this hoax, it won't help lock out of the fake Cyber Crime Unit virus warning but just waste your money.
3. Currently no app is able to detect or remove this malware, even for preventing the virus from attacking the computer again.
How to Remove Cyber Crime Unit Message From Cell Phones?
1. Restart your phone to safe mode.
Note: "Safe Mode" on Phone starts up without loading any third-party add-ons and different devices have different ways to access safe mode.
For example:
For Samsung Galaxy S4: 1. Power down. 2. Turn on and repeatedly tap the soft-button for "Menu."
For Samsung Galaxy S3 and others: 1. Power down. 2. Turn on, then press and hold Volume Down (Galaxy S3 and others), Volume Up (HTC One and others), or Volume Down and Volume Up together (various Motorola devices) when the vendor's logo appears.
If you have managed to select Safe Mode, you will see the text "Safe Mode" at the bottom left corner of the screen.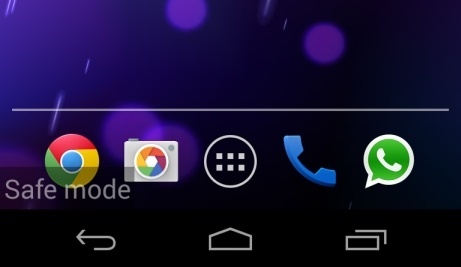 2. Once you have put your phone in safe mode, contact an expert for further removal instruction.
Cyber Crime Unit Virus is very common on Android devices like Samsung, LG, Huawei phone, Kindle Fire or Samsung and RCA tablet. Although the virus appears as a legitimate warning from cyber police or other authorities, it is nothing but a scam that you should never trust it. This virus is now travelling around the Internet via infected websites. So you should know how to prevent it from accessing your device. Stick to download apps from legitimate app stores like Google PlayStore because it filters out the reliable application from what's not reliable. Be cautious at opening attachments even though it is sent by your contacts. Most viruses are contained in spam emails. Last but not the least, don't go to any suspicious or risky websites, especially those porno sites which usually contain tons of spyware or malware. If your device has been locked by Cyber Crime Unit Virus, you have to get rid of it completely as soon as possible.
Note: Manual removal is a skillful and risky job, if any mistakes are made in the process, you may damage your phone immediately. If you are not sure how to do, please contact YooCare PC experts 24/7 online for help right now.


Published by & last updated on April 1, 2016 1:46 am