I was on a normal porn site for watching videos and then when I refreshed the page I got a pop up from Cyber Police. It said I was accused of watching child porn and had the government seal on it. It freaked me out so I quickly exited out of the window. Then another window popped up claiming that I have to pay a fine of $250 in 72 hours. It won't let me close the popup saying my device has been blocked for safety reason. Is this real? Is there really a fine for watching videos? Can I get in trouble for this? I'm still shaking. Please help!!!
Fine For Watching Videos on Phone/Tablet? – Watch Out The New Internet Scam!
Now a scam that blocks mobile device, accusing users of viewing child porn and asking for a fine has caught many people's attention and made them feel nervous and anxious. Thousands of Android users are scammed by this fake police virus which requests a fine from $100-$500 for watching videos. The users are usually asked to pay their fines through the Ukash voucher system, Paypal prepaid card, Moneypak, Moneygram or even itunes gift card. Actually scams like this have been going on for a while now — just do a simple Google search on "cyber police virus" "FBI virus" and you'll find a lot of results. They are using the same scare tactic to extort money from innocent users. Most recently, the scam has focused on android devices including android tablets or smartphones. It is prone to attack cell phone with brands like Samsung, LG, Motorola, Huawei and others.

In most cases, the virus can be automatically downloaded when a person visits certain pornography sites using his Android phone or tablet. The sites usually claim that a certain app is required if you want to watch the video. If you keep going on, it starts installing the so called "Adobe Flash Player" or "Video Player" to your device. Next thing you will see is that your mobile has been locked up. Generally, a big warning saying that your mobile has been blocked for safety reason because you have done something illegal, such as downloading or distributing copyrighted material, viewing child pornography or distributing spam will pop up right away and take over your device. It falsely warns victims that their device has been identified by the US Police, Cyber Police, FBI or other authorities as being associated with child pornography websites or other illegal online activities. It also tells users that their IP address is now under investigation and then it asks them to pay a fine in 24/48/72 hours using a prepaid card like Ukash, Paysafecard, Greendot Moneypak etc. in order to unlock the device and avoid all the troubles. Actually there is not a 'fine' for watching videos on phone or tablet. The only goal of this malware is to scare victims and make them into thinking they will be in trouble with the police and paying the fine is necessary.
When the fake police virus message locks you out of your device, there is no hope for you to make a phone call or text someone. You are not able to surf the Internet too. It frustrates a lot of people. Although paying that fine may look like the only solution to get your device working fine again, you should not do that. It only gets things worse. The 'fine' for watching videos doesn't really exist. The device can still be locked even after you sent the payment. Worse still, it makes your credit card information, log-in password or other important data more vulnerable to be attacked by cyber criminals. Considering paying the fine gives the consumer zero protection and is the same as sending cash to the hackers, you have to get rid of the ransomware as earlier as possible.
Please Contact YooCare 24/7 Online PC Expert now if you don't know how to get rid of the fake police page that asks for fine on your phone or tablet.

Important Things You Have To Know If Your Device Has Been Blocked By A Message Asking For Fine:
1. This new Internet scam can attack mobile device running with Android or Mac OS X system.
2. Don't pay for anything or provide your personal information to this hoax, it won't help lock out of the fake police warning but just waste your money.
3. Currently antivirus app is not able to detect or remove this malware, and there is not an app can prevent the virus from attacking mobile device again.
How to Get Rid of The Pop-up Asking For a Fine on My Phone/Tablet?
Once your phone or tablet is blocked by the Ransomware, you will have no access to its home screen. Thus, you need to bypass the block first, so that you have the chance to locate the virus scam on your Android device or iOS device. Follow the instructions below to unlock your device step by step:
Step 1: Restart the safe mode on your infected phone or tablet.
For Samsung Galaxy S4: 1. Power down. 2. Turn on and repeatedly tap the soft-button for "Menu."
For Samsung Galaxy S3 and others: 1. Power down. 2. Turn on, then press and hold Volume Down (Galaxy S3 and others), Volume Up (HTC One and others), or Volume Down and Volume Up together (various Motorola devices) when the vendor's logo appears.
Note: "Safe Mode" on Phone and tablet starts up without loading any third-party add-ons and different devices have different ways to access safe mode.
If you have managed to select Safe Mode successfully, you will see the text "Safe Mode" at the bottom left corner of the screen. As the picture shows below: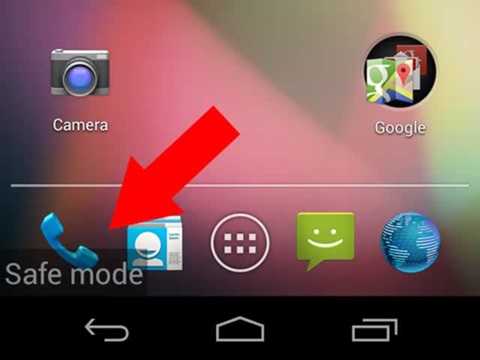 Step 2: If you can find "Safe Mode" on the left hand corner, that means your phone or tablet is in safe mode already, then you can contact an expert for further ransomware removal instruction.
Note: The ransomware removal guide is so complicated, and it requires sufficient skills. If you are not an Android device repair expert, do not try by yourself. In case you lose your confidential data and photos, an expert is needed during the process of manual removal.Yoocare/Yoosecurity experts can provide you with the most professional service to get rid of the fake pop-up on your device.
Conclusion
Most cellphone and tablet users are being scammed by a fake but convincing message telling them they have been snapped viewing child pornography, or accessing illegally shared movies. They are asked to pay a fine that ranges from $100 to $500 in order to gain access to their devices. A lot of people are too scared and they wrongly pay for the fine because they think they are in trouble with the police. Actually the 'fine' for watching porn doesn't exist. It is a trick designed by the hackers who are trying to rip you off. Do not pay the ransom. No official institution would be asking to pay any fines using pre-paid card so this pop up asking you to pay fines is a clear scam. You have to get rid of the pop up manually in order to keep your device safe and secure.
Suggestion: Manual removal is a skillful and risky job, any mistake will lead damage to your phone or tablet. If you are not sure how to unlock your device, please contact YooCare PC experts 24/7 online for help right now.


Published by & last updated on January 8, 2016 8:33 am