I have a cyber police itunes scam on my tablet. It looks pretty real and says since I went to some adult sites so I could face prison time. I had ever visited some pornhub sites before but never got anything like this. I searched online and found that was a scam. The pop up uses American National Security Agency seals and banner to trick users and it completely blocked my tablet. When I put my pin in, it locks up everything on the tablet so I cannot do anything on it. It says I have about 71 hours left to pay $100 with an iTunes gift card. What should I do? How do I unlock my tablet from this cyber police virus? I am using a Samsung Galaxy 10.1 if that helps.
Cyber.Police American National Security Agency Virus Scam Asking for $100 iTunes Gift Card? – What is it?
Cyber.Police American National Security Agency Virus is the newest variant of Cyber Police virus that is distributed through spam email attachments, fake apps on malicious websites, or any legitimate websites that have been compromised. The virus is similar to FBI Moneypak Virus and U.S. Department of Homeland Security Virus mainly used to target users located in USA. It is also categorized as ransomware because the virus can hold its victims' devices hostage until they pay a ransom. As soon as it is downloaded, it displays a fake message claiming that your device has been blocked by NSA (American National Security Agency) because it is being involved with the distribution of pornographic material, violation of copyright and related law etc. It says you need to pay a release fee of $100 with an itunes gift card within 72 hours to unlock your device and avoid any other "legal consequences". Since then, you will find that your device has been completely locked up. Home button and power button are not working anymore, and you may not be able to power off your phone/tablet until the battery runs out. However, this activity and the associated alert have no affiliation to the federal government, NSA included, and no money should be paid to the scammers. Cyber.Police American National Security Agency pop up is a fake alert created by cyber criminals who use the official name to scam victims and get profit. Governmental authorities do not use such methods to inform computer users of violating the law. Therefore, users are recommended to get rid of cyber police virus manually instead of paying the demanded fine.

Cyber.Police American National Security Agency Virus refers to Android-Trojan.Koler that is prone to infect most Android devices with the brands like Samsung, LG, HTC, ZTE or Huawei, though in some cases it can work on iPhone or iPad as well. The main purpose of such fake messages is to make false accusations for supposedly made law violations and then trick users into paying some non existent fines in order to unlock their devices. On its page, it usually displays fake NSA seal and banner, fake offence information, your ip address, location and a big countdown telling you the remaining time to pay the fine. The 72 hours countdown keeps going and it definitely causes hypertension for victims who get infected by Cyber police virus. But sending the fine to the virus makers will not help you unlock your device. You will not be able to get an available iTunes gift card code to unlock tablet or cell phone. Please notice that government institutions will come to your house without noticing you if you really break laws. It won't lock people's device and show any messages on the device for asking a small fine through prepaid card. The hacker is using an illegal way to collect money. You should not fall into the scam and you have to get rid of Cyber.Police American National Security Agency Virus manually.
Please Contact YooCare 24/7 Online PC Expert now if you don't know how to start FBI Child Porn Virus removal on your phone or tablet.

Screenshot of the New NSA Virus Scam: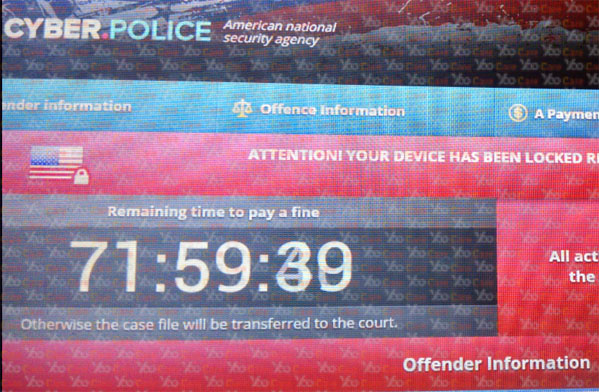 Possible Danger Caused By American National Security Agency iTunes Gift Card Scam:
It will take control of your mobile phone or tablet rapidly once it is downloaded.
It will pretend itself as a legit warning and then ask for a ransom.
It will not allow you to call, text or even access your home screen on the infected device.
It will not let you power off the device or do anything else except for inputting the demand iTunes gift card code.
Important Things You Have To Know If Your Device Has Been Blocked by Cyber.Police American National Security Agency Virus:
1. "Cyber.Police American National Security Agency Virus" scam can attack mobile device running with Android or Mac OS X system.
2. Don't pay for anything or provide your personal information to this hoax, it won't help lock out of the fake cyber police virus warning but just waste your money.
3. Currently antivirus app is not able to detect or remove this malware, and there is not an app can prevent the virus from attacking mobile device again.
Cyber.Police American National Security Agency Virus Removal:
Once your phone or tablet is blocked by the Cyber Police NSA Virus, you will have no access to its home screen. Thus, you need to bypass this cyber police block and then you have the chance to locate the virus scam on your Android device or iOS device. Here are some instructions on bypassing this scam on your phone or tablet.
Step 1: Restart the safe mode on your infected phone or tablet.
For Samsung Galaxy S4: 1. Power down. 2. Turn on and repeatedly tap the soft-button for "Menu."
For Samsung Galaxy S3 and others: 1. Power down. 2. Turn on, then press and hold Volume Down (Galaxy S3 and others), Volume Up (HTC One and others), or Volume Down and Volume Up together (various Motorola devices) when the vendor's logo appears.
Note: "Safe Mode" on Phone and tablet starts up without loading any third-party add-ons and different devices have different ways to access safe mode.
If you have managed to select Safe Mode successfully, you will see the text "Safe Mode" at the bottom left corner of the screen. As the picture shows below: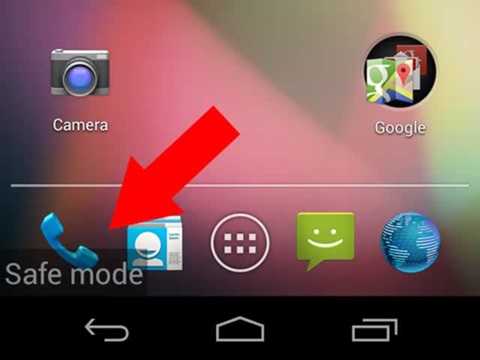 Step 2: If you can find "Safe Mode" on the left hand corner, that means your phone or tablet is in safe mode already, then you can contact an expert for further ransomware removal instruction.
Note: The ransomware removal guide is so complicated, and it requires sufficient skills. If you are not an Android device repair expert, do not try by yourself. In case you lose your confidential data and photos, an expert is needed during the process of manual removal.Yoocare/Yoosecurity experts can provide you with the most professional service of the FBI Child Porn Virus.
Conclusion
Cyber.Police American National Security Agency Virus is created by Internet criminals with the intention of tricking unsuspecting mobile users into paying a fine with itunes gift card and then ripping them off. This kind of malware usually disguises as an innocent-looking mobile app called Adobe Flash Player, Video Player or others, with a clear aim to trick unwary users to download it on their smartphones or tablets. After it is installed, it displays a big warning that covers all your apps and seizes control of your phone saying Attention! Your device has been blocked for safety reason and you are accused of viewing and storage of forbidden child pornography and zoophilia. To unlock your phone/tablet, you may need to pay $100 with itunes gift card. Don't rush to pay for the fine because it is not sent by NSA or any legitimate departments. Cyber criminals counterfeit the badge of American National Security Agency and the fake messages to convince inexperienced mobile users and compel them to pay the $100 fine. Most Android users who paid for the fine wrongly only found that this is a scam and the worse is that their phones are still blocked even though the payment is transferred. In a word, Cyber.Police American National Security Agency Virus is a part of the cunning ransomware that should be deleted as quickly as possible.
Suggestion: Manual removal is a skillful and risky job, any mistake will lead damage to your phone or tablet. If you are not sure how to delete this FBI Child Porn Virus, please contact YooCare PC experts 24/7 online for help right now.


Published by & last updated on January 4, 2016 8:52 am