I never saw any of this child porno but my phone is locked by cyber police from homeland security and they're asking for $100 itunes gift card within 72 hours or i will go to jail. I can't do anything on the phone at all. On my phone it just says "cyber police your device has been blocked" something. I can't tell if this is real or not. I'm really freaking out and extremely scared. I was looking at 18+ content which then redirected me to a site and my Internet browser stopped working, then a message came up telling me I had to pay and that I was suspected of viewing horrific things which I wasn't. It really scared the crappie out of me, and my phone has shut off for safety reason and asks for iTunes card with $100 in the next 24 or 72 hours. I was stupid to buy the iTunes card and prepare for pay, but now that I did research I'm finding out that it is fake. How do i unlock my phone?
Cyber Police Virus Asking for $100 iTunes Gift Card? – How to Unlock Your Device?
"There was a Cyber Police virus on my Samsung tablet and it said I had 3 days to pay a fine because I was doing illegal things, like view pornography. It said I have to buy a $100 iTunes gift card and give the card number. Every time I shut down and turn it on, it comes back! I can't do anything on the tablet, what should I do?"
Cyber Police Virus is a type of threat, known as ransomware that commonly used by criminals to infect mobile device by masquerading as law enforcement agencies demanding money for fictional crimes. It is a persistent threat on desktop and laptop computers for several years. But now the virus can attack both Android system and Mac OS X. It is very tricky as it will be changed into different variants (including NSA virus, Homeland Security virus, AFP virus, RCMP Virus and PCEU Virus etc.) in order to infect more and more mobile users all around the world. Therefore, many innocent users are finding themselves under attack by this new cyber police virus which takes the phone hostage and asks for $100 iTunes gift card code.

The malicious software can be attached to a variety of different websites and pornography websites can be the main reason why the device is infected. Also Cyber Police Virus can be bundled with other apps or pretend as a certain service like "Adobe Flash Player" or "Software Update" to sneak onto your phone. It can be downloaded from spam emails too. According to the research, more than 15,000 spam emails containing malicious files has hit the inboxes of mobile device users in the last few days. Once your device is infected, a pretty scary message will pop up right way with FBI seal and logo saying that your device has been blocked up for safety reasons. And then it lists your recent illegal activities including violating the copyrights law (Video, Music and Software) and related rights law and says you need to buy a $100 iTunes gift card and give the code to unlock your device in 3 days, or you will never gain access to your phone anymore and criminal case will be opened against yourself. Even worse, it grabs a couple of different contacts from your phone and says that these contacts can be called up and interrogated as witnesses for your crime. This message does look believable. All the images are high resolution and it got the AFP, FBI, RCMP or other logos from different authorities. It even displays your IP address, location and gives you a countdown making you more and more frightened. But is the message real? Is it necessary to buy $100 iTunes gift card to unlock your phone/tablet? Unlike the previous Ransomware asking for "Ukash", "Paysafecard Voucher" "MoneyPak" or "Paypal" prepaid card, this time the hackers demand $100 iTunes gift card as a ransom. There are many ways to commit fraud using gift cards and they are very alluring, for many reasons. First, and foremost, there's a low chance of being prosecuted. The dollar amounts on each individual transaction are relatively small and not enough to garner the attention of large law enforcement agencies that have the ability to catch the perpetrators. Second, it's very easy to commit fraud. Lastly, it's easy to convert gift card value into money or merchandise. Therefore, the cyber criminals can take advantage of the iTunes gift card to gain illegal profit without being caught.
Normally Cyber Police Virus blocks your access to the home screen until you pay the ransom. That means you can't do anything on the target device after infected. Even in such worse situation, paying the fine is not a good option. It only leads you to money loss and your phone still remains blocked. Restarting the phone can do nothing help to remove the virus pop-up. Just calm down and ignore what it says on the message. If your device has been blocked by the new Cyber Police Virus asking for $100 iTunes gift card, you have to manually get rid of it quickly.
Please Contact YooCare 24/7 Online PC Expert now if you don't know how to start FBI Child Porn Virus removal on your phone or tablet.

Screenshot of the New Cyber Police iTunes Gift Card Scam: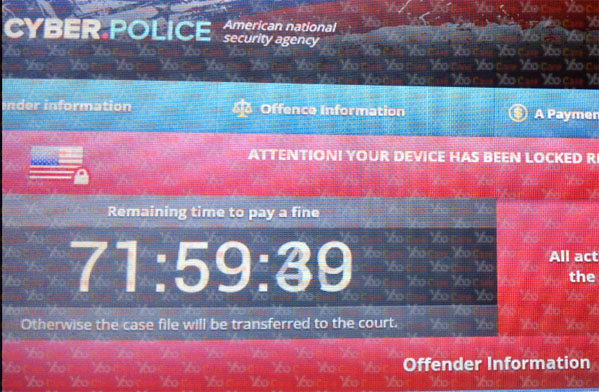 Possible Danger Caused By New Cyber Police Virus iTunes Gift Card Scam:
It will take control of your mobile phone or tablet rapidly once it is downloaded.
It will pretend itself as a legit warning and then ask for a ransom.
It will not allow you to call, text or even access your home screen on the infected device.
It will not let you power off the device or do anything else except for inputting the demand iTunes gift card code.
Important Things You Have To Know If Your Device Has Been Blocked by Cyber Police Virus:
1. " Cyber Police Virus" scam can attack mobile device running with Android or Mac OS X system.
2. Don't pay for anything or provide your personal information to this hoax, it won't help lock out of the fake cyber police virus warning but just waste your money.
3. Currently antivirus app is not able to detect or remove this malware, and there is not an app can prevent the virus from attacking mobile device again.
Cyber Police $100 iTunes Gift Card Scam Removal:
Once your phone or tablet is blocked by the Cyber Police $100 iTunes gift card malware, you will have no access to its home screen. Thus, you need to bypass this cyber police block and then you have the chance to locate the virus scam on your Android device or iOS device. Here are some instructions on bypassing this scam on your phone or tablet.
Step 1: Restart the safe mode on your infected phone or tablet.
For Samsung Galaxy S4: 1. Power down. 2. Turn on and repeatedly tap the soft-button for "Menu."
For Samsung Galaxy S3 and others: 1. Power down. 2. Turn on, then press and hold Volume Down (Galaxy S3 and others), Volume Up (HTC One and others), or Volume Down and Volume Up together (various Motorola devices) when the vendor's logo appears.
Note: "Safe Mode" on Phone and tablet starts up without loading any third-party add-ons and different devices have different ways to access safe mode.
If you have managed to select Safe Mode successfully, you will see the text "Safe Mode" at the bottom left corner of the screen. As the picture shows below: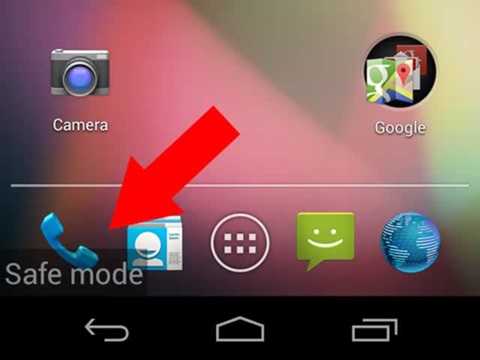 Step 2: If you can find "Safe Mode" on the left hand corner, that means your phone or tablet is in safe mode already, then you can contact an expert for further ransomware removal instruction.
Note: The ransomware removal guide is so complicated, and it requires sufficient skills. If you are not an Android device repair expert, do not try by yourself. In case you lose your confidential data and photos, an expert is needed during the process of manual removal.Yoocare/Yoosecurity experts can provide you with the most professional service of the FBI Child Porn Virus.
Conclusion
New Cyber Police Virus is a hoax categorized as malicious ransomware. It is created by Internet criminals with the intention of tricking unsuspecting mobile users into paying a fine with itunes gift card for supposedly using copyrighted material or watching pornography. The virus exploits the name of Cyber Police or Federal Bureau of Investigation and other authorities, pretending as a legitimate warning in order to scare unwary users to pay the fine. Actually it has nothing to do with these departments. The main purpose of such fake message is to make false accusations for supposedly made law violations and then trick users into paying some non existent fines in order to unlock their phone or tablet. In fact, no authorities use such methods to collect fines for copyright-related or other law infringements. Mostly this virus gets into your system once you illegally downloaded music or video or visited adult sites. It locks down your home screen, blocks all the apps, and prevents you from accessing the internet. In order to gain access to the phone again, it is necessary to remove cyber police virus completely from the system and it is suggest users not pay or send the itunes gift card number to the hackers.
Suggestion: Manual removal is a skillful and risky job, any mistake will lead damage to your phone or tablet. If you are not sure how to delete this FBI Child Porn Virus, please contact YooCare PC experts 24/7 online for help right now.


Published by & last updated on February 13, 2016 9:23 am