My phone has been entirely locked by ICSPA Trojan and I really need help removing the virus. Earlier today I was on an inappropriate website and all of a sudden something was installed and then I got a message popped up saying that I had to pay £200 within 24 hours or I would be persecuted for violating some rights or whatever and charged as a criminal. I have searched around and it is pretty clear that it is a virus. But my phone is completely locked now so I can't do anything on my phone. I can't access my photos and applications, neither go to settings to uninstall the virus. I searched online and found that many people had the same problem. It seems the virus can attack computers, iphone, ipad and even android devices. How do I get rid of the virus from Samsung S3 completely?
What is ICSPA Trojan on Android Phones/Tablets?
ICSPA Trojan (as known as International Cyber Security Protection Alliance Virus) is a type of malware designed by cyber criminals in order to to attack users in North America and Europe continuously. The virus is very common in Australia and Canada recently. It targets not only computers but also android phone or tablet now in order to expand the infection scale and extort as much money as possible. Ransomware has been in the news repeatedly over the past few years. Similarly to FBI Virus, AFP Virus, ICSPA Trojan is also able to hold its victims' devices hostage until they pay a ransom. Victims usually get infected with this ransomware through a method known as a "drive-by download" in which they simply need visit a website — in some cases a pornography site — to inadvertently download the ransomware onto their machine. In other cases, they download the ransomware by downloading fake apps that masquerade as popular services such as System Update or Security Update. Users may also require the virus by visiting hacked websites, opening malicious downloads like mp3 or mp4 file, or clicking any malicious links or pop-ups.

Commonly, ICSPA Trojan virus exploits the names of authorities including the FBI, International Cyber Security Protection Alliance, and Cheshire Police Authority Virus – making fake claims that users must pay an amount of money (for supposed law violations such as watching pornography, using copyrighted files, etc.) in order to unblock their devices. Those criminals will flash a fake pop-up onto the user's screen which informs them that they have violated a law and will not be able to regain access to their device and data until they have paid £100 or £200 via Ukash or Paysafecard first. Thus, you will find that home button and power button are not working anymore, and you may not be able to power off your phone/tablet until the battery runs out. There is a big warning titled with 'Attention! Your phone has been blocked up for safety reasons' on the top, along with user's IP address and location. ICSPA Trojan Virus prevents users from doing anything on the device. It tried to fool them into paying the ransom. But it is unclear whether users will then actually regain access to their device if they pay. ICSPA Virus is clearly a scam and paying the fine is not the option to remove the virus. If your android device is blocked by ICSPA Trojan, you should manually get rid of it instead.
Please Contact YooCare 24/7 Online PC Expert now if you don't know how to start the removal on your phone.

Possible Danger Caused By ICSPA Trojan Scam:
It will take control of your mobile phone rapidly once it is downloaded.
It will pretend itself as a legit warning and then ask for a ransom.
It will not allow you to change your phone settings or open Google Play to download antivirus program.
It will not let you power off the phone or do anything else except for inputting the demand Moneypak/Ukash code.
It may damage your computer data and the Android system.
Important Things You Have To Know If Your Android Phone Has Been Blocked:
1. ICSPA Trojan Virus scam can attack smartphones running with Android or Mac OS X system.
2. Don't pay for anything or provide your personal information to this hoax, it won't help lock out of the fake FBI virus warning but just waste your money.
3. Currently no app is able to detect or remove this malware. Don't waste money to purchase any anti-virus programs.
4. Manual removal is the best option to unlock your device.
Never Become The Victims & Stay away from Phone Ransomware Now.
Although this virus page seems to be legitimate, it is 100% fake. It even uses web cam control to make users panic and make them to pay for the ransom wrongly. If your phone is infected with ICSPA Trojan virus, your front-facing camera may seem to record something automatically. It makes you into thinking your picture has been uploaded and sent to the legal authorities like FBI. And someone you don't know is now watching what you are doing. The fake warning will lock your device forever and block you from doing anything. As mentioned above, we can see how this scam works to deceive innocent users. It is good at using scare tactic to extract money from victims. Hence, users must get rid of ICSPA Trojan from the Android phone as soon as possible.
A Step-by-step Manual Removal Guide On Android Phone
1. Restart your phone to safe mode.
Note: "Safe Mode" on Phone starts up without loading any third-party add-ons and different devices have different ways to access safe mode.
For example:
For Samsung Galaxy S4: 1. Power down. 2. Turn on and repeatedly tap the soft-button for "Menu."
For Samsung Galaxy S3 and others: 1. Power down. 2. Turn on, then press and hold Volume Down (Galaxy S3 and others), Volume Up (HTC One and others), or Volume Down and Volume Up together (various Motorola devices) when the vendor's logo appears.
If you have managed to select Safe Mode, you will see the text "Safe Mode" at the bottom left corner of the screen.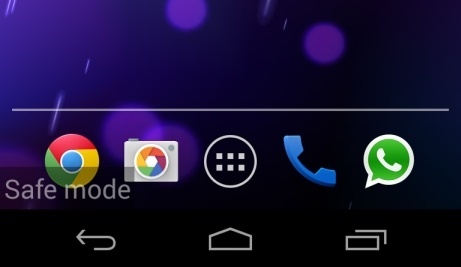 2. Once you have put your phone in safe mode, contact an expert for further removal instruction.
ICSPA Trojan is associated with malicious ransomware that can infect most Android devices with the brands like Samsung, LG, Htc, ZTE or Huawei. It sneaks into mobile device through different security loopholes, or from spam email attachments and comes bundled in some downloads and fake software. Victims of this scam are on rise:
"On September 2nd around 3pm my android Samsung Galaxy S5 went through the ICSPA virus scam. It said that I was doing illegal things involving porn but I hadn't been. My phone had been completely locked and I couldn't do anything about it and I was incredibly scared. They said if I didn't pay a total of £100 within a 48 hours period that I could be in a lot of trouble so my initial thought was to take action. The money that I have been saving up came to mind and I went to my local CVS about 15 minutes later and got a Paysafecard card and put £100 on it. Now my mind was totally scrambling because I didn't even have the resources to look this up due to my internet and phone connection being down in my neighborhood. I didn't know what else to do… so I entered in the pin of the card I purchased and my screen said something along the lines of "YOUR PAYMENT WILL BE PROCESSED IN THE NEXT 24 HOURS" So, today around the same time I anxiously went to turn my phone on and the problem had not been solved. My phone was still locked on that same screen. My internet was back up when I got in from work so I checked out searched what was really happening and found out that I was being scammed and now I am out £100 I had been saving up. I still have the card and receipt for it and I would love to get my money back. Can someone please help me!? What do you do when your phone says you have to pay £100 fine with Paysafecard?"
If your device has been infected with ICSPA virus, you will definitely know how serious this malware is. Follow the above guide to completely unlock your device now.
Note: Manual removal is a skillful and risky job, if any mistakes are made in the process, you may damage your phone immediately. If you are not sure how to do, please contact YooCare PC experts 24/7 online for help right now.


Published by & last updated on December 14, 2015 5:55 am