Hi. I was surfing the net and then all of a sudden my Windows 10 computer was blocked by an FBI Header virus warning. It popped up immediately when I was on Microsoft Edge browser and wont let me exit it out of it. Everytime I tried to do it, it popped back up again. The pop up said that the FBI has noticed me looking at illegal things and I need to pay $500 via Paypal to get it to go away. I have never broken a law in MY LIFE! So I got super scared when this FBI Paypal virus warning popped up accusing me of child pornography and pirating! I thought i was going to have to pay 500 dollars and end up having a police record or something all for something I didn't do! But after I googled this FBI Header* thing on my cell phone to find out more and I found out this was a SCAM! So this isn't a real warning from the FBI right? Now I can't use my Internet at all. How do I get rid of the message and remove the virus completely?
Browser Has Been Blocked By FBI Header Virus? – An Overall Description
FBI Header Virus is a malicious ransomware that is designed to fool the computer user into thinking that they are in serious trouble and need to quickly pay a fine of $500 in order to avoid further fines as well as pending legal action. Actually this type of malware has been released for a long time since 2012, but recently it updated with a more-dangerous package – FBI Header Virus. With a big title "Header*" on the top of its page, the malware locks down a user's computer in the name of the FBI. It appears like a message coming directly from the FBI (Federal Bureau of Investigation) and tries to steal money from unsuspecting Internet users. When it is installed and launches it takes over users' web browsers including Internet Explorer, Mozilla Firefox, Google Chrome or even Microsoft Edge on Windows 10 operating system and then blocks users from accessing Internet and preventing any actions such as opening a new tab or minimizing web browser windows. Every time you use Internet, it redirects you to a malicious URL which pops up a big warning saying that you have done something illegal, such as downloading or distributing copyrighted material, viewing child pornography or distributing spam. Generally, it says "YOUR BROWSER HAS BEEN BLOCKED. ALL PC DATA WILL BE DETAINED AND CRIMINAL PROCEDURES WILL BE INITIATED AGAINST YOU IF THE FINE IS NOT PAID" and displays your IP address, location and computer operating system information. When message locks you out of your web browser, there is no hope to return your computer to its original working condition. It asks you to pay $500 bucks via Paypal in 48 hours if you want to unlock your web browser. This malware is very similar to dozens of other Ransomware such as RCMP Virus and PCeU Virus. It will not allow you to exit out the fake FBI page unless you pay the non-existent fine, so it makes thousands of computer users upset and frustrating.

Most people may have been tried to close out the FBI Header Virus message on their own. But eventually they found they can hardly do anything on the computer because the virus won't let them close or minimize the FBI page. This will cause many of them to manually shut down the computer by holding down the power button until the computer shuts off. But when the computer is turned back on, the FBI Header warning message can pop up right away and the computer is blocked once again. This may happen even if the computer is started in safe mode.
FBI Header Warning freezes your computer/browser and displays bogus message to mislead its victims. You should NEVER send money to these hackers. Do you really think that the FBI would just lock your computer or block your Internet access if you are guilty? Do you think only paying $500 bucks can avoid all the bad consequences if you really did something illegal? Well, apparently this warning is not sent by the real FBI or any other legitimate authorities. So police would not come to your house and arrest you even though you refuse to pay the fine. In addition, you should know that paying the fine gives the consumer zero protection and is the same as sending cash to the hackers. Also the computer may remain locked, even after the payment has been sent. The right thing you have to do is to get rid of FBI Header Virus pop-up manually.
Please Contact YooCare 24/7 Online PC Expert now if you are not familiar with any manual removal process or afraid of making mistake during the removal process. It will require expertise to remove FBI Header $500 Paypal virus manually.

 FBI Header Virus $500 Scam Locked Page: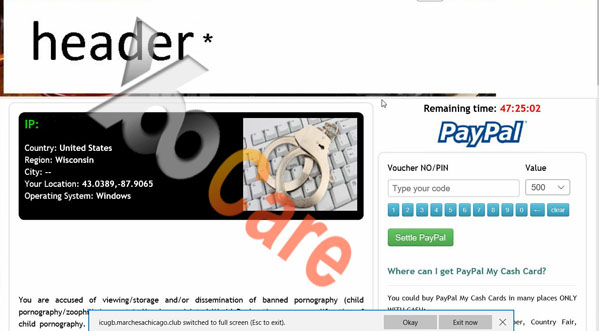 Possible Danger Caused By This Scam:
It will take control of your computer rapidly once it is downloaded.
It will pretend itself as a legit warning and then ask for a ransom.
It can disable your task manager and even pop up in safe mode.
It can connect to a remote IRC server and forward the data to cyber criminals without a computer user's awareness.
It can't be simply uninstalled or removed in control panel.
A Step-by-step Manual Removal Guide
Since FBI Header Virus has completely locked up your computer making you difficult to gain access, you will need to manually remove it instead of using antivirus programs to do so. Also, antivirus programs cannot completely catch this virus. Otherwise, it would have caught it at the beginning when this malware tries to sneak inside. Below are some basic steps on how to get rid of this virus manually. However, due to the changeable characters of this virus, you may not find the exact same files or entries to delete. That's also why the manual removal requires expertise to do it. You will need to go through files and entries under different locations to define and delete. Any mistake could lead to unpredictable problems during the process. Thus, a backup of important files and programs is suggested before FBI Header malware removal. A flash drive or external hard drive will be needed.
1. If FBI Header virus has blocked your access to desktop icons, please restart the computer and put it in Safe mode with Networking first. Here's the guide: Restart the computer upon the locking screen and start hitting F8 key repeatedly when PC is booting up again; if successfully, Safe mode options will show up on the screen for you to select. Please use arrow keys to highlight Safe mode with Networking option and hit enter key. System will be loading files into this mode afterward.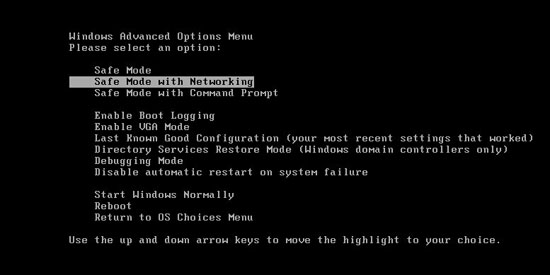 Attention: If virus stays in your computer for a long time, it may work in the background and block you from accessing safe mode with networking, thus, you'll see virus page still or the virus forces you to log off and restart your computer automatically. In that case, please choose: Safe mode with command prompt and try if it helps. If none of them helps, please contact YooCare expert for instant help.
2. Open Control Panel from Start menu and search for Folder Options. Go to Folder Options window, under View tab, tick Show hidden files and folders and non-tick Hide protected operating system files (Recommended) and then click OK.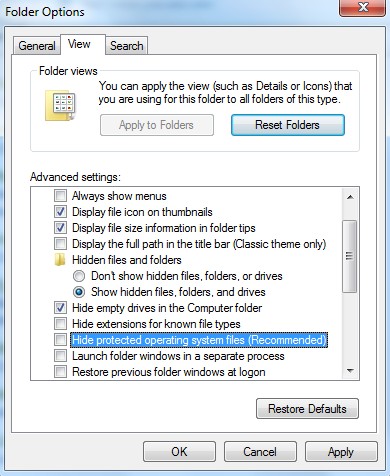 3. Under Safe mode with Networking, please hit Ctrl+Shift+Esc (Ctrl+Alt+Delete) keys together to pull up Windows Task Manager; go to Processes tab on top and scroll down the list to find processes associated with FBI Header Virus scam and click End process.


4. Open Registry Editor by pressing Windows+R keys and pull up Run box and searching for regedit.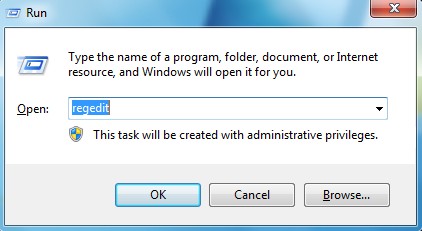 5. Find out and delete files and registry entries as below:
HKEY_LOCAL_MACHINE\SOFTWARE\Microsoft\Windows NT\CurrentVersion\Winlogon\
HKEY_CURRENT_USER\Software\Microsoft\Windows\CurrentVersion\Run\random
6. Restart computer back to Regular mode and check out if the warning page still shows up again.
Similar Video Shows You How to Unlock The Computer:
Conclusion
New computer threats are always being introduced, but the FBI Virus is one that has been around for a long time and continues to trick computer users into sending in money for a crime that doesn't even exist. FBI Header Virus, being as the newest version of FBI Ransomware can bring a lot of chaos when it is downloaded on a computer. The hackers behind this Ransomware usually spread this virus through file download sites as well as spam email marketing. Their goal is to infect as many computers in the United States as possible, leading to thousands of users sending in the fake "fine" each and every day. These cyber criminal organizations make millions of dollars by spreading these attacks, and as long as consumers continue to be tricked they will continue to design and develop new versions of these attacks. The are constantly changing the design of the Federal Bureau of Investigation Virus (FBI Virus) so users will not see the same message over and over and visually identify it with a scam. They also make changes to make the virus undetectable by popular virus programs such as Norton and AVG. FBI Header Virus is a fraudulent message and it is not to be trusted. This malware only leaves computers more vulnerable to be compromised. It can open backdoor to invite other spyware and threats without your knowledge. Therefore, your personal information and data stored on the PC will be dangerous. Reports also show that the virus has the ability to infect not only Windows computers, it also can affect Mac computers and even mobile devices like Android phone or iPhone and iPad. FBI scam victims are still on rise, so you should never be the next one who fell into this scam. FBI Header Virus needs and only can be removed manually with expertise.
Note: Manual removal is a skillful and risky job, if any mistakes are made in the process, you may damage your computer immediately. If you are not sure how to do, please contact YooCare PC experts 24/7 online for help right now.


Published by & last updated on September 13, 2015 9:57 am