I have an mp4 file on my phone named android/trojanSlocker.cx, when i opened the file it said that i needed to pay a fine of $500 and that i was being recorded. It displayed an FBI warning and said that my phone has been blocked because some suspicious files have been found. Also they said I ever used the phone to visit porn sites before but I didn't and will never do it. The message requested me to pay the fine in 48 hours otherwise it would contact all of my contacts in the address book about the situation and start an investigation immediately. Is is real or fake? Can it really record my activities? What should I do now? I can't use my phone because of this virus. Please help!
Unlock Mobile Phone from Android/TrojanSlocker.cx Virus:
Android/TrojanSlocker.cx is classified as a nasty Trojan that refers to FBI Moneypak Scam which can target Android users, locking their devices and demanding payment to restore their smartphones or tablets. As similar as Android.Trojan.SLocker.DZ and Trojan:Android/SLocker.A, this virus can be installed on your device after you visited some malicious websites or opened any infected attachments from spam emails. Even when you clicked on links on a regular website like Facebook, you may get infected by this Trojan because it may point you to another corrupted webpage and download the virus directly without asking your permission. Cyber criminals always decorate the virus to be a useful app such as "Adobe Flash Player", "Browser Update" and "Video Player", or an interesting audio, and then they distribute it all over the Internet and wait for victims falling into this scam. Once downloaded, a warning appearing to be from the FBI appears on the home screen saying that 'Your Phone Has Been Blocked Up" so the user is unable to navigate away. The malware renders the device's home screen button and back functionalities inoperable. Even turning off the device doesn't help as the malware runs when the operating system boots. Android/TrojanSlocker.cx virus only brings you another Ransomware which can block up your phone. It is designed to extort money from users as it asks for $500 to restore access or unlock users' phone. The payment method is either via MoneyPak or Pay Pal. Transactions made through prepaid cards cannot be reversed, you should not fall into this scam and pay for the fine. Instead, you have to get rid of Android/TrojanSlocker.cx immediately.

Now hackers have created many variants of this fake message in order to trick innocent users and earn as much money as they can. This virus now has the ability to take all Android phones hostage and it has infected thousands of phone users. It misleads unwary users into thinking this is a real message from the law enforcement agencies such as FBI, ICSPA or U.S. Department of Homeland Security and a fine of USD $500 is necessary to unlock the phone. But actually there is no code/PIN available to unlock your device so paying the fine is not the option to fix the problem. In addition, the message that locks up your phone is not from the police or real FBI because they will never lock your phone or keep track of your online records like this way. If you really violate the law, they will come to your home and arrest you immediately. The malware indicates your phone is locked for the reason that you have been distributing the pornographic material, spam, copyrighted content or you have been visiting the pornographic website should be ignored. Even though you have never done these activities before, it still shows the same message that asks the user to pay a fine in 48 hours, or their illegal activities will be sent to contacts they stored on the phone and criminal case will be opened against them. Nothing will happen even if you don't pay the fine. But you have to remove Android/TrojanSlocker.cx from your device for the sake of the security and privacy.
Please Contact YooCare 24/7 Online PC Expert now if you don't know how to start the removal on your phone.

Android/TrojanSlocker.cx Virus Blocked an Android Device Screenshot: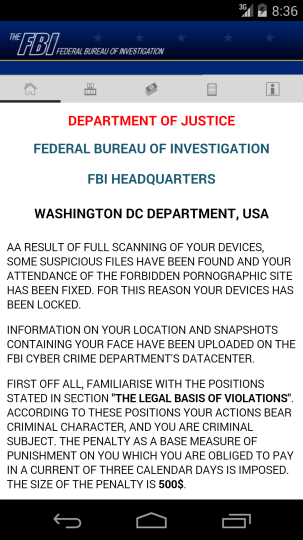 Possible Danger Caused By Android/TrojanSlocker.cx Virus Scam:
It will take control of your mobile phone rapidly once it is downloaded.
It will pretend itself as a legit warning and then ask for a ransom.
It will not allow you to change your phone settings or open Google Play to download antivirus program.
It will not let you power off the phone or do anything else except for inputting the demand Moneypak/Ukash code.
It may damage your computer data and the Android system.
Important Things You Have To Know If Your Android Phone Has Been Blocked:
1. Android/TrojanSlocker.cx Virus scam can attack smartphones running with Android or Mac OS X system.
2. Don't pay for anything or provide your personal information to this hoax, it won't help lock out of the fake FBI virus warning but just waste your money.
3. Currently no app is able to detect or remove this malware. Don't waste money to purchase any anti-virus programs.
4. Manual removal is the best option to unlock your device.
Never Become The Victims & Stay away from Phone Ransomware Now.
Although this virus page seems to be legitimate, it is 100% fake. It even uses web cam control to make users panic and make them to pay for the ransom wrongly. If your phone is infected with Android/TrojanSlocker.cx virus, your front-facing camera may seem to record something automatically. It makes you into thinking your picture has been uploaded and sent to the legal authorities like FBI. And someone you don't know is now watching what you are doing. The fake warning will lock your device forever and block you from doing anything. As mentioned above, we can see how this scam works to deceive innocent users. It is good at using scare tactic to extract money from victims. Hence, users must get rid of Android/TrojanSlocker.cx from the Android phone as soon as possible.
A Step-by-step Manual Removal Guide On Android Phone
1. Restart your phone to safe mode.
Note: "Safe Mode" on Phone starts up without loading any third-party add-ons and different devices have different ways to access safe mode.
For example:
For Samsung Galaxy S4: 1. Power down. 2. Turn on and repeatedly tap the soft-button for "Menu."
For Samsung Galaxy S3 and others: 1. Power down. 2. Turn on, then press and hold Volume Down (Galaxy S3 and others), Volume Up (HTC One and others), or Volume Down and Volume Up together (various Motorola devices) when the vendor's logo appears.
If you have managed to select Safe Mode, you will see the text "Safe Mode" at the bottom left corner of the screen.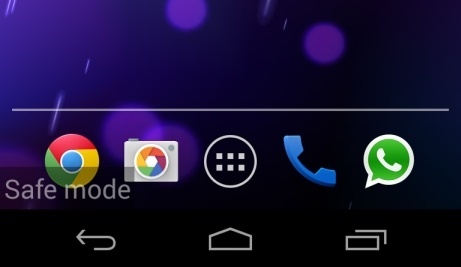 2. Once you have put your phone in safe mode, contact an expert for further removal instruction.
Android/TrojanSlocker.cx can infect most Android devices with the brands like Samsung, LG, Htc, ZTE or Huawei. It can be downloaded and installed without any permission from the device owner. Most people take it for granted is that Smartphones are safe to use so an increasing number of users now use their smartphones for making e-payments and money transfers, assuming that they are as secure as the bank's infrastructure. However, the fact is Smartphones are mini computers in themselves and can absolutely become infected with all types of malware. A report from Kaspersky Labs said 98 per cent of mobile malware now targets the Android operating system, so Android phone undoubtedly becomes one of the main targets of all kinds of viruses. Android/TrojanSlocker.cx is a virus that refers to Ransomware that pretends as a legitimate agency like FBI to block your mobile device with the reason that you did something online against the law. It shows a list of illegal things you've done like watching pornography sites and downloading illegal contents and then it asks you to pay a fine of $500. Don't pay for it as this is a scam designed by cyber criminals who attempt to trick you and swindle your money. Android/TrojanSlocker.cx needs to be removed manually.
Note: Manual removal is a skillful and risky job, if any mistakes are made in the process, you may damage your phone immediately. If you are not sure how to do, please contact YooCare PC experts 24/7 online for help right now.


Published by & last updated on August 21, 2015 10:39 am