Hi there. I accidentally downloaded an mp4 file on my mobile and when I opened it it popped up a message saying how I am begin accused of viewing child pornography. I never did watch child pornography and I never have. It also said I have 48 hours to pay a 500 dollar fine otherwise it would contact all of my contacts in the address book about the situation and start an investigation immediately. It was just a plane white page and it even gave me my location, saying it was recording my activities. Is this a scam or is it real? Will I be arrested? If it is a virus, how do I get rid of it?
Unlock Mobile Phone from Android.Trojan.SLocker.DZ Virus:
Android.Trojan.SLocker.DZ is categorized as a new mobile virus that has hit thousands of Android users nowadays. The virus refers to FBI Ransomware that usually installs on your device after installing a third-parties app, opening malicious downloads like mp3 or mp4 file, or clicking any malicious links. When it gets installed, you cannot do anything on your phone. You will find that home button and power button are not working anymore, and you may not be able to power off your phone/tablet until the battery runs out. At that moment, the only thing you can see on the screen is a big warning which covers all your apps and seizes control of your phone. The message seems to be from FBI.Department of Defense, Department of Justice, Mandiant U.S.A. Cyber Security or U.S.A. Cyber Crime Investigations saying that the phone has been locked for viewing and distribution child pornography, zoophilia and other perversions. It shows a big title with 'Attention! Your phone has been blocked up for safety reasons' on the top, along with user's IP address, location and browsing history. The virus holds victims' devices hostage until they pay a ransom of $500 via Moneypak or Paypal prepaid card. Now as we know that Android devices are used by thousands of users around the world, those cyber criminals won't miss this wonderful chance so they have created all kinds of viruses to infect the Android phones and tablets in order to reach their evil goals. Their purpose is simple, just scamming as much as money from those infected phones owners. Android.Trojan.SLocker.DZ only offers a fake pop-up to cheat innocent users into paying a non-existent ransom. It is a scam and has no reason to stay in your device any longer. You should get rid of it manually.

Android.Trojan.SLocker.DZ can sneak into your Android devices via many methods. People usually get the virus through downloading and installing a so-called "video player" app or "Browser update" app. The tricky virus disguises as helpful services and tricks users into downloading them. When people believe that they are downloading a good software, it turns out to be Android.Trojan.SLocker.DZ virus which has already infected stealthily. The virus uses threatening tone to scare innocent smartphone users into paying a fine of $500 within 48 hours. It uses fake FBI logo, seal and also snaps a photo of the victim using the Android's front-facing camera to panic thousands of Android users and make them believe this is a real warning from those authorities and they are recorded. Most Android users who paid for $500 fine wrongly only found that this is a scam and the worse is that their phones are still blocked even though the payment is transferred. The malware demands users to pay $500 to restore access to their smartphones. And the payment method is through a prepaid card like Moneypak, Moneygram or Ukash instead of a credit card, that is very fishy. Since transactions made through prepaid cards cannot be reversed, it is clearly to know that the blocked message is fake. The virus also can use malicious javascript to hijack one's Internet web browser so it doesn't allow you to go online anymore after infected. We suggest users remove Android.Trojan.SLocker.DZ completely because this Trojan could open backdoor and invite other mobile infections to the affected phone. It is an actual danger for mobile devices so you had better get rid of it immediately.
Please Contact YooCare 24/7 Online PC Expert now if you don't know how to start the removal on your phone.

Android.Trojan.SLocker.DZ Virus Blocked an Android Device Screenshot: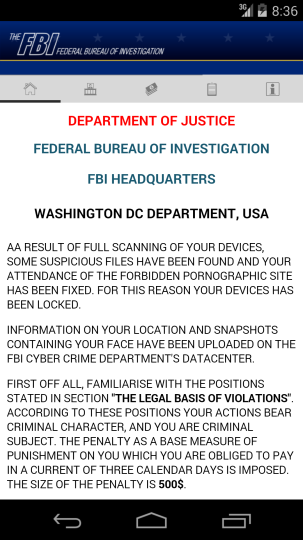 Possible Danger Caused By Android.Trojan.SLocker.DZ Virus Scam:
It will take control of your mobile phone rapidly once it is downloaded.
It will pretend itself as a legit warning and then ask for a ransom.
It will not allow you to change your phone settings or open Google Play to download antivirus program.
It will not let you power off the phone or do anything else except for inputting the demand Moneypak/Ukash code.
It may damage your computer data and the Android system.
Important Things You Have To Know If Your Android Phone Has Been Blocked:
1. Android.Trojan.SLocker.DZ Virus scam can attack smartphones running with Android or Mac OS X system.
2. Don't pay for anything or provide your personal information to this hoax, it won't help lock out of the fake FBI virus warning but just waste your money.
3. Currently no app is able to detect or remove this malware. Don't waste money to purchase any anti-virus programs.
4. Manual removal is the best option to unlock your device.
Never Become The Victims & Stay away from Phone Ransomware Now.
Although this virus page seems to be legitimate, it is 100% fake. It even uses web cam control to make users panic and make them to pay for the ransom wrongly. If your phone is infected with Android.Trojan.SLocker.DZ virus, your front-facing camera may seem to record something automatically. It makes you into thinking your picture has been uploaded and sent to the legal authorities like FBI. And someone you don't know is now watching what you are doing. The fake warning will lock your device forever and block you from doing anything. As mentioned above, we can see how this scam works to deceive innocent users. It is good at using scare tactic to extract money from victims. Hence, users must get rid of Android.Trojan.SLocker.DZ from the Android phone as soon as possible.
A Step-by-step Manual Removal Guide On Android Phone
1. Restart your phone to safe mode.
Note: "Safe Mode" on Phone starts up without loading any third-party add-ons and different devices have different ways to access safe mode.
For example:
For Samsung Galaxy S4: 1. Power down. 2. Turn on and repeatedly tap the soft-button for "Menu."
For Samsung Galaxy S3 and others: 1. Power down. 2. Turn on, then press and hold Volume Down (Galaxy S3 and others), Volume Up (HTC One and others), or Volume Down and Volume Up together (various Motorola devices) when the vendor's logo appears.
If you have managed to select Safe Mode, you will see the text "Safe Mode" at the bottom left corner of the screen.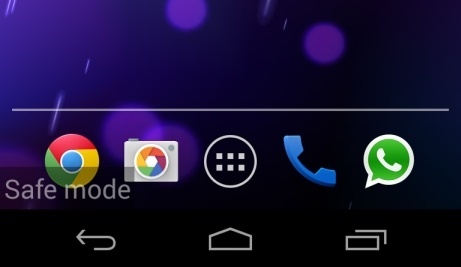 2. Once you have put your phone in safe mode, contact an expert for further removal instruction.
Android.Trojan.SLocker.DZ is categorized as Trojan that closely associated with malicious ransomware which may block your whole mobile device or the browsers on your device, such as Internet, Chrome and Safari. The virus mainly attacks Android tablets and Android phones. So if you are using Samsung, LG, Htc, ZTE or Huawei phones, you can be the victim of this big scam. The virus gets installed on the mobile system by bundling with other apps you downloaded. Once active, it pretends as a legitimate agency to block your mobile device with the reason that you did something online against the law. It shows a list of illegal things you've done like watching pornography sites and downloading illegal contents. People who are afraid of going to jail or being arrested by police will be scared and they may pay the fine without thinking twice. Actually this is a fake message sent by hackers and it has nothing to do with any legitimate agencies. Paying $500 fine cannot help unlock the device, nor remove the virus. No one knows whether the virus has the ability to steal money and compromise your credit card information if it is not removed timely. For the sake of your device security, you have to get rid of Android.Trojan.SLocker.DZ without any delay.
Note: Manual removal is a skillful and risky job, if any mistakes are made in the process, you may damage your phone immediately. If you are not sure how to do, please contact YooCare PC experts 24/7 online for help right now.


Published by & last updated on August 19, 2015 5:46 am