I got a pop up on my web browser when I was on a site that said my phone has been blocked because I have violated the law and/or I am being monitored something. It requested me to pay a fine of £100. I got really freaked out because the alert seems real and it claims it is from Metropolitan Police. Virus? It also displays my IP address and shows my picture on the blocked message. I got really freaked out and I have tried a lot of ways to exit the page, but it won't let me do that. I can't access the Internet anyhow. I also powered off the phone a million times, but when I turned it back on it popped up right way. Is this real or a virus designed to scam people? There is a big message screen Metropolitan Police saying he violates some laws due to being involved with the distribution of pornographic material, SPAM and copyrighted content. It demands that we need to pay for a fine of £100 so that his phone can be unlocked. I search this information with Google on my computer, and I know it is really a scam virus. I have tried restarting my phone but it wont work at all. What should i do? I have an iPhone 6 and I though Apple is virus free. What should I do? I'm just sending a message because a couple of days ago, i got some fake pop up blocker accusing me of watching illegal pornography. It demanded £200 or something, claimed it was Metropolitan Police, multiple windows with porn ads popped up and then this blocker with all of these fake articles/laws telling me they've caught me viewing illegal pornography, which obviously, i was not doing. Do these people have access to other info of mine now?!!!
Metropolitan Police Ukash Virus Description:
Metropolitan Police Ukash Virus is an infamous scam designed to scare innocent users in United Kingdom and then rip off their money. Actually scams like this have been going on for a while now — just do a simple Google search on "UK Police Ukash Virus" or "Metropolitan police virus" and you'll find a lot of results. This virus started to attack computer users, and then it turned to hack mobile users using Android device and right now it is landed on Apple device that can block one's Internet access on iMac, iPhone or even iPad. The scam illegitimately disguises as the United Kingdom Police (UK Police) and blocks user's Internet access using a full screen page, which alleges the phone or iPad is blocked due to the reason that you have been violating Copyright and related laws (infringing Article 128 of the Criminal Code of Great Britain , viewing or distributing prohibited pornography (including child Porn/Zoophillia article 202), and other laws. At first sight, it looks real because it has the Metropolitan Police seals and banner and it displays your IP address, even takes a picture of you and shows your picture on the message. But if you take a closer look, you will find something fishy and this message is so obviously not written by someone fluent in English. It has grammatical errors and spelling mistake. The only goal of this virus is to scare Apple users into paying a fine of £100 in order to access the Internet again and avoid all the violations it mentioned. Please note, this message is far from real. It is not really from Metropolitan Police or any other legitimate organizations, so you will not be in trouble with the United Kingdom police. It is a virus targeting Windows users, Android users and Apple users so you had better remove it step by step.

We used to believe that Mac OS X is very safe and it is immune to any viruses and malware. Unfortunately, hackers has turned their eyes to the Apple market and they use malicious JavaScript in an attempt to hijack web browser like Chrome and Safari and then fool users into paying a fine via prepaid card such as Ukash or Paysafecard which is a legitimate prepaid card using in European. It asks for a prepaid card rather than a credit card because the hackers don't want victims know where their money has gone. So if your iPhone or iPad is infected, a pop up will be shown immediately that takes over your web browser and accuses you for the use of copyrighted content, distribution of pornographic material and similar crimes. It even puts your picture on the locked page to make it look more authentic. You are asked to pay a fine within 48 hours or you will be sent to jail. It's pretty scary and crazy if someone saw it without knowing this message was fake. You should be fully aware that Metropolitan Police Ukash is merely a scam, besides no institution would punish a guilty person by only blocking his Internet access on a device and asking him to pay a few money like this. Cyber criminals just seize users' psychological weakness, tricking them to pay the fee in a limited time, threatening to lock the targeted phone forever if the money can't be received. Don't be the next victim and you have to get rid of Metropolitan Police Ukash Virus completely in order to gain access to the Internet again.
Please Contact YooCare 24/7 Online PC Expert now if you don't know how to start Metropolitan Police Ukash Virus removal on your iPhone or iPad.

How do You Get Metropolitan Police Ukash Virus on iPhone/iPad?
We used to think that Apple iOS gadgets were pretty immune to viruses and malware. Sadly, over the past year hackers have turned their attention to our mobile gear. Usually, the installation of Metropolitan Police Ukash Virus can be completed in a short time and then it pops up immediately to lock your iPhone or iPad without signs if you visit a phishing site, open a junk e-mail attachment, click on an unknown link or download an application from an unsafe source. You will be easily get infected by this virus after you jailbreak your device.
Possible Danger Caused By Metropolitan Police Ukash Virus Scam:
It will take control of your mobile phone rapidly once it is downloaded.
It will pretend itself as a legit warning and then ask for a ransom.
It will not allow you to change your phone settings or open Apple Store to download antivirus program.
It will not let you close Safari or Chrome except for inputting the demand Greendot Moneypak code.
Important Things You Have To Know If Your iOS Device Has Been Blocked by Metropolitan Police Ukash Virus Virus:
1. "Metropolitan Police Ukash Virus" scam can attack smartphones running with Android or Mac OS X system.
2. Don't pay for anything or provide your personal information to this hoax, it won't help lock out of the fake ICE virus warning but just waste your money.
3. Currently antivirus app is not able to detect or remove this malware, and there is not an app can prevent the virus from attacking the mobile device again.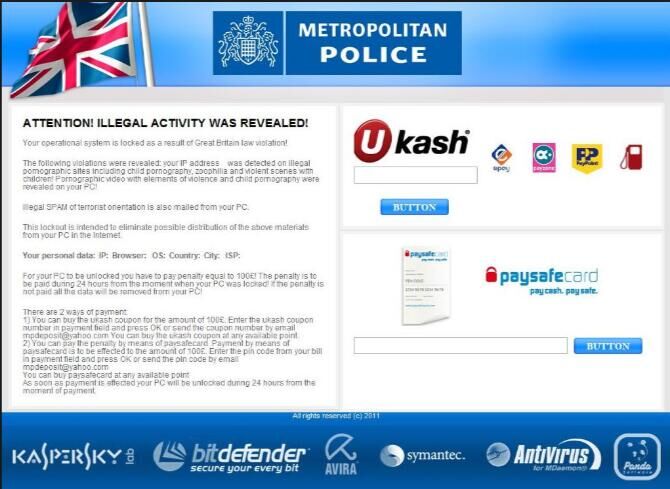 Metropolitan Police Ukash Virus Removal on Mac OS X System:
Metropolitan Police Ukash Virus acts like a hijacker when it is running on Apple system that can block user's Internet access and prevent them from going online properly. Unfortunately no anti-malware apps can delete this malware so far and the virus won't go away unless you have removed all its components step by step. Even in some cases it may disappear itself for a while to let you get Internet access back, but your device is still unsafe. It is still a threat for your privacy. To completely get this off iPhone or iPad, you can contact YooCare PC experts 24/7 online for help right now.

Published by & last updated on February 26, 2018 6:39 am