can someone hack my android tablet/phone with porno? FBI says i need to pay $500 for watching porn on my android tablet and android phone, Waiting payment virus, this FBI online agent virus on my LG phone and it won't leave the pop up FBI shit without me paying 500$ or putting money into their account of 500$ and i don't know how to clear it, i tried everything except restoring device to factory settings cause i don't wanna lose my pictures and i will if i do that and i don't wanna lose my convos either. I have this popup on my iPad that I am being told is fake from the us marshals service that is not allowing me to access the internet. How do I get rid of the virus? I was using my Samsung galaxy S5 for web searching today and suddenly I got a warning saying it is downloading an app called "porndroid". It didn't give me any option to cancel the download, and suddenly my phone was immediately locked by some "FBI Online Agent Virus"  that says my phone is locked due to suspicious criminal activity on my phone. It says if I don't pay $500 within three days I will go jail and all of my contacts will be informed of my criminal activity. I have no idea what is going on. And every time I take the battery out of my phone to restart it the same FBI screen comes up and says the same thing. It won't allow me to leave the screen. It wants me to pay by something called moneypak so I am pretty sure this is just a scam. How do I get rid of the virus and unlock my phone?
FBI Online Agent Virus Holds Your Phone/Tablet For Ransom?
FBI Online Agent Virus is categorized as 'ransomware' designed by cyber hackers in order to scare innocent Smartphone users and computer users and then steal their hard-earned money with an illegal way. You must have heard of adware and malware before but 'ransomware' is slightly different from them. This is nothing but a fake warning produced by virus makers who are trying to coax you into 'ransoming' the freedom of your phone by paying them this 'extortion'. If unfortunately you are the victim of FBI virus scam, you will find your device (including Windows computer, Mac computer, tablet or even cell phone) taken over by a warning that says it's from the FBI for no reasons. But don't be panic and rush to pay the ransom because this kind of FBI message is far from real. In fact, FBI Online Agent Virus is a big scam that has cheated thousands of innocent users since 2013. It has nothing to do with the real law enforcement agencies, local authorities, agency or the police.

As we all know that FBI is perhaps one of the most famous and most powerful government agencies in the world. They also take care of piracy and online crime, so scammers have decided to use the name of FBI Online Agent to fool people. This virus has been a persistent threat on desktop and laptop computers for several years, and right now it is also available on Smartphones and tablets, especially for attacking Android system which is an open operating system, meaning anyone can create an app and put it on Internet for people to load. With millions of ransom dollars, probably even hundreds of millions, already squeezed out of hapless victims around the world by desktop and laptop malware, it's hardly surprising to see the crooks increasingly turning their malevolent attention to mobile devices.
There are two main reasons you may come across the virus on your phone/tablet. Firstly, you may get your phone blocked because you have been visiting a malicious site while browsing on your phone. These sites can often launch and install a malicious app on your phone without you knowing it. Secondly, you might have installed an app on your phone from a less than reputed developer. Anyone can upload his or her app on the app store and when you install a malicious Trojan app, it will result in this malware being installed on your phone. That is why it's very crucial to make sure that the websites you access and the apps you install on your phone be trustworthy.
Once FBI Online Agent Virus is landed on an Android cell phone or tablet, it will freeze your screen or block your Internet, groundlessly accuses you of a crime (usually relating to piracy or pornography), and invites you to pay about $500 to make the "charges" go away. To be more specific, it will display a fake message titled with "Your phone (device) has been blocked up for safety reasons" on the top, with your IP address and location. Once you scroll it down, the following message says "FBI" found you have been violating federal law by downloading child pornography or illegally using or distributing copyrighted music or video. But it simultaneously provides a solution for the victims which is to pay $500 Moneypak  and get a code to unlock the device and avoid legal consequences.
It sounds ridiculous because if someone really violated the law, paying a few hundreds is absolutely not enough. Apparently FBI Online Agent message is fake and it is a big scam. Although no one wants to get involved in illegal activities, paying the so called fine is not an option to get your phone unlocked. No one would know if the virus is gone and the phone can be unlocked after payment is transferred. Also there is one thing that seems fishy. Victims will be asked to finish the payment services through a prepaid card like Moneypak, Moneygram or Ukash, but not a credit card, that is because transactions made through prepaid cards cannot be reversed and are hard to trace. You should remember that real FBI never punish a guilty man by simply locking his phone and asking him to pay a few money through the Internet. What you got on your device is a new mobile virus called FBI Online Agent Virus that should be eliminated as soon as possible.
Please Contact YooCare 24/7 Online PC Expert now if you don't know how to start the removal on your phone.

Possible Danger Caused By FBI Online Agent Virus Scam:
It will take control of your mobile phone rapidly once it is downloaded.
It will pretend itself as a legit warning and then ask for a ransom.
It will not allow you to change your phone settings or open Google Play to download antivirus program.
It will not let you power off the phone or do anything else except for inputting the demand Greendot Moneypak code.
It may damage your computer data and the Android system.
Important Things You Have To Know If Your Android Phone Has Been Blocked by Interpol Virus:
1. "FBI Online Agent Virus" scam can attack smartphones running with Android or Mac OS X system.
2. Don't pay for anything or provide your personal information to this hoax, it won't help lock out of the fake FBI virus warning but just waste your money.
3. Currently no app is able to detect or remove this malware, even for preventing the virus from attacking the computer again.
Never Become The Victims & Stay away from Phone Ransomware Now.
Although the virus page seems to be legitimate, it is 100% fake. It even uses web cam control to make users panic and make them to pay for the ransom wrongly. If your computer is infected, your camera may turn on automatically. It makes you into thinking your picture has been taken and sent to the legal authorities. And someone you don't know is now watching what you are doing. The fake warning will lock your device forever and block you from doing anything. As mentioned above, we can see how this scam works to deceive innocent users. It is good at using scare tactic to extract money from victims. Hence, users must get rid of FBI Online Agent Virus from the Android phone as soon as possible.
A Step-by-step Manual Removal Guide On Android Phone
1. Restart your phone to safe mode.
Note: "Safe Mode" on Phone starts up without loading any third-party add-ons and different devices have different ways to access safe mode.
For example:
For Samsung Galaxy S6 S5 S4: 1. Power down. 2. Turn on and repeatedly tap the soft-button for "Menu."
For Samsung Galaxy S3 and others: 1. Power down. 2. Turn on, then press and hold Volume Down (Galaxy S3 and others), Volume Up (HTC One and others), or Volume Down and Volume Up together (various Motorola devices) when the vendor's logo appears.
If you have managed to select Safe Mode, you will see the text "Safe Mode" at the bottom left corner of the screen.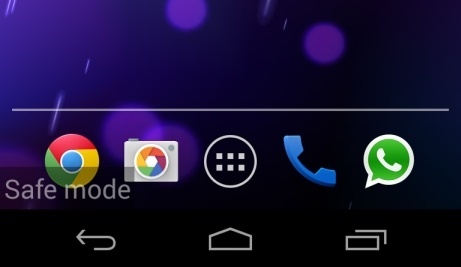 2. Once you have put your phone in safe mode, contact an expert for further removal instruction.
How to Prevent your Smartphones from FBI Online Agent Virus?
Since viruses are quite inevitable, there are some tips you can avoid being infected with FBI Online Agent Virus in the future:
1. Be careful of downloading applications in the internet because many of them are just cloned applications. Visit legitimate app stores like Google PlayStore because it filters out the reliable application from what's not reliable. Most viruses are from gaming and anti-virus applications which are forged. Before downloading an application, try to read some customer reviews so that you will be assured that it is truly a trusted app. Stick with apps from the Google Play store or the Amazon App store.
2. Be cautious at opening attachments thru MMS, SMS messages and e-mails because you might open an unknown attachment from unknown sender. Never open any attachments which are suspicious to you.
3. Don't open your Bluetooth connection when not in need. It would be easy for the virus to go inside the phone's application and destroy the phone's performance.
4. Most Android phones are shipped with a lock that keeps apps from outside Google's app store from installing. Don't uncheck the lock unless you know what you're doing.
5. Read the permissions. Every app you install has to declare its permissions, meaning the app lists what it will have access to on your phone. Don't just click OK without reading what the app will do.
In summary, FBI Online Agent Virus is a scam that seeks to swindle money from innocent users. Don't spend any money on paying the Moneypak code to unlock your device like android tablet, android phone. It is a waste of money. Now antivirus is not able to remove this ransomware. Victims are recommended to get rid of this virus from android phone/tablet manually.
Note: Manual removal is a skillful and risky job, if any mistakes are made in the process, you may damage your phone/tablet immediately. If you are not sure how to do, please contact YooCare PC experts 24/7 online to save your tablet/phone now .

Published by & last updated on June 1, 2016 3:51 am