Porn sites asking for paypal accounts to view them? I had a problem where this message told me that the cyber police was charging me 200$ worth of itunes card because i did something wrong in the internet. But that's where I got very angry. First of all I haven't done nothing wrong. Second of all why itunes this is BS. I need to get rid of it in the required time. Hello, i recently got the pop up ransomware telling me to pay up 500 bucks using paypal within 24 hours. How can I remove the DOJ virus from my Samsung galaxy s4? It says that I was looking at child pornography and it took pictures of me as I went to go look at my email. what do I do? I was downloading things from a torrent using my android and then something was installed on my phone without my permission. It flashed so fast so I didn't see it clearly. I guess it might be a flash player app, not sure. Anyway, after that, A 'DOJ' page popped up, took a picture of me, and is falsely accusing me of numerous things. It said I had to pay with a $300 moneypak within 24 hours…I was scared to death at that moment. So I looked it up. It's called the Department of Justice virus, and it's just a money scam. I tried to find a solution, but all the ones I saw were only for computers. My android phone is completely useless right now… How can I remove the virus?
Phone Locked By DOJ Virus Scam? – An Overall Description
Since android phones are widely used nowadays, cyber criminals have turned their eyes to the growing android market and produce a new DOJ Virus (as known as Department of Justice virus) used to attack smartphone users. As similar as what it does on a computer, it also seizes control of infected phones and prevents users from doing anything on their devices by showing a fake warning that says your phone has been locked for viewing and distribution child pornography, zoophilia and other perversions. If victims want their Android back, they have to pay a ransom to the attacker. Usually the requested ransom is $300, through a prepaid card called Moneypak which you can purchase from Wal-Mart, Walgreens or other shops, within 24 hours. However, paying the fine is just a waste of money because DOJ virus is just a scam. It is important to know that Department of Justice or other legal authorities would never lock your PC and ask you to pay any fines like this way. If you really have violated the laws, they will come to your house and arrest you, rather than simply locking your computer and asking for only $300 fine.
 Ransomware starts appearing on the Android platform right now because users are able to download apps from third-party app stores. Therefore, Android users are reminded that they should think long and hard about the risks before changing the default OS settings to accept downloads from sources other than the Play Store. It is believed that DOJ Virus can be installed after installing a third-parties app or clicking any malicious links. When it gets installed, you will be presented a big warning saying 'Attention! Your phone has been blocked up for safety reasons' Reason. To be more specific, it says you have performed some illegal actions that are beyond the the law and therefore all files and applications have been locked. It even displays your IP address on the top and personalizes the terrifying experience by snapping a photo of the victim using the Android's front-facing camera. DOJ Virus uses threatening tone to scare innocent smartphone users into paying a fine of $300 through Moneypak within 24 hours. It won't let you do anything on your phone but just leave a box for you to input the Moneypak code and unlock your device. Restarting your phone will never help to leave the locked page because each time you power on the phone, DOJ virus will come up immediately taking over your phone screen. Thankfully, this Trojan won't actually encrypt your files even though you don't pay for the fine. But you still have to take immediate measure to unlock your phone from DOJ virus once it is detected.
Please Contact YooCare 24/7 Online PC Expert now if you don't know how to start the removal on your phone.

Possible Danger Caused By This Scam:
It will take control of your mobie phone rapidly once it is downloaded.
It will pretend itself as a legit warning and then ask for a ransom.
It will not allow you to change your phone settings or open Google Play to download antivirus program.
It will not let you power off the phone or do anything else except for inputting the demand Moneypak code.
It may damage your computer data and the Android system.
Important Things You Have To Know If Your Android Phone Has Been Blocked:
1. DOJ virus can attack smartphones running with  Android or Mac OS X system.
2. Don't pay for anything or provide your personal information to this hoax, it won't help lock out of the fake FBI virus warning but just waste your money.
3. Currently no APP  is able to detect or remove this malware, even for preventing the virus from attacking the computer again.
Never Become The Victims of DOJ Moneypak Virus Scam.
Although DOJ virus page seems to be legitimate, it is 100% fake. It even uses web cam control to make users panic and make them to pay for the ransom wrongly. If your computer is infected, your camera may turn on automatically. It makes you into thinking your picure has been taken and sent toFBI, or FBI is now watching what you are doing. The fake warning will lock your device forever and block you from doing anything. As mentioned above, we can see how this scam works to deceive innocent users. It is good at using scare tactic to extract money from victims. Hence, users must get rid of DOJ Virus from the Android phone as soon as possible.
A Step-by-step Manual Removal Guide On Android Phone
1. Restart your phone to safe mode.
Note: "Safe Mode" on Phone starts up without loading any third-party add-ons and different devices have different ways to access safe mode.
For example:
For Samsung Galaxy S4: 1. Power down. 2. Turn on and repeatedly tap the soft-button for "Menu."
For Samsung Galaxy S3 and others: 1. Power down. 2. Turn on, then press and hold Volume Down (Galaxy S3 and others), Volume Up (HTC One and others), or Volume Down and Volume Up together (various Motorola devices) when the vendor's logo appears.
If you have managed to select Safe Mode, you will see the text "Safe Mode" at the bottom left corner of the screen.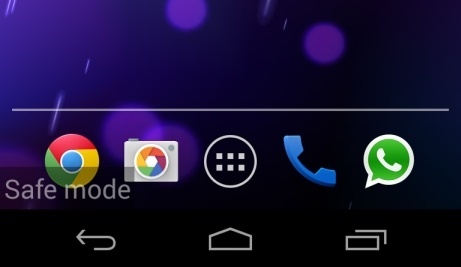 2.  Once you have put your phone in safe mode, contact an expert for further removal instruction.
I received a message on my tablet telling me I had been watching adult restricted themes and a message came up saying I was under police surveillance and would have to pay a fine. Now my tablet is blocked and it says i'm charged with child pornography, but its not true. what does this mean? DOJ Virus is listed as an ransomware targeted specifically to USA citizens no matter you are using a computer or a smartphone. Once installed, it holds its victims' devices hostage until they pay a ransom. Now there are a bunch of ransomware start attacking android devices now like AFP Virus, FBI Virus, NSA Virus and PCEU Virus. All of them are using the same method to trick inexperienced users. They inform the user that he has violated a law so Department of Justice locked his phone. Victims will not be able to regain access to their device and data until they have paid several hundred dollars in a Moneypak or Ukash voucher. Generally speaking, victims get infected with this ransomware through a method known as a "drive-by download" in which they simply need visit a website — in some cases a pornography site — to inadvertently download the ransomware onto their machine. In a word, paying the fine will not help to unlock your phone. Manual removal way is the best solution to get your phone unlocked and avoid further problems.
Note: Manual removal is a skillful and risky job, if any mistakes are made in the process, you may damage your phone immediately. If you are not sure how to do, please contact YooCare PC experts 24/7 online for help right now.


Published by & last updated on June 23, 2016 4:02 am