I was surfing the internet when a new update popped up and said i needed to install to use my internet. Then I my phone went weird and showed this Mandiant U.S.A. Cyber Security Virus thing. What do I do? On my cell phone the screen says the Mandiant U.S.A. Cyber Security has locked my browser and recorded everything on it. When the first time I saw it, I was scared to death and thought it was real. The virus is asking me to pay a 300 dollar fine or they will take legal action against me. It says to pay using moneypack. I searched online about what happened and found many people had the same experience. It seems this is a common scam virus. However, I have this virus on my android phone and those guides are not for unlocking phone, but computers. I've never had such situation before. How do I unlock my android phone and get rid of the virus when My phone says it has a A cyber crime unit badge on it? Any help will be highly appreciated.
Mandiant U.S.A. Cyber Security Virus On Android Phone? – How to Unlock?
Now a fresh strain of criminal software has been discovered encrypting the data of Android smartphone owners, then demanding payment to unlock it. It is really horrible for the victims. Mandiant U.S.A. Cyber Security Virus is one of the malicious ransom software designed by hackers to trick victims into sending in money by lock their computers or phones. Most smartphone users may consider phone is safe enough so they prefer doing bank transfer or online payment via phones. However, since android becomes to be the world's most widely used mobile operating system (OS), it continues to be a primary target for malware attacks. This piece of malware installs itself onto the computer by disguising as an adobe player app or interesting game, once you are taken in this trick and download this app, your phone will immediately be locked up. You also may get this virus by clicking malicious links or visiting porno sites.
Once it is loaded, you will not able to access any apps on your phone anymore. There is a warning taking over your android phone screen that says "Attention! Your phone has been locked up for safety reasons listed below." It misleads the victims into thinking they have violated several laws such as viewing or storing prohibited pornographic content (child porn, zoophillia). The warning states that your phone has been blocked due to its involvement in copyright violations including the use of unlicensed app, the distribution of illegally obtained files, the distribution of child pornography, and also the participation in spam emailing. To further make the warning appear as if it comes directly from Mandiant U.S.A. Cyber Security, it even displays the real logos and seals on the virus page. In addition, on the top right corner it displays the picture of Obama who is pointing at you as if he is blaming you for your illegal activities. The virus also turns on your camera automatically, it tries to scare you and make you think that someone is watching and recording you. All of these scare tactics are used to trick innocent users into paying a fine of $300 via Moneypak. In order to push the person into quickly sending the payment the message states that the payment must be received within 24 hours, otherwise the phone will be blocked up forever and criminal case will be opened against yourself.
Mandiant U.S.A. Cyber Security Virus scam uses these hefty fines and legal actions as a way to really scare the computer users. From what the fake warning says, the target users can quickly pay the $300 and avoid all of the other potential charges. It is 100% sure that the message is not coming from the police or any other authorities. Government will never punish a person by locking his computer and ask payment via pre-paid cards like Moneypak, Moneygram, Ukash or Paysafecard. This virus is tricky because it leaves the victim little time to research whether this is real or only a scam, therefore many innocent users paid for the fine and lost their money finally, with the phone still locked up. Simply sending $300 is not worth unlocking your phone because it can do nothing helpful for you, it neither help unlocking your phone, nor removing the malware exists on your phone. Now a large percentage of users have fallen for this scam. If your android phone has been locked up by this virus, don't pay anything. Instead, please follow the guide below to get it unlocked.
Please Contact YooCare 24/7 Online PC Expert now if you don't know how to start the removal on your phone.

Mandiant U.S.A. Cyber Security Virus Blocked Up Android Phone Screenshot: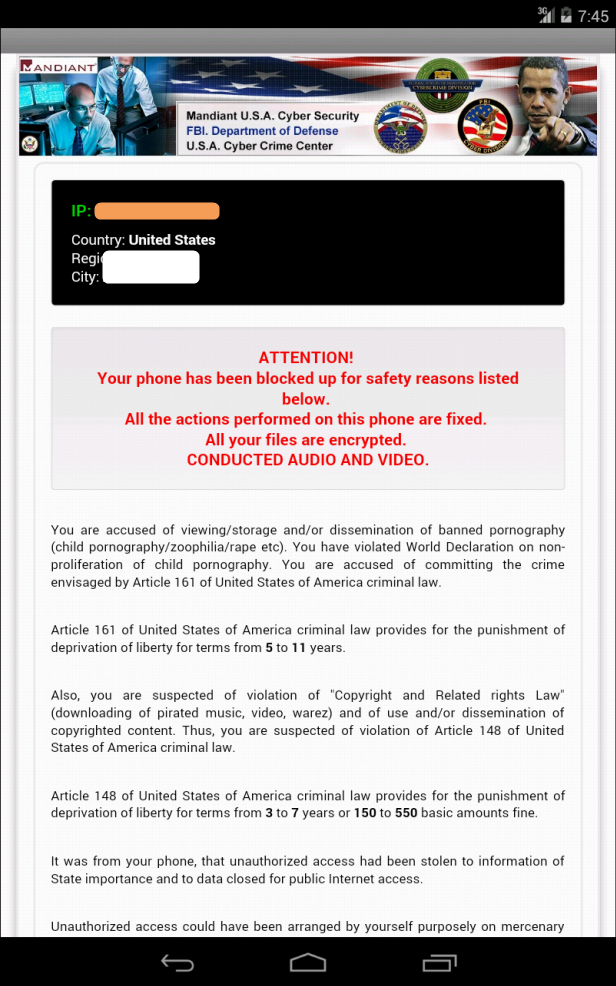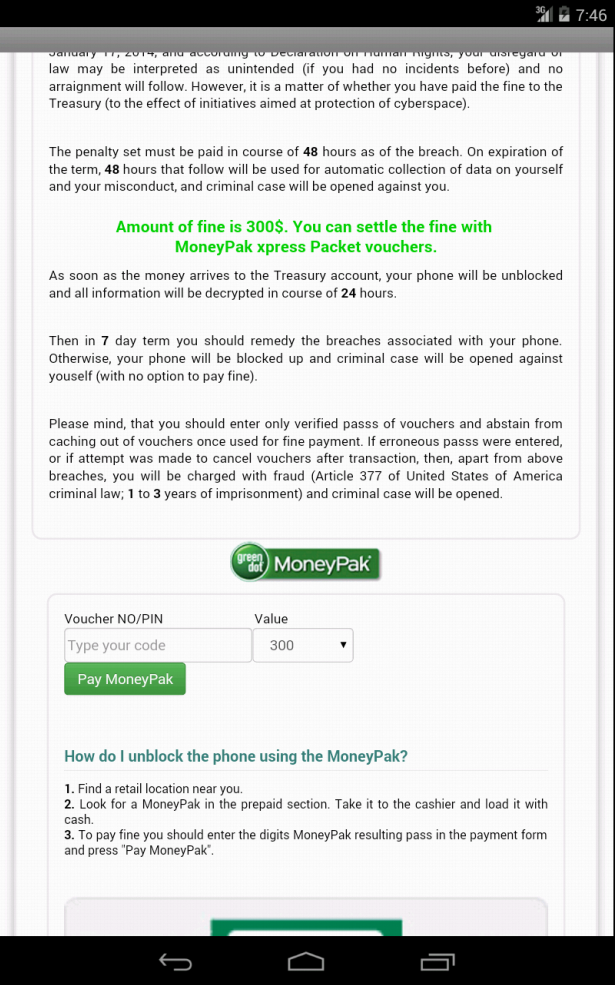 Possible Danger Caused By This Scam:
It will take control of your moblie phone rapidly once it is downloaded.
It will pretend itself as a legit warning and then ask for a ransom.
It will not allow you to change your phone settings or open Google Play to download antivirus program.
It will not let you power off the phone or do anything else except for inputting the demand Moneypak code.
It may damage your computer data and the Android system.
Important Things You Have To Know If Your Android Phone Has Been Blocked:
1. Mandiant U.S.A. Cyber Security Virus can attack smartphones running with Android or Mac OS X system.
2. Don't pay for anything or provide your personal information to this hoax, it won't help lock out of the fake FBI virus warning but just waste your money.
3. Currently no APP is able to detect or remove this malware, even for preventing the virus from attacking the computer again.
Never Become The Victims of Mandiant U.S.A. Cyber Security Virus Scam.
Although this virus page seems to be legitimate, it is 100% fake. It even uses web cam control to make users panic and make them to pay for the ransom wrongly. If your computer is infected, your camera may turn on automatically. It makes you into thinking your picture has been taken and sent to Mandiant U.S.A. Cyber Security, or other authorities like FBI is now watching what you are doing. The fake warning will lock your device forever and block you from doing anything. As mentioned above, we can see how this scam works to deceive innocent users. It is good at using scare tactic to extract money from victims. Hence, users must get rid of Mandiant U.S.A. Cyber Security Virus from the Android phone as soon as possible.
A Step-by-step Manual Removal Guide On Android Phone
1. Restart your phone to safe mode.
Note: "Safe Mode" on Phone starts up without loading any third-party add-ons and different devices have different ways to access safe mode.
For example:
For Samsung Galaxy S4: 1. Power down. 2. Turn on and repeatedly tap the soft-button for "Menu."
For Samsung Galaxy S3 and others: 1. Power down. 2. Turn on, then press and hold Volume Down (Galaxy S3 and others), Volume Up (HTC One and others), or Volume Down and Volume Up together (various Motorola devices) when the vendor's logo appears.
If you have managed to select Safe Mode, you will see the text "Safe Mode" at the bottom left corner of the screen.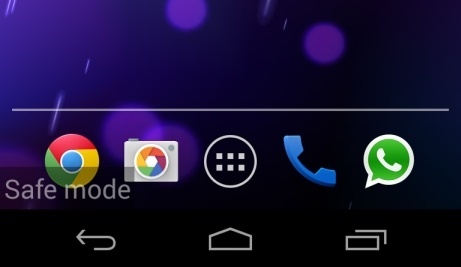 2. Once you have put your phone in safe mode, contact an expert for further removal instruction.
Now numerous users were shocked to find their devices had been hacked and locked a message from Mandiant U.S.A. Cyber Security. This is an online fraud designed by hackers who aim for grabbing money from innocent smartphone users. Although the message is under the name of Mandiant U.S.A. Cyber Security, FBI, Department of Defense and U.S.A. Cyber Crime Center, in fact it has nothing to do with these legal authorities. We've seen a rash of new ransomware malware showing up on Android devices recently like PCEU Virus, FBI Virus, AFP Virus and GVU Virus etc. Even though you didn't do anything illegal, you will be the target of this malware still. As long as the virus is landed on your phone, it takes over the whole android phone screen and won't go away, hoping to strongarm you into paying a ransom for some sort of deactivation code that will give you back control of your computer. Don't pay anything to this hoax or you will experience money loss and possible identify theft. The above guide will help you unlock your phone.
Note: Manual removal is a skillful and risky job, if any mistakes are made in the process, you may damage your phone immediately. If you are not sure how to do, please contact YooCare PC experts 24/7 online for help right now.


Published by & last updated on March 10, 2015 4:31 am