I think I got this police virus saying that I must pay 100 pounds within a week, if not the criminal charges will be taken against me. Last night I had this PCEU virus that told me my phone Samsung models sgh\1407 had been locked to stop illegal activities after it accused me of breaking copyright laws and looking at prohibited pornographic content (child porn, zoophillia) It said since its my first time I can get it off if I pay £100 in the next 72 hours through UKash and Paysafe. I was scared and almost paid for the fine. But one of my friends told me it was a scam. So is this PCEU on my android phone real or fake? If it is a virus, how does it come to my phone? I am using Samsung Galaxy S4, how do I unlock my android phone? Sometimes, this ransomware affects tablet warning pay 100 pound in the next 24 hours or you will be arrested, what does the remaining time mean on soca pecu virus? How to resolve PCEU £100 android phone scam?
Watch Out! PCEU Virus Scam Attacks Android Phone/Tablet Now!
Is your Android device locked by PCEU Virus now? With the development of technology, more and more people are using smart phone nowadays. Therefore, those greedy hackers seize the chance and then produce another Ransomware that is mainly used to attack the phone or tablet. This virus can hack to your phone for any reasons. You may get it by clicking malicious code or unsafe advertising pop-ups, visiting pornographic website or opening attachment from spam emails because this virus usually disguises itself as Flash Player app to trick users into downloading. Once downloaded, it rapidly takes over your phone and scrambles your data unless you pay a fee. However, don't be scared for PCEU virus is just a scam found in March, 2013 that targets computer users in the United Kingdom. You will not get any trouble from the real Police Central E-crime Unit, but you have to get rid of it from your phone immediately once upon detection. 
When PCEU Virus attacks Android device, it completely locks your phone or tablet, and then it displays an alert stating that your phone has been blocked up for safety reasons such as viewing or storing prohibited pornographic content (child porn, zoophillia). It also says you must pay a fine of 100 pounds, or you will be accused, also data in your phone will be deleted. In a word, as soon as you power on the phone or whenever you try to unlock your phone, it will not allow you to do that and display this fake message to further scare you to death. Beware that currently there are dozens of Ransomware like that, using a name of police of other institutions to scare computer users and get their money like the Australian Federal Police, Metropolitan Police, U.S. Department of Justice and FBI Virus. They can lock up either a computer or a phone depending on what device you are using. Furthermore, the virus can turn on your camera on your phone automatically as if someone is watching you at that moment but actually no one is really watching you at that moment. It is just a tricky because the scammers want you to think the real PCEU is on the other side, monitoring you. You should not pay for the non-existent in any cases because this is not a solution to unlock your phone and get out of the trouble. PCEU virus is a hoax designed to cheat innocent users. If you do that, the only thing you will experience is money loss. Your money will reach those hackers but your phone will still be locked up. It is fishy that PCEU virus asks payment via Ukash or Paysafecard because no legitimate government institution will ask for payment using pre-paid cards like these. By transferring money via pre-paid cards, there will be no way to trace the money and you won't be able to get a refund once you find out it is a scam.
Today I got on my android phone, I saw a window opened that said from the PCEU, my phone was blocked for some safety reasons. I had no idea what I did, it said i was doing something against federal law(looking at child pornography,piracy,etc) saying i must pay £100 within 48 hours, or my phone browser would remain locked, I know this is a scam because all day I've been reading up on the virus scam. But how do I get this virus locked up my phone? And what is the effective way to unlock my Android phone from this scam?
From mentioned above, PCEU Virus is just a scam because the real Police Central E-crime Unit will never send you an email or lock your computer alleging you're guilty of a crime and ask you to enter a payment. If you're suspected of child pornography or the other federal crimes this scam mentions, the police will be knocking on your door rather than simply locking your phone. To protect against this ransom virus, be careful what you are going to download and open. It can attach to seemingly innocent things like Facebook pictures or even pretend itself as a useful application. Also it is necessary to install antivirus app to your phone to block this virus. If your android phone has been locked, please follow the removal guide below.
Please Contact YooCare 24/7 Online PC Expert now if you don't know how to start the removal on your phone.

PCEU Virus Locked Up Android Phone Screenshot: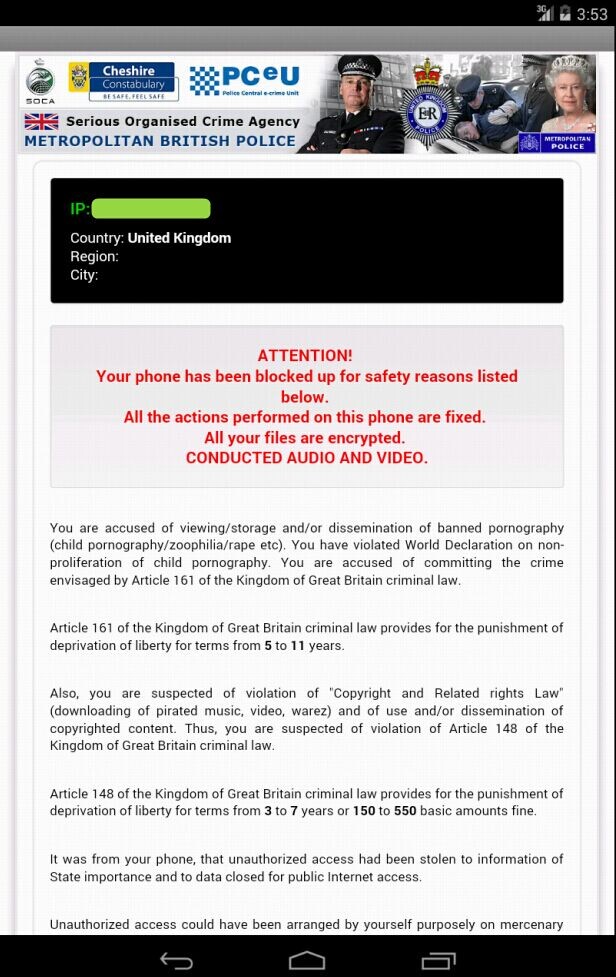 Possible Danger Caused By This Scam:
It will take control of your moblie phone rapidly once it is downloaded.
It will pretend itself as a legit warning and then ask for a ransom.
It will not allow you to change your phone settings or open Google Play to download antivirus program.
It will not let you power off the phone or do anything else except for inputting the demand Ukash code.
It may damage your computer data and the Android system.
Important Things You Have To Know If Your Android Phone Has Been Blocked:
1. PCEU virus can attack smartphones running with Android or Mac OS X system.
2. Don't pay for anything or provide your personal information to this hoax, it won't help lock out of the fake FBI virus warning but just waste your money.
3. Currently no APP  is able to detect or remove this malware, even for preventing the virus from attacking the computer again.
Never Become The Victims of PCEU Virus Scam.
Although this virus page seems to be legitimate, it is 100% fake. It even uses web cam control to make users panic and make them to pay for the ransom wrongly. If your computer is infected, your camera may turn on automatically. It makes you into thinking your picture has been taken and sent to PCEU, or PCEU is now watching what you are doing. The fake warning will lock your device forever and block you from doing anything. As mentioned above, we can see how this scam works to deceive innocent users. It is good at using scare tactic to extract money from victims. Hence, users must get rid of PCEU Virus from the Android phone as soon as possible.
A Step-by-step Manual Removal Guide On Android Phone/Tablet
1. Restart your phone to safe mode.
Note: "Safe Mode" on Phone starts up without loading any third-party add-ons and different devices have different ways to access safe mode.
For example:
For Samsung Galaxy S6 S5 S4: 1. Power down. 2. Turn on and repeatedly tap the soft-button for "Menu."
For Samsung Galaxy S3 and others: 1. Power down. 2. Turn on, then press and hold Volume Down (Galaxy S3 and others), Volume Up (ZTE, LG, HTC One and others), or Volume Down and Volume Up together (various Motorola devices) when the vendor's logo appears.
If you have managed to select Safe Mode, you will see the text "Safe Mode" at the bottom left corner of the screen.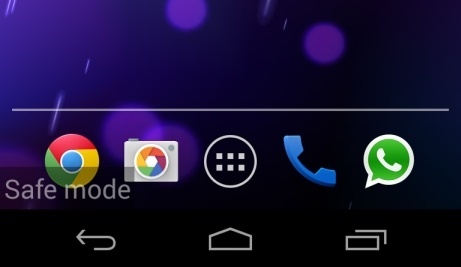 2.  Once you have put your phone in safe mode, contact an expert for further removal instruction.
Now mobile threats are on the rise and PCEU Ransomware is considered as one of the most horrible threats that spreads rapidly nowadays. It may come from app downloads or corrupted web pages. Once it is installed, it locks your device and presents you with a message claiming you have committed a crime and therefore must pay a fine to unlock your phone. The hackers have used the same way to trick many innocent PC users by locking their computers before. Now they turn their eyes on the growing mobile markets and want to get money from mobile phone users. Do not follow the instructions if you see PCEU virus message on your phone, because even if you pay the cyber criminals you will not regain access to your device. Remove PCEU virus from Android phone and learn how to protect yourself from this malware are the necessary things you have to do after being hacked.
Note: Manual removal is a skillful and risky job, if any mistakes are made in the process, you may damage your phone/tablet immediately. If you are not sure how to do, please contact YooCare PC experts 24/7 online for help right now.


Published by & last updated on June 12, 2016 2:51 am