Can West Midlands Police lock my computer screen? If this is not real but virus, how to unlock computer from West Midlands Police virus locked message? This morning when I log in my account, this locking screen takes over my screen immediately and completely. I can not close this screen by any means even opening task manager. The malware claims that my computer is blocked by the West Midlands Police due to my illegal actions on the Internet including downloading copyright files illegally, watching porn video or sparing virus. I have to pay 100 EURO to unlock my PC in a limited time. All the data and actions will be recorded by the West Midlands Police, if I don't finish payment in this limited time, the data on the infected computer will be completely erased and I will get a further punishment. Is that true? Actually I just use this computer for playing games and watching videos on Youtube. How can I go against the laws? Is this the real message from the West Midlands Police? Am I suffering a virus infection? If yes, how can I get rid of this West Midlands Police for 100 ERUO locking screen?
How to Unlock West Midlands Police Virus – Is This West Midlands Police Message Warning Legitimate?
Being a new version of the Ukash malware, West Midlands Police virus is becoming an extremely dangerous ransomware on the Internet, usually the victims will be in the British area, but sometimes it can infect victims in other countries as well. Just like another Ukash virus PCeU, these kinds of the malware will embezzle or forge and local Police department for their malicious purposes. Most victims will be cheated easily if they have no idea about this Ukash virus infection, victims will be afraid of being in the trouble with police especially when they see the logo of the local police and the messages published on the locking screen. This tricky malware looks quite real so that a lot of the Windows OS users have been the victims by this malware. Although this virus locking page seems to be very legitimate as it even shows the symbol of the West Midlands Police, it is categorized as a malware which is irrelevant to the local Police. In general, this virus will be attached to some programs like installing package, spam E-mail attachment and other .exe process, that is the way which the cyber criminals have the ability to spare this malware to the British area and even the whole world. Once the victims install or open these infected files, the virus can be activated in a quick time, the computer can be taken over completely and immediately and the victims can not do anything to stop it. What is more, the locking screen will pup up on the whole screen that the victims are not able to minimize or close the locking page even they get the task manager, if the victims restart the infected computer, this virus will still take over the computer immediately once the victims log in, that means the victims have no way to stop this virus at all. Anyway, West Midlands Police virus is a high-risk malware that needs to be removed as soon as possible to protect the infected PC.
Will this West Midlands Police virus invade my computer if I have installed the anti-virus program? The answer is Yes, like what we said before, this virus will be attached to some programs and files so that it can not be easily detected by the security programs, once the victims have activated this nasty ransomware, it will start blocking the PC and forbidding any actions to open any programs, that means anti-virus program, firewall and other tools will be forbidden completely, and it will stop these programs from starting at all even the victims restart the PC. Many victims have reported that anti-virus program can not figure out this virus infection at all and that is the reason we suggest that the virus should be removed in a manual way.
How can we unlock the PC, should I pay the fine? Stop being naive, West Midlands Police virus is created by the virus makers to collect money and information, if you pay the fine to this malware, that means you will offer a financial support to the cyber criminals. This virus recommend the victims to finish payment by Ukash because the victims can not a refund from the cyber criminals even they find that what they suffer is a trap. Your computer will keep being locked even you have payed the fine. Please remember, the local police department and even the British government will not block the computer and ask for a fine for any reasons. These messages about locking, laws, fine are totally fake and unacceptable, you should keep in mind that what can you see on the screen is not legitimate at all, and the truth is that you are just suffering a virus infection named West Midlands Police virus. Do not follow its instruction and finish payment, or you will be the next victims by this tricky malware.
As mentioned above, that is no doubt that West Midlands Police locking screen is a malware even it has the name and logo the of the local police department. The cyber criminals create this virus to cheat and scare the naive victims. Stop hesitating, it will cause terrible virus infection on the infected PC if the virus keeps staying on it, your data and information can not be safe anymore, Therefore, it is strongly suggested that the PC users should get rid of this malware completely and quickly to keep the infected PCs safe.
The following instructions require certain levels of computer skills. If you're not sure how to get rid of this malware scam, please live chat with YooCare experts now.

West Midlands Police Virus Scam Message and Image: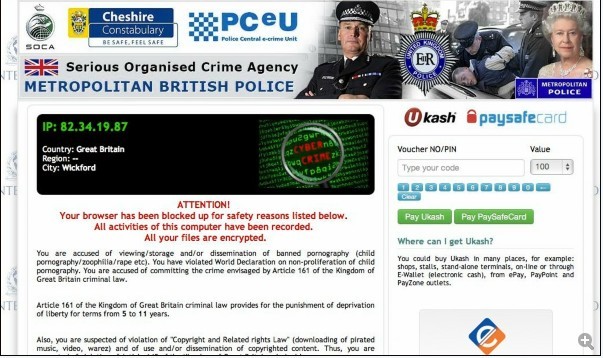 Infected Symptoms:
It will take control of your computer rapidly once it is downloaded.
It will encrypt all of your files on the compromised PC.
It will pretend itself as a legit warning and then ask for a ransom.
It can disable your task manager and even pop up in safe mode.
It can connect to a remote IRC server and forward the data to cybercriminals without a computer user's awareness.
It can't be simply uninstalled or removed in control panel.
How To Unlock Your Computer Quickly?
Since West Midlands Police virus can block your antivirus programs to stop them from running even lock your PC entirely, under such circumstance, manual removal is required to handle with the virus. This manual removal guide is for advanced computer users to follow. If you are not 100% confident of what you will have to do, it's suggested to get help from experts.
Please do a system backup before you start to delete this Ransomware virus manually.
1. Restart your PC before windows launches, tap "F8" constantly. Choose"Safe Mode with Networking" option, and then press Enter key.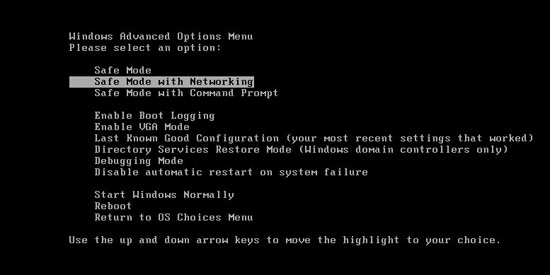 2. Press Ctrl+Alt+Del keys together and stop the Ransomware processes in the Windows Task Manager.
Random.exe (The name of the virus process may be different all the time)
(If you can't figure out the process of the virus, you can end the process called explorer.exe first so that virus won't come up)
3. Delete associated files related to West Midlands Police virus from your PC completely as follows:
%Temp%\[RANDOM CHARACTERS].exe
C:\Documents and Settings\<Current User>
C:\Users\<Current User>\AppData\
4. Search for all related registry entries infected by this dangerous virus and wipe them out:
HKEY_CURRENT_USER\Software\Microsoft\Windows\CurrentVersion\Policies\System "DisableTaskMgr" = 0
HKEY_CURRENT_USER\Software\Microsoft\Windows\CurrentVersion\Run\random
5. Reboot the computer to normal mode when the above steps are done.
Similar Video Helps You Remove West Midlands Police Ukash Virus Completely:
In conclusion:
West Midlands Police virus is a dangerous malware which targets on the Windows OS including XP, Vista, 7 and 8. This virus cheats the victims by acting as a real local police department, and it shows a locking screen and asks for a 100EURP payment by Ukash. Not only can it freeze your PC completely but also can plant a malicious backdoor process on the infected machine without the victims' permission. Cyber criminals can view and copy your information on the infected PC via that backdoor process, cookies, histories, your important files and personal E-mail can be sent to the serve and published to the public. The PC users have to get rid of this West Midlands Police virus malware to save their data and whole PCs, this malicious process will not go away until you start to remove it. Never pay a fine to the cyber criminals, you need to realize that you haven't broken the laws at all, that locking screen and messages are fake and unbelievable. Anyway, if you get this Ukash virus infection on the infected PC, all you have to do is to erase it as soon as possible to get your normal PC back and avoid further damage.
Note: Manual removal is a skillful and risky job, if any mistakes are made in the process, you may damage your computer immediately. If you are not sure how to do, please contact YooCare PC experts 24/7 online for help right now.

Published by & last updated on November 1, 2013 10:44 am