My computer was blocked by Ministry of Public Safety Canada Virus which displayed an official looking Canadian government block saying I was looking at child porn and I sent terrorist like emails via spamming ( I wasn't). Anyway, I cannot do anything on it now. It happened when I tried to download "Flashplayer" on the Internet. All of sudden, this virus popped up showing my picture together with my IP address, my location and my username. It asked me to pay $100 via Ukash if I want to get the computer unlocked, otherwise the authorities might prosecute me. I knew it was a scam after searching information on my other laptop, however, I cannot find a way to get rid of the locked page. How can I unlock my computer from Ministry of Public Safety Canada notice completely? Any help will be appreciated.

PC Locked By Ministry of Public Safety Canada Virus Scam? – An Overall Description
Ministry of Public Safety Canada Virus is another variant of Canadian Ukash virus that has been very popular in these years because it can be spread and distrusted over  the Internet rapidly. This virus is as similar as the previous RCMP virus and Canadian Association of Chiefs of Police virus which are mainly used to attack computer users located in Canada. Although the virus page seems to be legitimate as it even shows Canadian Government symbol, it is noted that this is a computer virus which it is not associated with the government of Canada at all. When the computer suffers from this Ministry of Public Safety Canada Virus, a webpage will pop up to the screen. It accuses the computer user have done something illegal like spreading pornographic file. To make the accusation be more convincible to you, the virus page will list where you are, what operating system your computer is, and even the user name; also, the logos of authorities are shown on the top of the page. The page lists several punishments about different violations. In order to avoid the crime, the victim is told to pay a fine about 100 CAD through Ukash or Paysafecard. Otherwise, a bigger penalty or the prison is waiting for you. No one will take the risk of being caught, and the cyber criminals can swindle away some money from the victim who is suffering from this virus by using this psychology. Many people are scared to death when the first time they see this Ransomware pops up on their screen, and they cannot believe it is a virus in reality because they think they already have antivirus program protected. However, this is a wrong idea as the fact that there are no programs can prevent and detect such malware now. The virus disables your antivirus program and infiltrates into the compromised PC system without a user's knowledge and permission. This virus may pretend itself as a useful piece of software tricking the user into thinking it is a helpful program so that it can infect the compromised computer quickly if the inexperienced users have downloaded that program on the computer without knowing it is a virus. Another situation you may encounter this malware is from spam email. This malware can be added to the attachment and spread through the network. If you open a suspicious attachment from a stranger or even from your contacts, you also have the chance to be hit by Ministry of Public Safety Canada scam. Above all, you need to be cautious when you download files or programs on the Internet and make sure the files contained in the email attachment is secure before you open it.
How does this fake Canadian police virus work to cheat innocent users? As soon as this Ransomware invades your computer, Ministry of Public Safety Canada Virus locks down your computer immediately and blocks you from accessing your documents, music or other programs. It claims this message is from Canadian Association of Chiefs of Police and Ministry of Public Safety Canada and your computer has been involved in illegal cyber activity related to pornography and copyrighted content. It also says if you want to get your computer unlocked and avoid the violation, you need to pay $100 CAD via Ukash voucher. It is very frustrating if the computer is blocked by this Ukash virus because the removal is very complicated. "I has been hit by the Ministry of Public Safety Canada UKASH Virus. This virus is so advanced that even when I boot in Safety Mode (with networking) the virus is still active. " said one of the victims. In addition, the virus blocks you from opening Task manager. Once you do that, an error comes up telling you that you do not have access. At that point, all you can do is to press CTRL+ALT+DEL which only gives you " log off ", " restart " and " shut down " option that do nothing helpful to get rid of the banner. Under such circumstance, a few users may think paying the so called fine is the best solution to unlock their computer and avoid being caught by the police so that they choose to buy Ukash. That is also the reason why more and more victims are tricked by this scam. However, paying the non-existent fine is an unwise decision because once you pay for it, it won't help to unlock your computer, nether to remove all malicious contents from your computer.
As mentioned above, it is clear that Ministry of Public Safety Canada virus is a scam but not a real message from the government. Criminals design this malware in an effort to panic innocent users and further scam their money. Never become the victim of this malicious virus. If you leave it in your computer for a long time, it will keep damaging your system and may cause blue screen of death or windows fails to load issue on your computer. Therefore, we highly recommend PC users to get rid of Ministry of Public Safety Canada scam as quickly as possible.
Please Contact YooCare 24/7 Online PC Expert now if you are not familiar with any manual removal process or afraid of making mistake during the removal process. It will require expertise to remove this virus manually.

Ministry of Public Safety Canada Virus Scam Locked Pages: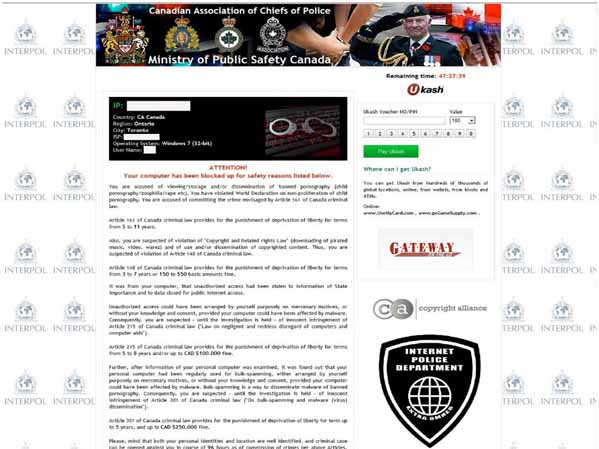 New Variant of Ministry of Public Safety Canada/ Canadian Association of Chiefs of Police Interpol Virus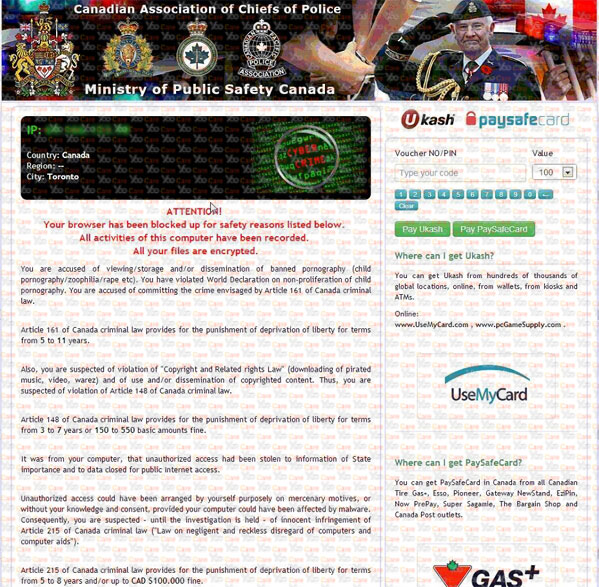 Possible Danger Caused By This Scam:
It will take control of your computer rapidly once it is downloaded.
It will pretend itself as a legit warning and then ask for a ransom.
It can disable your task manager and even pop up in safe mode.
It can connect to a remote IRC server and forward the data to cyber criminals without a computer user's awareness.
It can't be simply uninstalled or removed in control panel.
Important Things You Have To Know If Your Computer Has Been Blocked:
1. Ministry of Public Safety Canada Virus mainly attacks computers running in Windows operating system.
2. Don't pay for anything or provide your personal information to this hoax.
3. Currently no anti-virus program is able to detect or remove this malware, even for preventing the virus from attacking the computer again.
4. Be aware that even if you are able to unfreeze your computer on your own like doing a system restore, the malware may still operate in the background. To completely get rid of this Ransomware, manual removal is needed.
Never Become The Victims of Ministry of Public Safety Canada Ukash Scam.
Although this virus page seems to be legitimate, it is 100% fake. It even uses web cam control to make users panic and make them to pay for the ransom wrongly. If your computer is infected, you will detect your webcam will be on without your permission just like the police is recording you. If you do not have a web cam connected, the video screen on the page will appear to be blank. As mentioned above, we can see how this scam works to deceive innocent users. It is good at using scare tactic to extract money from victims. Hence, users must get rid of this fake Canada Ukash virus manually as soon as possible.
A Step-by-step Manual Removal Guide
1. Since you cannot gain access to the infected computer under regular mode because of this lock screen, please restart the computer and put it in Safe mode with Networking first. Here's the guide: Restart the computer upon the locking screen and start hitting F8 key repeatedly when PC is booting up again; if successfully, Safe mode options will show up on the screen for you to select. Please use arrow keys to highlight Safe mode with Networking option and hit enter key. System will be loading files into this mode afterward.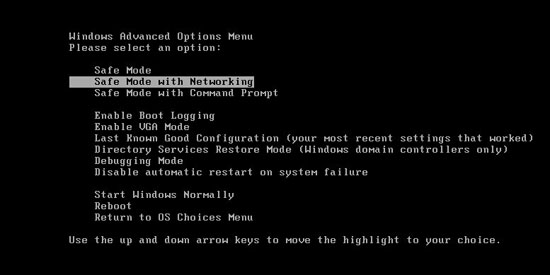 Attention: If virus stays in your computer for a long time, it may work in the background and block you from accessing safe mode with networking, thus, you'll see virus page still or the virus forces you to log off and restart your computer automatically. In that case, please choose: Safe mode with command prompt and try if it helps. If none of them helps, please contact YooCare expert for instant help.
2. Open Control Panel from Start menu and search for Folder Options. Go to Folder Options window, under View tab, tick Show hidden files and folders and non-tick Hide protected operating system files (Recommended) and then click OK.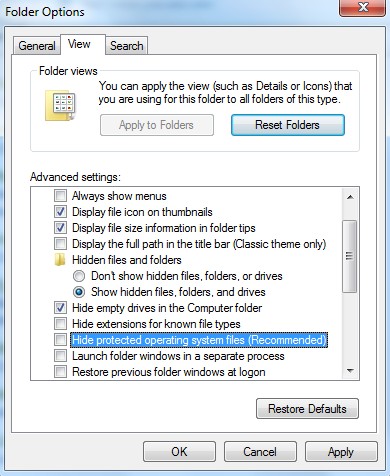 3. Under Safe mode with Networking, please hit Ctrl+Shift+Esc (Ctrl+Alt+Delete) keys together to pull up Windows Task Manager; go to Processes tab on top and scroll down the list to find processes associated with Ministry of Public Safety Canada scam and click End process.


4. Open Registry Editor by pressing Windows+R keys and pull up Run box and searching for regedit.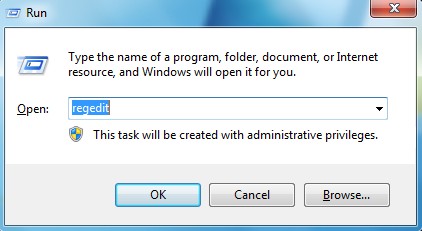 5. Find out and delete files and registry entries as below:
%Temp%\[RANDOM CHARACTERS].exe
C:\Documents and Settings\<Current User>
C:\Users\<Current User>\AppData\
HKEY_LOCAL_MACHINE\SOFTWARE\Microsoft\Windows NT\CurrentVersion\Winlogon\
HKEY_CURRENT_USER\Software\Microsoft\Windows\CurrentVersion\Run\random
6. Restart computer back to Regular mode and check out if the warning page still shows up again.
Similar Video Shows You How to Unlock The Computer:
Conclusion
Ministry of Public Safety Canada virus (also called CACP Virus or Canadian Association of Chiefs of Police Virus) is categorized as a Ransomware that is designed by remote hackers in an effort to convince the user that they have violated laws of Canada and they must pay CAD $100 immediately. This lock screen pops up on your machine and freezes the desktop to prevent you from doing something to get itself removed. Now computer users located in Canada are the main targets of this scam and criminal has successfully cheated lots of people into paying the non-existent money. It is very dangerous if your computer is blocked by this malware. This virus infiltrates into the system with potential vulnerabilities via malicious websites or infected files and then runs in the background to further play its trick. At the beginning, you may see this virus is configured to start automatically when the machine is launched, freezing the desktop with a lock page that delivers a scam message to attack users. It gives misleading information and says you are blocked for possession of child pornography, and zoophilia, and rape footage and $100 is required to be paid via Ukash or Paysafecard to unlock. However, don't believe in this hoax as everything it shows on the locked screen is not real. Ministry of Public Safety Canada message is not connected with any legal authorities. The only purpose of this virus is to mislead users into thinking they will get trouble from the government and then let them pay for the fine right way without thinking if it is a scam or not. Smart users should ignore this message and take immediate method to unlock Ministry of Public Safety Canada virus from the computer in a hurry.
Note: Manual removal is a skillful and risky job, if any mistakes are made in the process, you may damage your computer immediately. If you are not sure how to do, please contact YooCare PC experts 24/7 online for help right now.


Published by & last updated on May 21, 2014 1:52 am