I need help uninstall this Sinergia cleaner virus. It keeps replacing my anti-virus and pops up running security scans constantly. Is this unfamiliar software from Microsoft because I don't remember buying or installing it? Do I trust this popup software and use it for PC protection in the future? How come it often fails whenever I try to uninstall the program? What steps do I take to successfully get rid of this Sinergia Cleaner?
Sinergia Cleaner Virus – Fake Anti-virus Removal
Sinergia Cleaner Virus is a pop-up fake anti-virus software that's just been released in recent days to attack PCs and scam PC users. This popup software, looking like legit PC protection tool, is released by cyber criminals instead of authorized organizations or institutions. By constantly popping up on targeted computers and reporting many infections inside the systems, Sinergia Cleaner is trying to get innocent computer users to sign up for its fake registered version so that it can help them remove all the threats from the PCs. However, it doesn't provide any "registered" version or further protection supports. The money you spend on this Sinergia Cleaner virus scam will be sent to cyber criminals' accounts. This cyber fraud, as ridiculous as it sounds, is a rather common issue among PC users around the globe. For ordinary computer users, they normally don't have much computer knowledge to distinguish legit programs from fake ones or to deal with such nasty computer threats. This has made them the largest target of this new variant of rogue program.

Such fake anti-virus programs can be created and released by hackers every once in a while and some of them last a long time. Take this Antivirus Security Pro virus for example. It also dresses up as legit PC protection software and gets on computers to help cyber criminals display scam activities. Similarly, Sinergia Cleaner Virus doesn't need permissions from PC owners to be installed because it can achieve that on its own by bundling with the unfriendly freeware users download from the Internet. Other common resources used to bundle with this scam ware include malicious links and sites, unauthorized "free" programs and spam email attachments ect. Even though security scans can pop up checking the downloads, they may not detect anything suspicious because the Sinergia cleaner rogue has been enabled by virus creators to bypass most anti-virus blocks. This explains why the scam virus doesn't need permissions from PC owners to get installed. Hence, to reduce the chances of being affected by this Sinergia Cleaner virus, always pay attention to the links you click on and install programs from authorized resources online.
Now let's take a look at how this Sinergia Cleaner rogue software operates on affected computers. When installed successfully, this fake anti-virus software can modify the default structures of the systems for its own convenience later on. Normally, it will set its application as the start-up process of the computers so that the scam virus screen can automatically launch upon system startup. Unlike the anti-virus applications you've installed on the computers, this Sinergia Cleaner virus will pop up running constant security checks through the systems even if you haven't set it to. Each time you exit out the Sinergia Cleaner popup scanning screen and want to launch other executable programs on the computers, you will get blocked by the rogue software over and over again. Sinergia Cleaner may tell you that the programs you attempt to run contain viruses that must be removed. Constant security alerts can also keep displaying to convince you that PCs are badly infected. You may now be confused by how this Sinergia Cleaner virus runs so aggressively while other protection tools remain quiet on the systems. But after struggling to get rid of all these fake infections with no success, some may tend to give it a go on this Sinergia Cleaner. Up until now, the scam activity has succeeded half way. As soon as you click on the "Registration" button or similar buttons as "Activate", you will be asked to pay a certain fee for the "full version" of this Sinergia Cleaner rogue.
Do not trust this Sinergia Cleaner Virus because of the fact that it's a rogue scam ware. Please live chat with YooCare Expert now to get help in removing this unwanted fake anti-virus.

Screenshot of Sinergia Cleaner Rogue Program
The Sinergia Cleaner popup screen may look legit to you as a PC protection tool. But it's not a trustworthy software to keep or use any further. This Sinergia Cleaner Virus screen will keep popping up blocking you from running other executable programs on the computer. Please try to get rid of it ASAP: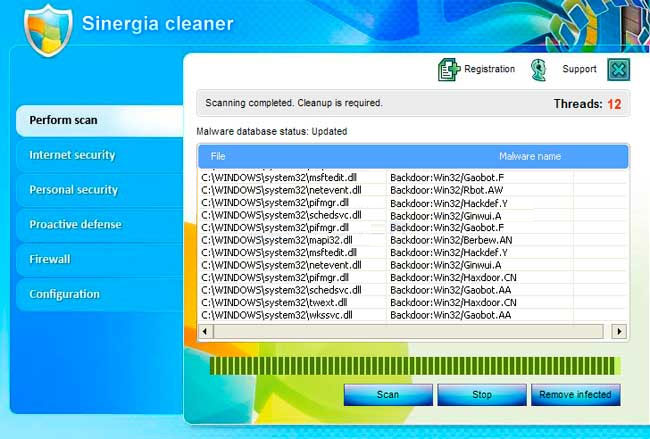 Summary of Characters And Effects of Sinergia Cleaner Rogue
Generally, fake anti-virus programs will act differently than other regular and legit PC protection tools. From these characters and consequences of the Sinergia Cleaner virus, one will be able to realize the catch of this rogue program sooner:
1. It doesn't need permission from you to get installed;
2. It will pop up constantly to launch security checks even though you have terminated it;
3. Its constant popup screens will block you from opening other programs on the computer;
4. It can also generate fake security alerts to threaten PC users;
5. It's usually an "Unregistered" version and will require you to sign up and pay a fee in order to "Activate" the "full version" so remove all the detected threats.
An Efficient Way to Remove Sinergia Cleaner Virus Scam
The Sinergia Cleaner rogue may not be detected by any anti-virus software as it also dresses itself up as one. Also, because of the fact that computer hackers are qualified with certain levels of computer skills, they can enable the rogue program to escape from most PC protection tools. Apparently, running security checks from legit anti-virus cannot help get rid of this Sinergia Cleaner virus. Besides, all the programs on the infected system are blocked from running by this rogue software. In this case, a manual removal process is believed to be the most efficient way to help remove this Sinergia Cleaner scam ware. By manually identifying the virus associating files and registry values under different locations and deleting them, a complete malware removal is easier to approach. But for that, expertise will also be required during the process to deal with changeable virus files and entries because they may not show in exact same names or locations inside the infected system.
Instructions on Removing Sinergia Cleaner Rogue Completely
1. Restart your PC before windows logging in, tap "F8" key constantly till you get safe mode options on the screen. Choose "Safe Mode with Networking" option, and then press Enter key to put computer into this mode where the Sinergia Cleaner virus program doesn't activate temporarily.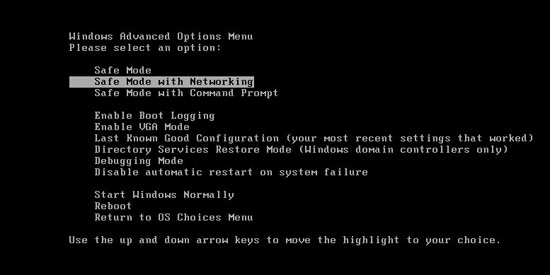 2. Press Ctrl+Alt+Del keys together and stop processes associated with Sinergia Cleaner virus in the Windows Task Manager:

3. Delete virus files from your PC completely as follow:
%AppData%\NPSWF32.dll\random names
%AppData%\Protector-""
%AppData%\result.db\rnd
4. Search for all related registry entries infected by Sinergia Cleaner virus and wipe them out:
HKEY_CURRENT_USER\Software\Microsoft\Windows\CurrentVersion\"" = rnd.
HKEY_CURRENT_USER\Software\Microsoft\Windows\CurrentVersion\Policies\System "DisableRegedit" = rnd
HKEY_CURRENT_USER\Software\Microsoft\Windows\CurrentVersion\Policies\System "DisableRegistryTools" = rnd
Video Guide to Remove Sinergia Cleaner Virus Scam
Conclusion
Anti-virus programs are created to help users protect their computers from all kinds of viruses. But sometimes they may dis-function especially when coming across rogue scam ware like this Sinergia Cleaner Virus. The rogue software itself will also claim that it's a trusted PC protection program. But unlike other programs, it doesn't need permission from PC owners to be installed. And it's much more aggressive in "protecting" your PC. The rogue program can set itself as a start-up process of the system and automatically launch security checks whenever PC starts. While other protection tools stay still, this Sinergia Cleaner rogue will detect many threats inside the system. To remove all these threats, you will need to get the "registered" version of the software beforehand which will require certain amount of fee to sign up. As a matter of fact, these scanning results can be fake reports that do not truly represent the status of the PC but just to get more victims to believe that their PCs contain many viruses. Also, there isn't any "registered" version of this Sinergia Cleaner that will help you remove all the threats and provide further PC protection supports. All of these are fake and to try to get as many victims to pay the fees as possible. So one shouldn't believe this Sinergia Cleaner virus and should remove the rogue ASAP!
Friendly Reminder: The longer the Sinergia Cleaner rogue stays, the worse the situation can get. Please contact YooCare PC experts 24/7 online now to get tech supports online timely to uninstall this scam ware completely.