On my laptop it says it's been locked by West Mercia Police Ukash virus. My computer screen is frozen. It says I've downloaded illegally mp3 movies or software and it was a criminal offense in the section of 106 and it was a copyright act. It also says I need to pay the €100 fine thru Ukash or Paysafecard to get a code in order to unlock my computer or I might be imprisoned. Is it real or fake?? And how do I remove it if it's fake?

Computer Has Been Blocked By West Mercia Police Ukash Virus? – How to Unlock?
West Mercia Police Ukash Virus is a new Ransomware designed to attack computer users located in UK and other European States. In recent years, Ransomware malware has been spreading rapidly and has infected thousands of computers at an alarming rate. Being a new member of Ransomware groups, this virus also works by locking the target computer in the name of FBI, Department of Justice, United Kingdom Police etc. and demanding money from the inexperienced victims. This time it uses the name of West Mercia Police to trick users and asks for €100 fine via Ukash or Paysafecard voucher. It isn't hard to imagine that there are still a large number of computer users will fall into the trap because the West Mercia Police scam has a convincing appearance. The virus message says you did something illegal like illegally download music or watching porn and need to pay money to cover all the violation. It claims to be sent by the police in the country to stop online crime and protect copyrighted materials. Users who get this warning locking their computers must be so paranoid into thinking the cops will come and get them and throw them in jail. However, things won't happen like that way because West Mercia Police Ukash virus is just a scam designed by the hackers who want to steal money and information from its victims. So it is unnecessary for you to pay the fine, or you will lose your money without getting the PC unlocked.
Many of these scams come in the form of a computer block like NSA Virus Scam and PCEU Virus. The hackers wants to make unaware PC users believe this is a reliable notification and they are really accused of illegally spreading copyrighted and pirated materials online. To further persuade users into believing this notification is real, you will see webcams, ip address listings and specific locations listed. Cyber criminals keep changing the style of the virus warning and adding more features on the virus page in an attempt to make victims fall into the scam and get money from them. They also make the virus more and more malicious and own the ability to escape from anti-virus program you install on the computer. Therefore, do not pay or share any of your personal information to West Mercia Police Ukash Virus and you must unlock your computer manually.
When this Ransomware is installed, your webcam is activated by itself and then the fake message pops up and freezes your computer. Pressing Ctrl+Alt+Del won't help to open task manager, also you cannot close or minimize the fake Ransomware message. The only thing you can do is to hold the power button and shut the PC down. But if you turn it on, West Mercia Police Ukash virus pops up right away. Computer users should know that paying the fine will not help to remove this computer lock virus. Manual removal is required to unlock your computer and get rid of this virus.
The following instructions require certain levels of computer skills. If you're not sure how to get rid of this malware scam, please live chat with YooCare experts now.

West Mercia Police Ukash Scam Asking For €100 Fine Via Ukash or Paysafecard Voucher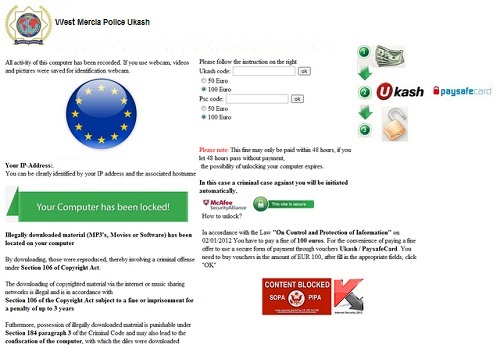 Important Things You Have To Know If Your Computer Has Been Blocked:
1. West Mercia Police Ukash Virus mainly attacks computers running in Windows operating system.
2. Don't pay for anything or provide your personal information to this hoax.
3. Currently no anti-virus program is able to detect or remove this malware, even for preventing the virus from attacking the computer again.
4. Be aware that even if you are able to unfreeze your computer on your own like doing a system restore, the malware may still operate in the background. To completely get rid of this Ransomware, manual removal is needed.
Never Become The Victims of West Mercia Police Ukash Scam.
Although this virus page seems to be legitimate, it is 100% fake. It even uses web cam control to make users panic and makes them to pay for the ransom wrongly. If your computer is infected, you will detect your webcam will be on without your permission as if it is recording you. If you do not have a web cam connected, the video screen on the page will appear to be blank. As mentioned above, we can see how this scam works to deceive innocent users. It is good at using scare tactic to extract money from victims. Hence, users must get rid of West Mercia Police Ukash virus manually as soon as possible.
How To Remove West Mercia Police Ukash Malware Manually?
Since this virus has completely locked up your computer making you difficult to gain access, you will need to manually remove it instead of using antivirus programs to do so. Also, antivirus programs cannot completely catch this virus. Otherwise, it would have caught it at the beginning when this malware tries to sneak inside. Below are some basic steps on how to get rid of this virus manually. However, due to the changeable characters of this virus, you may not find the exact same files or entries to delete. That's also why the manual removal requires expertise to do it. You will need to go through files and entries under different locations to define and delete. Any mistake could lead to unpredictable problems during the process. Thus, a backup of important files and programs is suggested before West Mercia Police Ukash Virus scam removal.
1. Restart your PC before windows launches, tap "F8" constantly. Choose"Safe Mode with Networking" option, and then press Enter key.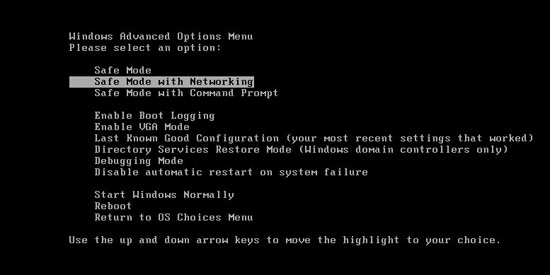 2. Press Ctrl+Alt+Del keys together and stop the Ransomware processes in the Windows Task Manager.
Random.exe (The name of the virus process may be different all the time)
(If you can't figure out the process of the virus, you can end the process called explorer.exe first so that virus won't come up)
3. Delete associated files related to West Mercia Police Ukash Virus from your PC completely as follows:
%Temp%\[RANDOM CHARACTERS].exe
C:\Documents and Settings\<Current User>
C:\Users\<Current User>\AppData\
4. Search for all related registry entries infected by this dangerous virus and wipe them out:
HKEY_CURRENT_USER\Software\Microsoft\Windows\CurrentVersion\Policies\System "DisableTaskMgr" = 0
HKEY_CURRENT_USER\Software\Microsoft\Windows\CurrentVersion\Run\random
5. Reboot the computer to normal mode when the above steps are done.
Similar Removal Video Guides You To Unlock Computer Immediately:
West Mercia Police Ukash Virus is a scam designed by cyber criminals which is responsible of locking the compromised PC and demanding certain payment for unlocking. Please ignore it when you see this bogus warning appears on your PC. Police will not lock your computer and put this warning on your computer. The intent of this Internet scam is to cheat you and let you send money using Ukash or Paysafecard. Besides, this type of virus opens backdoors secretly and makes it possible for other viruses to be infiltrated into the PC. If you have been clicking malicious links, downloading attachment from spam emails or using a computer without any protection, it will be easier for you to catch this virus. So you have to protect your computer by unlocking West Mercia Police Ukash Virus as early as possible.
Note: Manual removal is a skillful and risky job, if any mistakes are made in the process, you may damage your computer immediately. If you are not sure how to do, please contact YooCare PC experts 24/7 online for help right now.

Published by & last updated on August 20, 2013 12:50 pm