Is your browser locked by European Cybercrime Centre virus on Mac OS X now? Are you being accused of violating certain laws and regulations and cannot run you browser properly until you pay a fine of 200 GBP? Currently a large amount of users complain that their browsers (including Firefox and Safari) on Apple machine have been blocked. Thus, they had a hard time in surfing Internet. If you are the victim, follow the manual removal guide to completely remove this virus now.

Your Browser Has Been Blocked By European Cybercrime Centre Virus – How to Remove?
European Cybercrime Centre Virus (also called Europol Mac OS X virus) is a new released Ukash virus that aims at locking browser such as Apple Safari. Recently, many users complained that this virus has infected their computer and hijacked the browser not only in Windows system but also in Mac OS X. Once got infected, users are not able to surf Internet properly. When you are working on the computer, you will see a big alert on the computer screen or on the browser telling that all activities on this computer have been recorded. All your files are encrypted because you downloaded illegal program or watched porno websites etc. Then it states that you need to pay a fine in the amount of £200 through Ukash or you will face to legal prosecution. The alert confuses users and misleads them into thinking it is a legitimate warning from the real Europol European Cybercrime Centre, however, it is not true. Fake Europol alert is created by cyber criminals in an effort to scare innocent users and get money from them.
Below are the reasons listed on the European Cybercrime Centre virus message:
ATTENTION! All your files are encrypted to prevent their distribution and use. Due to violations of laws, your browser has been blocked because of at least one of the reasons below
1. You have been subjected to violation of Copyright and Related Rights Law and illegally using or distributing copyrighted content such as Video, Music or\and Software (files were found in your browser's temporary files and your documents), thus conflicting with Article 1, Section8, Cause 8 of the Criminal Code of Great Britain.
Article 1, Section8, Cause 8 of the Criminal Code states a fine or two hundred minimal wages or a deprivation of liberty for 2 to 8 years.
2. You have been viewing or distributing prohibited Pornographic contents: Child Porno photos and such, were found in browser's temporary files and your documents. Thus, you are violating article 202 of the Criminal Code of Great Britain. Article 202 of the Criminal Code states a deprivation of liberty for four to twelve years.
3. Illegal access has been initiated from your PC without your knowledge or consent, your PC may be infected by malware, thus you are violating the law On Neglectful Use of Personal Computer. Article 210 of the Criminal Code declares a fine of £50,000 and/or deprivation of liberty of four to nine years
Pursuant to the amendment to the Criminal Code of Great Britain of May 28, 2011, this law infringement (if it is a first time offense) may be considered as conditional in case you pay the fine

To unlock your computer and to avoid other legal consequences, you are obliged to pay a release fee of £200. Payable through Ukash (you must purchase the Ukash card and enter the code). You can buy the card at any store or gas station, payzone or epay terminal location.

This fine may only be paid within 12 hours, if you let 48 hours pass without payment, the possibility of unlocking your computer expires. All your data will be detained and criminal's procedure will be initiated against you if the fine will not be paid!
These texts are using for scare people and ask them to pay so that hackers can earn money without any effect from its victims. Usually people get this virus by clicking spam link or viewing porno websites. Once running, European Cybercrime Centre ransomware page will come up automatically as soon as you open the browser. It refuses to give you access Safari or other similar browsers at all but just shows a virus screen asking for money. If you try to exit it out or minimize, it won't let you at all. This malware blocks the Safari browser and states that you have to pay 200 pounds to unlock your Mac OS X computer  but you should never do that because this is not a real government message. It is just designed to fraud users' money. Don't pay for it.
Cannot unlock European Cybercrime Centre Virus from your browser? Contact YooCare Online PC Experts now to get help right away to save your computer in time.

Here Is The Locked Page Telling You Your Browser Is Blocked By European Cybercrime Centre Virus On Mac
Once your computer is attacked by Europol Mac OS X virus, you will get a pop up of this warning page out of nowhere blocking you from accessing the browser as it's taken up the full screen. You are not able to close the lock screen or minimize it. According to this fake warning, it says the only way to get rid of European Cybercrime Centre virus, you will need to pay a fine of £200 through Ukash within the limited 12 hours, but it is not true for this is a big scam.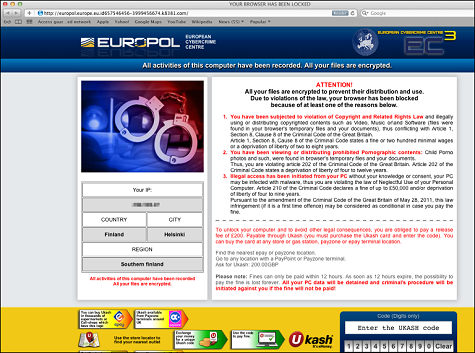 Attention: Ignore what European Cybercrime Centre Virus claims, it is designed to cheat you and earn money from its victims. Paying the fine won't help to solve any problems.
Step-by-step European Cybercrime Centre Ukash Virus Manual Removal Guide
Users should understand that there is no antivirus can remove or prevent this nasty virus. If antivirus can pick up this ransomware, they could have removed it in the first place without getting you into all these troubles. Hence, manual removal steps are the best choice to remove European Cybercrime Centre Virus on Mac or Windows computer completely.
For Mac OS X Computer:
1. Since your browser is already blocked by Europol locked computer scam, it is impossible for you to exit out the virus page. If your Safari browser is hijacked by any Apple Ransomware, you can click the Search button in the top right corner like the picture shows. And the type in: Safari and hit Enter key to reopen a browser without virus page first.

2. If the virus page still appears, please contact YooCare experts online for the complete European Cybercrime Centre Virus removal.
For Windows  Computer:
Step A). Please restart the PC and then start hitting F8 key repeatedly before Windows logs in; when come to the safe mode options screen, use arrow key to highlight Safe mode with networking and hit Enter key. It will go through to desktop after loading files. Note: it is normal that icons will look bigger in safe mode with networking.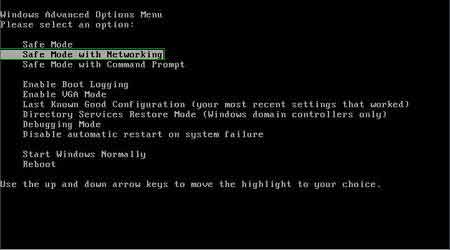 Step B). Press Ctrl+Alt+Del/ Ctrl+Shift+Esc at the same time to open the Windows Task Manager; under Process tab, scroll down to find anything related to [European Cybercrime Centre ransomware] and End processes.


Step C). Go into Registry Editor to remove infected program files, .dll files and registry entries. To do so, press Windows+R keys to open Run box first; then type in regedit to search. Search through the following files and entries to delete them: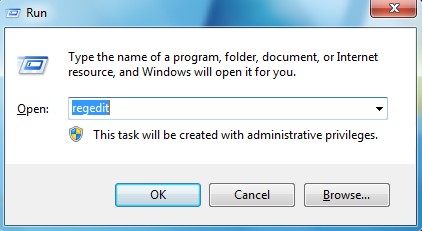 %AppData%\program\[random]\""
%AllUsersProfile%\Application Data\.dll
%AllUsersProfile%\Application Data\.exe(rnd)
HKEY_CURRENT_USER\Software\Microsoft\Windows\CurrentVersion\Run "[rnd].exe"
HKEY_CURRENT_USER\Software\Microsoft\Windows\CurrentVersion\Settings "\"
HKEY_LOCAL_MACHINE\SOFTWARE\Microsoft\Windows NT\CurrentVersion\Winlogon\"Shell" =[]
Similar Video Shows You How to Remove European Cybercrime Centre Ukash Scam On Windows OS
Conclusion
Unlock European Cybercrime Centre Virus is necessary for a users to protect the computer. It is a stubborn virus that hides behind unsafe domain and locks your browser without notice. It pretends to be a real government statement to scare and deceive people by stating that PC users have violated laws by illegal downloading or watching child pron. It makes PC users really scared since it looks so real. This virus will block browser immediately and make your browser useless. There are many ways for this Apple Ransomware to hijack your browser. Most of time European Cybercrime Centre virus invades the compromised PC through a Trojan. And if a user clicks on a malicious link or downloads attachment from spam email, it may possibly bring Europol virus attacking the PC. Even if it has a convincing appearance with "Europol" on the URL and a bunch of numbers, you still need to ignore this fake message because it is a hoax has nothing to do with European Cybercrime Centre or any other official authorities. An immediate removal is needed to keep your PC safe.
Suggestion: Still get failed to unlock your browser? If you have any problem in deleting European Cybercrime Centre malware, Contact YooCare 24/7 Online Experts now to get further assistance immediately.

Published by & last updated on January 7, 2014 5:56 am