Oh my god! My computer must be hacked by someone because as soon as I turn my PC on, it is locked by 'Say Hello To Little Virus Brings A Lot Of Problems!' warning. I can't get rid of this lock screen and access my desktop, task manager etc. This is really freaking me out because it says my personal files including photos, documents are encrypted and asks me to pay a fine of min $50 or $60 through Moneypak to fix this problem. Do I really need to pay for that? How do I know this problem can be fixed if I pay? Please help!! I really need to unlock Say Hello To Little Virus Brings A Lot Of Problems! virus.

'Say Hello To Little Virus Brings A Lot Of Problems! ' File Encrypting Ransomware Description:
Say Hello To Little Virus Brings A Lot Of Problems! is a file encrypting Ransomware that sneaks into the compromised PC secretly through security vulnerabilities. It will target every computer users that range from individual, educational institutions, up to known organizations. This is a malicious virus working like United States Courts Virus, Decrypt Protect Virus by locking one's computer and asking them to pay a fine in order to gain access on the infected PC. Furthermore, it can encrypt all your data on the target computer including your pictures, documents and databases. There are many ways for a user to get this virus installed. If a user has even opened the unknown email and clicked the strange link attached in it or downloaded the attachment contains a virus, they probably can get this virus installed.
As soon as it is installed, it creates a certain registry entry so that it could run every time you start your machine. From that time, you will have your system completely locked and you will not be able to perform any tasks there. All you can see on the screen is this 'Say Hello To Little Virus Brings A Lot Of Problems!' warning. It seems to be a letter from the cyber criminal who makes this virus. He makes a brief introduction of himself and claims your personal files including photos, documents are encrypted, if you want to decrypt those files, you have to transfer $50 or $60 with payment systems Moneypak because the only person who can fix this issue is himself. Is it really true? Don't be taken in. This is a scam designed to extort your money. No one can guarantee your problem can be solved even if you pay. As the fine is transferred by Moneypak which is a kind of prepaid payment and can be purchased conveniently at many stores including Wal-Mart, Walgreens and Kmart, no one is able to trace the whereabouts of your money.
Actually, nothing is going to change after you finish the money transfer because it is a fraud. What the cyber criminals want is more and more money. Locking your computer screen and encrypting files are the most common methods cyber criminals use recently in order to scare innocent users and then get their money. Therefore, once you see Say Hello To Little Virus Brings A Lot Of Problems! alert on your screen, you must take immediate action to remove it completely and recover all the encrypted files as soon as possible.
The following instructions require certain levels of computer skills. If you're not sure how to get rid of File Encrypting Ransomware Virus, please live chat with YooCare experts now.

Virus Page Screen Shot: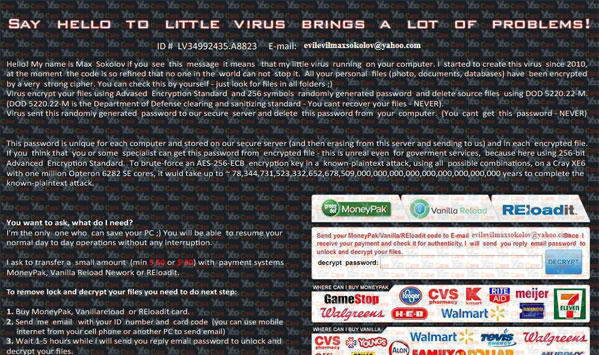 Infected Symptoms Are Listed As Follow:
It will take control of your computer rapidly once it is downloaded.
It will pretend itself as a legit warning and then ask for a ransom.
It can disable your task manager and even pop up in safe mode.
It can connect to a remote IRC server and forward the data to cybercriminals without a computer user's awareness.
It can encrypt all your files and rename them as a result.
Q: I Have Anti-Virus Program On My Computer, Am I Safe To Avoid This Virus?
A: Anti-virus can prevent most of viruses, but not including some very smart ones. And Say Hello To Little Virus Brings A Lot Of Problems! File Encrypting Ransomware is the one that can't be stopped by any anti-virus. New viruses will be created every day and it takes time for anti-virus to work out plans to deal with them. And that's why some people's computers are still infected with the protection of anti-virus. Because anti-virus soft ware needs to be updated. Before an anti-virus can take effect, new kinds of viruses can infect your computer.
How To Unlock Computer From Say Hello To Little Virus Brings A Lot Of Problems! Virus?
Since the virus can block your antivirus programs to stop them from running even lock your PC entirely, under such circumstance, manual removal is required to handle with the virus. This manual removal guide is for advanced computer users to follow. If you are not 100% confident of what you will have to do, it's suggested to get help from experts.
Please do a system backup before you start to delete this File Encrypting virus manually.
1. Restart your PC before windows launches, tap "F8" constantly. Choose"Safe Mode with Networking" option, and then press Enter key.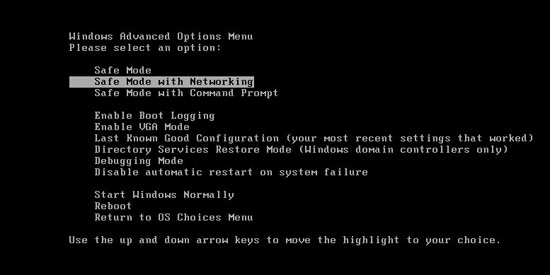 2. Press Ctrl+Alt+Del keys together and stop the Ransomware processes in the Windows Task Manager.
Random.exe (The name of the virus process may be different all the time)
(If you can't figure out the process of the virus, you can end the process called explorer.exe first so that virus won't come up)
3. Delete associated files from your PC completely as follows:
%Temp%\[RANDOM CHARACTERS].exe
C:\Documents and Settings\<Current User>
C:\Users\<Current User>\AppData\
4. Search for all related registry entries infected by this dangerous virus and wipe them out:
HKEY_LOCAL_MACHINE\SOFTWARE\Microsoft\Windows NT\CurrentVersion\Winlogon\
HKEY_CURRENT_USER\Software\Microsoft\Windows\CurrentVersion\Run\random
5. Reboot the computer to normal mode when the above steps are done.
Here Is The Similar Manual Removal Video:
In conclusion:
Say Hello To Little Virus Brings A Lot Of Problems! is believed to be one of the newly released versions of Ransomware. This blocking message is not a reliable thing, it is just a big scam that wants to collect money, do not be naive, you do not need to concern about what it claims, all you need to do is to remove it completely. Inexperienced computer users may choose to pay for this hoax because they are scared and worried about losing their data, but it is unnecessary for victims to hand over money to the criminals. You cannot satisfy hacker's appetite because they will extort your money as much as possible. Just imagine, once you pay $50 for unlocking and decrypting files, and then the next day hackers send the same virus to your PC again and blackmail you in order to get more $50, what to do? Therefore, paying is not a good choice to solve your issue. All you need to do is to remove Say Hello To Little Virus Brings A Lot Of Problems! virus and find an effective way to get your files back.
Note: Manual removal is a skillful and risky job, if any mistakes are made in the process, you may damage your computer immediately. If you are not sure how to unlock your PC or recover the encrypted data, please contact YooCare PC experts 24/7 online for help right now.

Published by & last updated on June 20, 2013 8:19 am