Computer virus that wants you to pay €100 within 72 hours? While I was using Youtube, my computer was suddenly blocked by 'POLIZEI Cyber Crime Investigation Department' Virus which said that I have violated copyright laws and it wanted me to pay a fine of 100 euros through "UKASH" within 72 hours, or else I'll be investigated and brought to justice, lol. I know it is a malware virus. But how can it access my computer even if I have antivirus program protected on my computer? How do I unlock my computer and get rid of this virus completely?

Computer Is Blocked By 'POLIZEI Cyber Crime Investigation Department' Virus? Is It Dangerous?
POLIZEI Cyber Crime Investigation Department Virus is another variant of infamous Ukash virus that targets computer users mainly in Austria and other German-speaking countries. This is a scam that users should never trust it. It utilizes the name of Cyber Crime Investigation Department to confuse users and makes them mistakenly pay for a non-existent fine. As soon as it is downloaded, it completely takes over your computer and does not let you complete any tasks at all. It blocks you from accessing desktop, files and task manager. All you can see on the screen is the fake POLIZEI Cyber Crime Investigation Department virus warning.
It shows you a big alert to attract your attention saying that 'ACHTUNG! Ihr Computer ist aus einem oder mehreren der unten aufgefuhrten Grunde gesperrt' which means ' Attention! Your PC is blocked due to at least one of the reason specified below. Then it falsely accuses you have been violating the Copyright and Related Rights Law and illegally using or distributing copyrighted content. The virus wants victims to pay a fine of €100 within 72 hours by using Ukash or Paysafecard.
Users must realize that this virus is not real, instead it tries to trick money from people. This Ransomware usually infects computer systems through security vulnerabilities and it also can be distributed through spam mails or fake torrent files. To threaten innocent users further, it also displays infected computer's IP address and makes victims into believing their activities are recorded. In fact, this is just a deceptive pop-up notification just like FBI Virus, RCMP Virus and PCEU Virus. It does a great job at scaring users into paying the fake fine. Therefore, it is suggested users to ignore the bogus warning and remove POLIZEI Cyber Crime Investigation Department Virus as quickly as possible.

The following instructions require certain levels of computer skills. If you're not sure how to get rid of POLIZEI Cyber Crime Investigation Department Virus, please live chat with YooCare experts now.

POLIZEI Cyber Crime Investigation Department Virus Page Is Like The Following Page: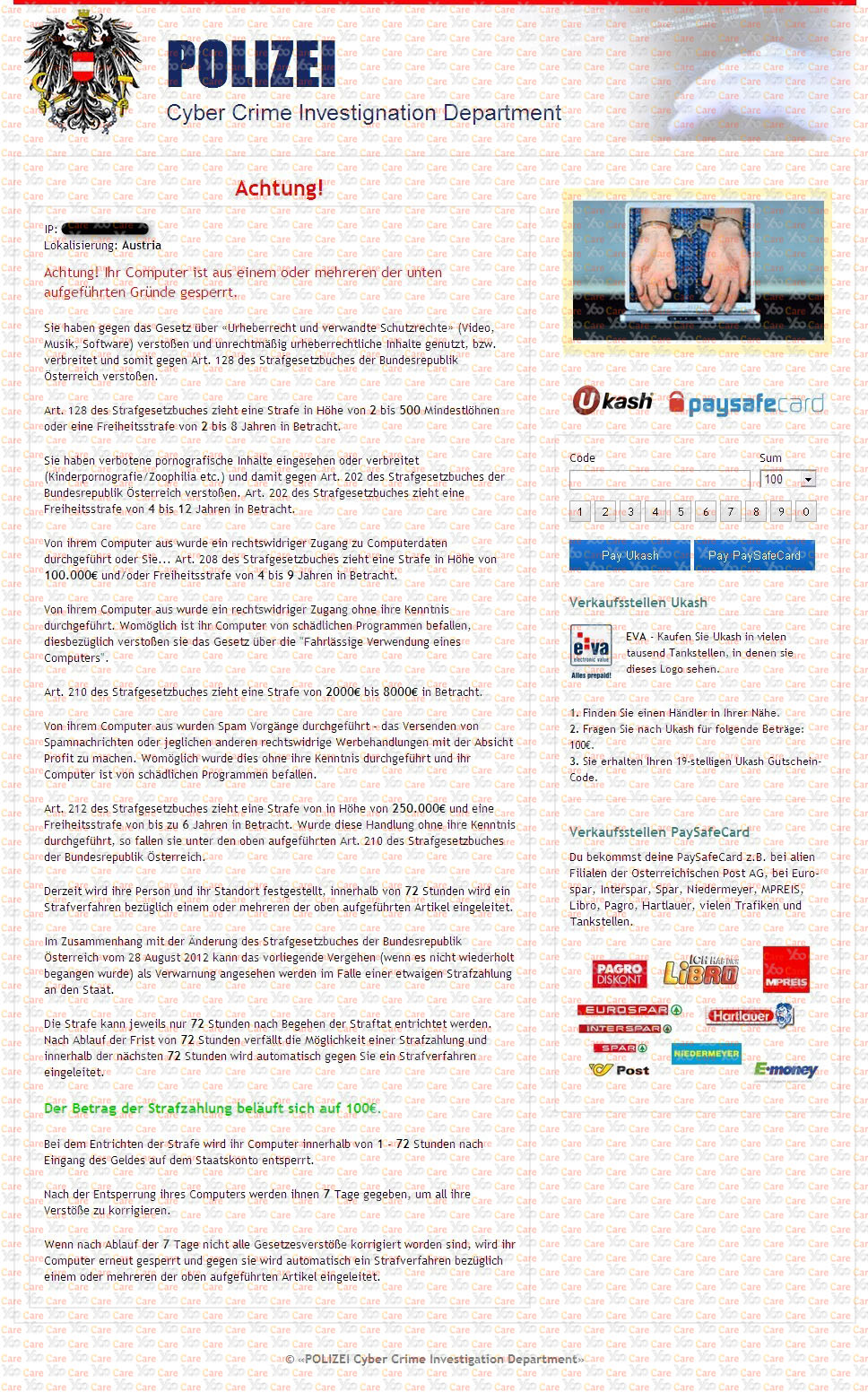 Notice: 'POLIZEI Cyber Crime Investigation Department' Virus will ask users to pay a fine of 100 euros via Moneypak or Paysafecard in 72 hours to cover the violations. However, even if you have paid the fine, computer will still be locked and this virus will still be there making chaos as well. You will find no code is available to unlock your computer because the real law institutions would never contact you to make any payments like this way.
Is It A Real Warning From Government? Am I Going To Be Sent To Jail?
A: Even though 'POLIZEI Cyber Crime Investigation Department' Virus seems to be real, but you must know it is a virus and don't be taken in. All the information it shows is fake. What you can do is to remove it as soon as possible before it destroys your computer and steals your information. And please be assured that you will never be sent to the jail because of this fake warning. Considering this is a terrible virus, it is highly recommended users to follow the manual instruction to unlock your computer step by step.
How To Unlock Your Computer Quickly?
Since the virus can block your antivirus programs to stop them from running even lock your PC entirely, under such circumstance, manual removal is required to handle with the virus. This manual removal guide is for advanced computer users to follow. If you are not 100% confident of what you will have to do, it's suggested to get help from experts.
Please do a system backup before you start to delete Cyber Crime Investigation Department virus manually.
1. Restart your PC before windows launches, tap "F8" constantly. Choose"Safe Mode with Networking" option, and then press Enter key.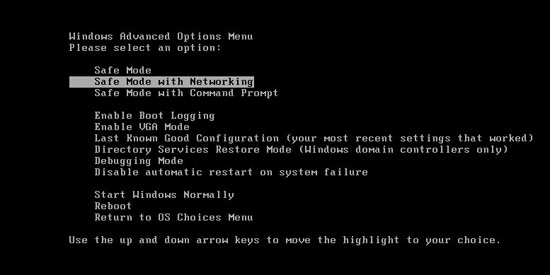 2. Press Ctrl+Alt+Del keys together and stop the Ransomware processes in the Windows Task Manager.
Random.exe (The name of the virus process may be different all the time)
(If you can't figure out the process of the virus, you can end the process called explorer.exe first so that virus won't come up)
3. Delete associated files from your PC completely as follows:
%Temp%\[RANDOM CHARACTERS].exe
C:\Documents and Settings\<Current User>
C:\Users\<Current User>\AppData\
4. Search for all related registry entries infected by this dangerous virus and wipe them out:
HKEY_CURRENT_USER\Software\Microsoft\Windows\CurrentVersion\Policies\System "DisableTaskMgr" = 0
HKEY_CURRENT_USER\Software\Microsoft\Windows\CurrentVersion\Run\random
5. Reboot the computer to normal mode when the above steps are done.
Similar Manual Removal Video:
In conclusion:

'POLIZEI Cyber Crime Investigation Department' virus is a computer hoax that has been spreading rapidly throughout the world. It frustrated users because it is difficult for users to remove the virus. As soon as they try to log in Windows, users will see the virus page pops up or a black screen shows up, sometimes it even displays a white background without nothing on the desktop. This virus is tricky and it prevents antivirus from working to detect and remove itself and completely locks your computer. You are not able to see your desktop, start menu and cannot do anything at all. Like other Ransomware, it demands that victims should pay a fine to get the computer unlocked. It is important for you to know that you have not committed any of the crimes that the fake Cyber Crime Investigation Department alert says. This is a scare tactic intent on forcing you to pay a penalty in order to access your computer again. Hence, to secure your computer, you have to remove this virus without any hesitation.
Note: Manual removal is a skillful and risky job, if any mistakes are made in the process, you may damage your computer immediately. If you are not sure how to do, please contact YooCare PC experts 24/7 online for help right now.

Published by & last updated on December 23, 2013 3:58 am