Have you just got an unknown antivirus software named Windows Essentials Pro 2013 popped up all of a sudden on your computer? Is it automatically starting scanning processes through your computer which are non-stoppable? Is this antivirus software associated with Microsoft? Why does it detect so many problems in the machine while other antivirus applications don't? How do people remove this unwanted application successfully?
Is Windows Essentials Pro 2013 Legit? An Overall Description
Windows Essentials Pro 2013 is categorized as a fake antivirus software which is believed to be just released recently. However, many computer users have come across this unfriendly software on their computers and suffered from many troubles caused by it. Similar to System Care Antivirus rogue antispyware, this Windows Essentials Pro 2013 virus also has a very legit appearance that looks like a real antivirus application. This malicious program is created specially by computer hackers in order to steal valuable information and money out from its victims. By threatening you that your computer is in many troubles, this software is trying to make you to sign up for its registered version which does not really exist. One will be paying for a non-existing software. This kind of issue has been quite common in these days since computer has become a necessity in our daily life. Computer users have been suffered a lot from this computer issue. However, all of these fake antivirus applications have many characters in common which will help you recognize them quickly.

A fake antivirus program like this Windows Essentials Pro 2013 virus is usually installed without permission from PC owners. That's why we don't know how this software gets into the machine. It's believed that this rogue antivirus software can be hidden within hacked web sites, porn pages and be bundled with other unknown "free" programs. Also, a computer that's lack of protection from antivirus or is compromised by your online inappropriate behaviors will be targeted as well. You won't be able to know when this unwanted software gets inside. But you will certainly notice it once it starts causing chaos on the machine. Once it's successfully installed, Windows Essentials Pro 2013 virus will reorganize the system structure for its own good. By doing that, it won't be easily removed and will pop up each time after PC reboot. As mentioned above that these fake antivirus programs all have something in common. By knowing these characters, we will be able to judge quickly and solve the problem as fast as we can.
Generally, a fake antivirus software like Windows Essentials Pro 2013 will dress up like a real antivirus software which is not real. You haven't given permission for it to install but yet it's installed somehow. Once it's in your computer, it will automatically start scanning processes through your computer constantly which you can't seem to stop. A real antivirus application won't be that aggressive and can't be stopped manually. Certainly, this unwanted software will report to you with many viruses and errors in your computer. Constant security alerts may also keep popping up to make it look more real. Once you've tried many ways but still cannot remove all these troubles, you might consider this Windows Essentials Pro 2013 software afterwards. Of course this fake antivirus will tell you it can help you remove all these detecting problems. However, you will need to sign up and pay for its registered or full version in order to do that. Being threatened that computers are in danger, many computer users will go ahead and make the payments without further considerations. By then, you will certainly be scammed. This Windows Essentials Pro 2013 virus doesn't have a registered version. It won't provide further protection for your computer either. Instead of paying for a product, you are actually paying the computer hackers for creating this nasty virus. Therefore, this Windows Essentials Pro2013 fake antivirus should be gone ASAP before PC being damaged more.
It isn't an easy job to remove this Windows Essentials Pro 2013 virus if you are a computer literate. However, this malicious software should be gone ASAP. Contact YooCare Online PC Expert now to get help from computer experts and to save your computer from all the troubles it might come into.

Microsoft Essentials Pro 2013 Virus Alerts
Below are some alert examples that could be brought up by this fake antivirus software:
1. Windows Essentials Pro 2013 has blocked a program from accessing the internet. Internet Explorer is infected with Trojan-BNK.Win32.Keylogger.gen. Private data can be stolen by third parties, including credit card details and passwords.
2. Sensitive areas of your system were found to be under attack. Spy software attack or virus infection possible. Prevent further damage or your private data will get stolen. Run an anti-spyware scan now. Click here to start.
3. Security Hole Detected! A program is trying to exploit Windows security holes! Passwords and sensitive data may be stolen. Do you want to block this attack?
Once this Windows Essentials Pro 2013 virus begins to compromise the computer and threaten innocent PC owners, it can also create many fake security alerts to add pressures to PC users. However, the truth is, these pop-up alerts are not reporting the real situation of your computer. They are actually fake pop ups created together with this malware itself. In other words, computer users may see the same warning alerts on different computers. Knowing that these detecting problems are not real, you don't have to be threatened by this fake antivirus software anymore.
Windows Essentials Pro2013 Virus Consequences
Even though Windows Essentials Pro 2013 virus is here to get your payments for the fake registered version, it can also cause some other problems that computer users may or may not see. These consequences are somehow helping PC attackers receive more money from innocent PC users.
# It will reorganize the system running environment for its own good and thus disable some functions of the computer like Uninstall a program in Control Panel.
# If there's authentic antivirus software on the infected computer, it may be replaced by this Windows Essentials Pro2013 virus.
# Associating files can be dropped into different locations in the infected computer making it harder to remove this fake antivirus software completely.
# Private stuff can be stolen by remote hackers and system stability will be threatened.
Remove Fake Windows EssentialsPro 2013 Virus From Your System
Since antivirus applications have failed to completely remove this Windows Essentials Pro 2013 virus, manual removal is suggested here as it guarantees a complete removal. Below are some steps on how to get rid of this fake antivirus manually. However, due to the fact that this malicious software is changeable and can have various names from different time, one may not locate exact same files or registry entries listed in the following. Thus, expertise is required during the manual removal in order to successfully uninstall this rogue antivirus program from a computer.
Suggestions: Not very confident in getting rid of this fake application 100%? Please consider making a backup of important files and programs beforehand. In case any unpredictable consequences happen during the removal, you won't be losing any valuable info.
1. If you are blocked from opening programs under normal mode by this Windows Essentials Pro 2013 virus, please reboot your infected computer and keep hitting F8 key on your keyboard to pull up safe mode options on the screen; next use the arrow keys to select "Safe Mode with Networking" and press E/Enter; system will be loading files into Safe mode with Networking afterwards.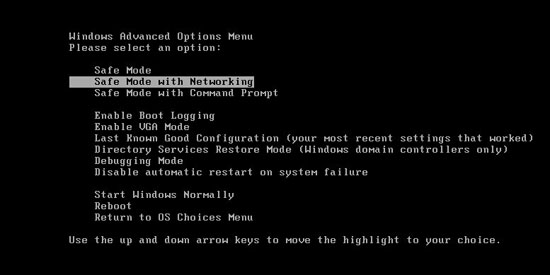 2. Press Ctrl+Alt+Del at the same time or right click on the bottom Task Bar to open the Windows Task Manager; then scroll down to End processes related to [Windows Essentials Pro 2013].exe;


3. Find out and delete files and registry entries from your machine and registry editor: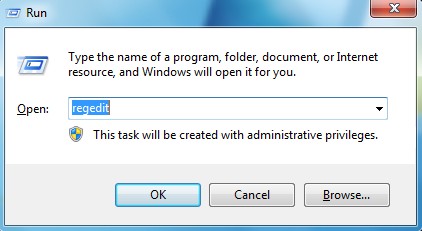 %AppData%\random\""
%AppData%\result.db
%TEMP%\Random\all""
%CommonStartMenu%\Programs\[].lnk
HKCU\SOFTWARE\Microsoft\Windows\CurrentVersion\RunRegedit[rnd]
HKEY_CURRENT_USER\Software\Microsoft\Windows\CurrentVersion\Run ""
HKEY_CURRENT_USER\Software\Microsoft\Windows\CurrentVersion\Policies\System "DisableRegedit" = 0
HKEY_CURRENT_USER\Software\Microsoft\Windows\CurrentVersion\Policies\System "DisableRegistryTools" = 0
4. Restart the system back to regular mode to find out whether the manual removal is complete or not.
Similar Video Shows How to Remove Fake Microsoft Essentials Pro 2013 Virus:
Conclusion
Even though Windows Essentials Pro 2013 dresses up like a real antivirus software, it's still not legit. Fake antispyware virus has become one of the biggest problems in computer. PC users can come across these fake applications every day. Computer attackers create these programs in order to scam PC users and collect as much money as possible. Have you got any idea of when did you pick up this malicious software? Most people don't know when this software gets in since it doesn't need permissions from computer owners to install. This nasty character is only occurring on viruses. Different from legit antivirus applications, Windows Essentials Pro 2013 virus will automatically start scanning processes upon system start-up whether you've set it to or not. By forcibly scanning through your computer, this fake software will then tell you that your computer has many errors and troubles. While other antivirus programs can't seem to detect or remove these problems, it provides the removal service. But before that, you will need to get its full version by paying a certain amount of money. However, there isn't such thing as a full version of Windows Essentials Pro 2013. This kind of virus just tries to make you pay no matter how and then provides you nothing after it gets the payments. It can be called as a cyber-fraud activity which should be realized ASAP before spending an amount of money for absolutely nothing.
Notice: Can't seem to remove this unwanted Windows Essentials Pro 2013 virus successfully? Still getting this Microsoft Essentials Pro 2013 popped up after system reboot? Please contact YooCare 24/7 Online Expert now to get help on a complete virus removal and to save your computer in time.


Published by & last updated on April 16, 2013 9:56 am