My computer is locked by something called System Failure and it says my laptop is blocked by FBI and I have to pay $300 within 72 hours. It is real? It is really freaking me out!! How do I unlock my computer from this System Failure virus?
Protect Your Computer From System Failure Virus:
System Failure Virus (as known as FBI Reloadit Pack Virus) is a new Ransomware that spreads to vulnerable computers with the help of a Trojan. It cheats the victims by using the name and logo of the FBI Federal Bureau of Investigation, performing a trick to scare innocent PC users. After it is downloaded, this virus covers the desktop of the victimized machine. Then it shows you a bogus warning and punishes users for viewing child pornography, downloading copyright-protected files and other Internet-based crimes no matter you have ever done it or not. Finally it requires users to pay a fine of $300 through Reloadit within 72 hours. Is this real? No! Please remember System Failure is a scam, the government will not publish this kind of message and lock your computer like this way. This virus is often installed by fake codecs updates, drive-by-downloads from malicious sites and widely-distributed files on P2P networks. If a users have ever clicked malicious code or distributed unsafe advertising pop-ups, visited pornographic website or downloaded attachment from spam emails, they can get System Failure Virus easily.
Paying fine as required is not a good choice to get rid of System Failure Virus. In most cases, this virus can still lock your computer even you have finished payment. Few can luckily get the PC unlocked after paid. But even computer is unlocked, malicious files and corrupted registries are still in your PC and the virus will lock your computer again in a few days. This virus can not only prevent you from accessing your shortcuts, start menu or other parts of the Windows' interface, but also can block your antivirus and most programs from running. System Failure Virus is hard to be uninstalled. No matter how many times you've restarted your computer, this warning still leaves on your computer and doesn't go away. Cyber criminals keeps updating the appearance of this lock screen so you may see different image about this type of virus. As soon as the virus invades your computer, you had better remove System Failure Virus as soon as possible.

The following instructions require certain levels of computer skills. If you're not sure how to unlock your PC by System Failure Virus, please live chat with YooCare experts now.

The Screen-shot of System Failure Virus:
If your computer is infected with this malware, your computer must be taken over by the virus page like the following picture shows.
You should never believe in any words from this fake message. Please take action to remove this virus as soon as possible.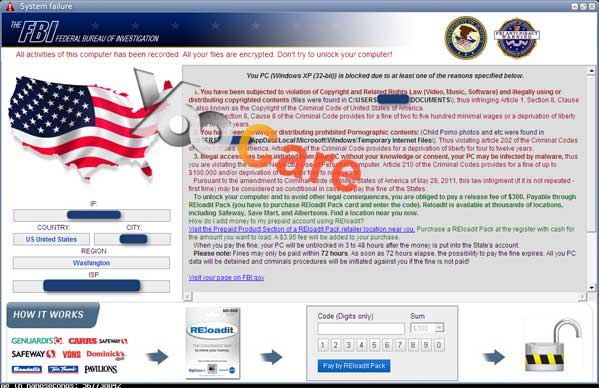 The Main Characteristics of This Ransomware Include:
It will take control of your computer rapidly once it is downloaded.
It will pretend itself as a legit warning and then ask for a ransom.
It can disable your task manager and even pop up in safe mode.
It can connect to a remote IRC server and forward the data to cybercriminals without a computer user's awareness.
It can't be simply uninstalled or removed in control panel.
I haven't done anything illegal. How do I still get this thing installed?
This is a tricky Ransomware that can escape from all kinds of security tools. It may come to your system through the following ways:
Open the unknown email and click the strange link attached in it or download the attachment contains a virus
Open the unknown website and click the malicious link on it
Download free applications and movies from the Internet
How To Unlock Computer From System Failure Virus?
Since the virus can block your antivirus programs to stop them from running even lock your PC entirely, under such circumstance, manual removal is required to handle with the virus. This manual removal guide is for advanced computer users to follow. If you are not 100% confident of what you will have to do, it's suggested to get help from experts.
Please do a system backup before you start to delete System Failure virus manually.
1. Restart your PC before windows launches, tap "F8" constantly. Choose"Safe Mode with Networking" option, and then press Enter key.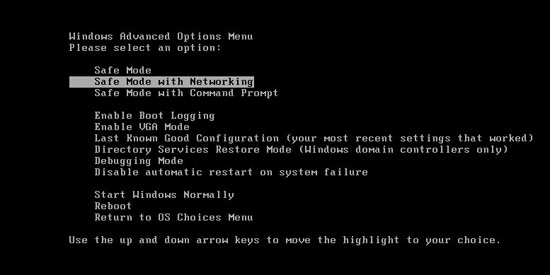 2. Press Ctrl+Alt+Del keys together and stop the Ransomware processes in the Windows Task Manager.
Random.exe (The name of the virus process may be different all the time)
(If you can't figure out the process of the virus, you can end the process called explorer.exe first so that virus won't come up)
3. Delete associated files from your PC completely as follows:
%Temp%\[RANDOM CHARACTERS].exe
C:\Documents and Settings\<Current User>
C:\Users\<Current User>\AppData\
4. Search for all related registry entries infected by this dangerous virus and wipe them out:
HKEY_CURRENT_USER\Software\Microsoft\Windows\CurrentVersion\Policies\System "DisableTaskMgr" = 0
HKEY_CURRENT_USER\Software\Microsoft\Windows\CurrentVersion\Run\random
5. Reboot the computer to normal mode when the above steps are done.
System Failure Virus Removal Is As Same As ICE Cyber Crimes Center Moneypak Ransomware
Here Is The Manual Removal Video:
System Failure Virus displays a fake alert from the FBI that claims that the victim's computer was involved in illegal activities, such as severe copyright violations and viewing illegal pornography. But please ignore this warning because it is just a scam. This virus accesses users' computers from worldwide in different names, but it performs a similar way with other threats such as FBI Moneypak malware/ virus, International Cyber Security Protection Alliance virus and so forth. It will detect your IP and your location to mislead you into thinking your computer is hacked. To further scare the user they even state that if the money is not paid within 72 hours the FBI will take legal action.
In reality, this message has no relationship with the FBI but is actually part of a well known scam. All you need to do is to remove System Failure Virus as soon as possible.

Note: Manual removal is a skillful and risky job, if any mistakes are made in the process, you may damage your computer immediately. If you are not sure how to do, please contact YooCare PC experts 24/7 online for help right now.

Published by & last updated on March 13, 2013 11:14 am