My computer was locked by Homeland Security Nation Cyber Security Division message and it said that i was copyrighting something, or on pornographic websites that I have never done before. Then it asked me to pay $300 within 48 hours via moneypak. It totally frozen my computer and I cannot do anything on it. Please tell me what to do right now. Is it a scam or real? I have no idea so please help me unlock the computer. Thanks in advance.

Homeland Security Nation Cyber Security Division Virus Description:
Homeland Security Nation Cyber Security Division Virus (also called U.S. Department of Homeland Security Virus) is another variant of infamous Moneypak virus that uses scare tactics to display fraudulent police alerts, block you from using other applications and threaten you with legal action if you don't pay a fee within a short time period. Many users felt scared when the first time they saw this fake warning because it seems to be legitimate. However, it isn't a legitimate action by any forms of law enforcement in reality, instead, it is just a nasty virus designed by hackers in order to cheat innocent users and extort their money.
This virus is often installed by fake codecs updates, drive-by-downloads from malicious sites and widely-distributed files on P2P networks. Once installed, it changes your Windows registry and adds its malicious files to run at start-up, thus whenever you try to log on into your Windows operating system or even in safe mode, you will get a virus page instead of your desktop icons saying that "This computer has been blocked" and "THE WORK OF YOUR COMPUTER HAS BEEN SUSPENDED ON THE GROUNDS OF THE VIOLATION OF THE LAW OF THE UNITED STATES OF AMERICA." After that, you will notice this scam was trying to ask you to pay a fine of $300 through Moneypak in order to unlock your PC within 48 hours. It even threatens you that if the fine has not been paid, you will become the subject of criminal prosecution without the right to pay the fine. Don't fall into this scam. Even you have spent money on this hoax, the only result you will get is money loss since YooCare Labs have found that there is not Moneypak code available to get rid of this screen. In a word, Homeland Security Nation Cyber Security Division Virus is nothing but a malicious virus that encourages you to spend $300 via Moneypak to acquire the code that will unlock your PC. You should take action to remove this virus instantly instead of trusting it is a real warning because no official institution would be asking to pay any fines using pre-paid cards like this one uses MoneyPak payment system for this purpose. Once detect this virus, an immediate removal is needed.
The following instructions require certain levels of computer skills. If you're not sure how to get rid of Homeland Security Nation Cyber Security Division Virus, please live chat with YooCare experts now.

A Screen-shot of This Fake Homeland Security Nation Cyber Security Division Virus – U.S. Department of Homeland Security Message
If your computer is infected with this malware, your computer must be taken over by the virus page like the following picture shows.
You should never believe in any words from this fake message. Please take action to remove this virus as soon as possible.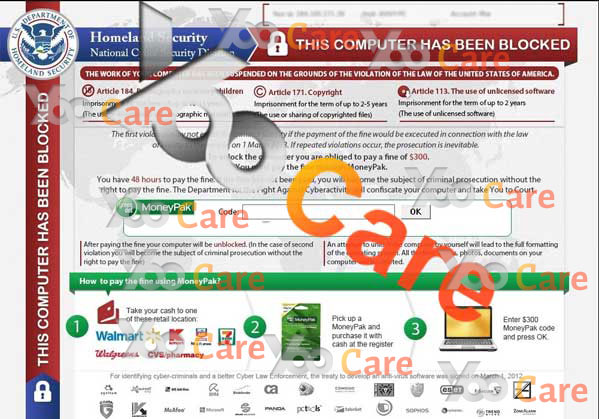 The Main Characteristics of This Ransomware Include:
It will take control of your computer rapidly once it is downloaded.
It will pretend itself as a legit warning and then ask for a ransom.
It can disable your task manager and even pop up in safe mode.
It can connect to a remote IRC server and forward the data to cybercriminals without a computer user's awareness.
It can't be simply uninstalled or removed in control panel.
I haven't done anything illegal. How do I still get this thing installed?
This is a tricky Ransomware that can escape from all kinds of security tools. It may come to your system through the following ways:
Open the unknown email and click the strange link attached in it or download the attachment contains a virus
Open the unknown website and click the malicious link on it
Download free applications and movies from the Internet
How To Unlock Computer From Homeland Security Nation Cyber Security Division Virus?
Since the virus can block your antivirus programs to stop them from running even lock your PC entirely, under such circumstance, manual removal is required to handle with the virus. This manual removal guide is for advanced computer users to follow. If you are not 100% confident of what you will have to do, it's suggested to get help from experts.
Please do a system backup before you start to delete Homeland Security Nation Cyber Security Division virus manually.
1. Restart your PC before windows launches, tap "F8" constantly. Choose"Safe Mode with Networking" option, and then press Enter key.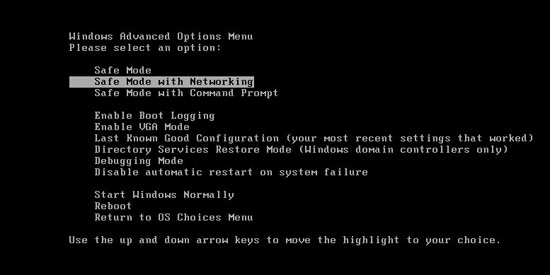 2. Press Ctrl+Alt+Del keys together and stop the Ransomware processes in the Windows Task Manager.
Random.exe (The name of the virus process may be different all the time)
(If you can't figure out the process of the virus, you can end the process called explorer.exe first so that virus won't come up)
3. Delete associated files from your PC completely as follows:
%Temp%\[RANDOM CHARACTERS].exe
C:\Documents and Settings\<Current User>
C:\Users\<Current User>\AppData\
4. Search for all related registry entries infected by this dangerous virus and wipe them out:
HKEY_CURRENT_USER\Software\Microsoft\Windows\CurrentVersion\Policies\System "DisableTaskMgr" = 0
HKEY_CURRENT_USER\Software\Microsoft\Windows\CurrentVersion\Run\random
5. Reboot the computer to normal mode when the above steps are done.
Homeland Security Nation Cyber Security Division Virus Removal Is As Same As ICE Cyber Crimes Center Moneypak Ransomware
Here Is The Manual Removal Video:
In conclusion: Homeland Security Nation Cyber Security Division Virus cheats the victims by using the name and logo of the government department, if you don't have any idea of the ransomware, you may regard it as the legit message comes from Homeland Security Nation Cyber Security Division. Please remember, this government will not publish this kind of message and lock your computer, what you can see is just the virus. This virus must be removed manually because it can escape from the tracking of the most anti-virus program. Some victims think that they can get rid of this virus by paying a fine to them, however, the truth has proved that it is the useless way. This virus can still lock your computer even you have finished payment or locked your computer again in a few days. That is why this ransomware can be one of the most dangerous thing on your computer. Never pay a fine to this virus, or your computer may face deeper damage by it. Do not hesitate, what you should do is to remove this virus as soon as possible before it brings great damage to your system.

Note: Manual removal is a skillful and risky job, if any mistakes are made in the process, you may damage your computer immediately. If you are not sure how to do, please contact YooCare PC experts 24/7 online for help right now.

Published by & last updated on December 29, 2013 1:15 pm