Can the Cheshire Police Authority lock android phone like locking up the PC? My computer is blocked by Cheshire Police Authority Virus (alias Cheshire Constabulary virus). It says I have to pay  £100 Ukash or Paysafecard to unlock my computer. Is it real police or just a scam? I was browsing the Internet and looking at pornographic material but I went on some sites by mistake and I received a message saying where i lived and to pay a £100 fine or risk prosecution. Is this a hoax or do I pay the fine? Do I just ignore the message saying they know where I live and to pay £100 within 24 hours? I don't want to get myself into trouble and will pay the fine immediately. Will I be arrested by the UK police if i don't pay for it? I feel scared. My son's android phone also get blocked by this thing, still my husband has a Samsung galaxy s3 and he got the £100 Ukash or Paysafecard fine and we went to safe mode and he saw on his applications a porn site was downloaded and he never put it there and cannot delete it. How do we get rid of Cheshire Police Authority Virus (Ukash Scam) that blocked our computer, Mac book pro or android phone?
How to Unlock Computer From Cheshire Police Authority Virus (Ukash Scam) Screen? If The Virus On Android Phone, What to Do?
Cheshire Police Authority Virus (Ukash Scam) is a brand new Ransomware that mainly targets to attack computer users in United Kingdom just like the former virus called PCEU virus. Generally, this virus may infect your system while you are installing a game or program, opening a picture, playing a video file or shopping online. Then it locks your computer claiming that you have violated the law and refuses to let you access your system until you pay a fine of 100 pounds through Ukash or Paysafecard. Although everything seems to be legitimate because this tricky virus pretends itself to be from United Kingdom Police, and it even detects users' IP addresses, computer users should not be taken in this hoax because Cheshire Police Authority virus is just a notorious virus designed by cyber criminals who only want to steal money from your pocket. But now, it infects many mobile devices, such as android phone, android tablet or Ipad. 
When you get this Ransomware installed, the first symptom you can see is your computer will be totally blocked by a fake warning which pretends to be from United Kingdom Police. It blocks the system entirely and doesn't allow you to do anything there. To scare the innocent computer users further, this fake United Kingdom Police message accuses users of the crimes including: violating copyright and related right laws or illegal using or distributing of copyrighted content, sending spam e-mails or even viewing child pornography contents etc. A computer user will be asked to pay a fine of 100 pounds using Ukash or PaySafeCard payment methods in order to get the PC unlocked. Otherwise, a criminal case will be initiated against you automatically.
Is it necessary for you to pay £100 Ukash or Paysafecard? The answer is No. Computer users should know a fact that Cheshire Police Authority Virus (Ukash Scam) is not real. Instead, it is a nasty virus that utilizes a variety of tricky tactics to persuade unsuspecting victims to pay an unnecessary fine. Even you have paid for the fine, your computer will still be locked. There is no code available to unlock the PC at all. What is worse, your antivirus program will be ineffective to detect or prevent this Ransomware. Please be attention that no official institutions would use such ways to collect the fines. Cheshire Police Authority is a scam and it represents a high risk for your computer, it is suggested users to remove it manually and quickly from the manual guide below.
The following instructions require certain levels of computer skills. If you're not sure how to delete Cheshire Police Authority Virus (Ukash Scam) Virus, please live chat with YooCare experts now.

Cheshire Police Authority Virus (Ukash Scam) ScreenShot
Cheshire Police Authority Virus is one of the variants of PCEU virus. If your computer is infected with this malware, your computer must be taken over by the virus page like the following picture shows.
You should never believe in any words from this fake message. Please take action to remove this virus as soon as possible.

The Main Characteristics of This Ransomware Include:
1. It blocks you from accessing to the desktop so that you can't use the computer at all.
2. It is designed to fool with computer users and mislead them into thinking everything is real.
3. It may bring other harmful threats which harm your hard drive and lead to fatal damage.
4. It drops malicious files and folders in your computer as authorized ones to escape from the detection of anti-virus tools.
5. It compromises your privacy and security.
How To Unlock Computer From Cheshire Police Authority Virus Scam Virus?
Since the virus can block your antivirus programs, thus manual removal is required to handle with the virus. Please note that different victims of Cheshire Police Authority virus will require separate removal steps due to the progress of the infection. Some users can unlock the PC in safe mode so that they can continue the removal as the guide shows. But part of them will get white screen or blank screen so that manual removal will be complicated for them. If you have any problem during the removal, please contact YooCare Experts for help.
1. Restart your PC before windows launches, tap "F8" constantly. Choose"Safe Mode with Networking" option, and then press Enter key.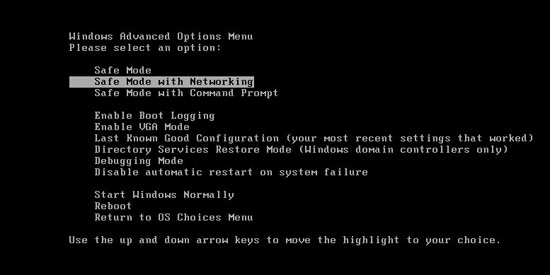 2. Press Ctrl+Alt+Del keys together and stop the Ransomware processes in the Windows Task Manager.
Random.exe (The name of the virus process may be different all the time)
(If you can't figure out the process of the virus, you can end the process called explorer.exe first so that virus won't come up)
3. Delete associated files from your PC completely as follows:
%Temp%\[RANDOM CHARACTERS].exe
C:\Documents and Settings\<Current User>
C:\Users\<Current User>\AppData\
4. Search for all related registry entries infected by this dangerous virus and wipe them out:
HKEY_CURRENT_USER\Software\Microsoft\Windows\CurrentVersion\Policies\System "DisableTaskMgr" = 0
HKEY_CURRENT_USER\Software\Microsoft\Windows\CurrentVersion\Run\random
5. Reboot the computer to normal mode when the above steps are done.
Here is the manual removal video for Cheshire Police virus:
Manual Removal Of The Cheshire Police Authority Scam On Android Phone
1. Restart your phone to safe mode.
Note: "Safe Mode" on Phone starts up without loading any third-party add-ons and different devices have different ways to access safe mode.
For Samsung Galaxy S4, S5 or Samsung Galaxy Note: 1. Power down. 2. Turn on and repeatedly tap the soft-button for "Menu."
For Samsung Galaxy S3 and others: 1. Power down. 2. Turn on, then press and hold Volume Down (Galaxy S3 and others), Volume Up (LG, ZTE, HTC One and others), or Volume Down and Volume Up together (various Motorola devices) when the vendor's logo appears.
If you have managed to select Safe Mode, you will see the text "Safe Mode" at the bottom left corner of the screen.


2. Once you have put your phone in safe mode, contact an expert for further removal instruction.
In conclusion: Cheshire Police Authority Virus can cause great damage to your system once it is installed to your infected computer or android phone. This ransomware can create system bugs to make chances so that the virus makers will have the ability to access to your computer/cell phone without your permission, viruses and Trojans can be brought to your computer or mobile device and start to infect your system files even you have the anti-virus program on the infected PC. Many victims think that they can get rid of this virus by paying a fine to them, but the truth proves that it is not true. This ramsomware may stay on your computer and android phone even you pay a fine to them. You need to know that this is the way hackers collect money from the victims. Next time when you see this kind of message published on your computer or android phone, do not hesitate, remove it as soon as possible and make your machine safe.
Kindly Reminder: Manual removal is a skillful and risky job for common users, if any mistakes are made in the process, you may damage your computer or android phone immediately. If you are not sure how to do, to save your machine please contact YooCare PC experts 24/7 online IN TIME for help.

Published by & last updated on January 25, 2016 4:34 am