How to remove ICE virus when computer or android phone is locked? ICE Cyber Crimes Center pop-up has blocked my screen and asked me to pay a fine of $400 on PC or $450 on Mac book through Moneypak card in order to get my computer unlocked. Is this real or is it just a scam? After seeking online, i think it is a scam virus. They've got that porn scam thing where a message comes up telling me that I've participated in illegal Internet activity… Which is not true… And it's trying to get me to pay a $500 fee. How do I get this off my phone? When i have the ICE Cyber Crimes Center Moneypak Virus on my PC, I'm trying to remove it by way of your instructions, when I get the computer into safe mode and once I'm past that it says "windows is shutting down" and it restarts automatically, any advice? I'm on a different computer looking for help as my main computer has the ICE Cyber Crimes Center block on it and it is asking for 450 dollars and if i don't pay in 48 hrs they are going to arrest me. It is crazy that the ICE virus warning message blocked my computer totally and I cannot access it to finish my homework. I don't have that kind of money to pay and I don't want to be charged illegally. What can I do? And some other day i received same wired message on my android phone. It said that I have to pay a 300 fee for violating the law specifically by viewing child pornography and other staff which I didn't. How do I get rid of this unwanted ICE virus block page from my computer, android phone or my mac book pro completely? Can this virus infect tablet or Ipad? Please help!
Latest Version of ICE Cyber Crimes Center Moneypak Virus Ransomware Locked Computer or Android Phone – How to Remove The Malware?
ICE Cyber Crimes Center Moneypak Virus is a new Ransomware that blocks targeted computer systems in the names of authorities and tries to get money from computer users by accusing them of violating certain online laws of the country. This new variant from the MoneyPak virus family, also known as the ICE virus, is another long-lasting scam virus released recently to help computer hackers collect fines from innocent PC users. Many unwary users have fallen into this hoax because ICE Cyber Crimes Center alert seems to be legitimate and convincing. Once computer is locked up, it shows you fake messages like "Your computer has been locked" "The work of your computer has been suspended on the grounds of the violation of the law of the United States of America" to make you scare and then it asks you to pay a release fee of $400 through Moneypak card. Otherwise, all your files, photos, documents on your computer will be deleted and you will become the subject of criminal prosecution. To make its alert to be more authentic, it even uses webcam control. The virus can turn your webcam on automatically without your permission, misleading users into thinking the ICE Cyber Crimes Center is recording them at that time. In a word, this tricky virus can try its best to pretend itself as a legitimate warning from the official law enforcement agency so as to deceive innocent users and extort their money. Now the virus infects mobile devices like android phone, tablet, kindle fire or Ipad. It is serious!
For no reason should you pay the non existent fine. In many cases, careless users may get this virus installed by clicking some malicious ads or visiting the pornographic websites, as well as opening any unknown downloaded files. Once the virus is installed, it changes your Windows registry and adds its malicious files to run at start-up, thus whenever you try to log on into your Windows operating system or even in safe mode, it will display a lock screen saying you have watched porn or used unlicensed software no matter if you have done this before or not, then it will ask you to pay a non-existing fine of 400 dollars through Moneypak card and get the code to unlock your computer. As you can imagine, no official institutions would use such means to collect the fines. You should know a fact that nothing changes even after making the money transfer because ICE Cyber Crimes Center Moneypak Virus is a clear scam created by computer hackers who only seek to swindle your money away. Users are suggested to unlock the computer from the manual guide below as soon as possible to minimize the damage of your computer.
The following instructions require certain levels of computer skills. If you're not sure how to delete ICE Cyber Crimes Center Virus, please live chat with YooCare experts now.

Once the virus is installed, your screen will be taken over as the following picture shows: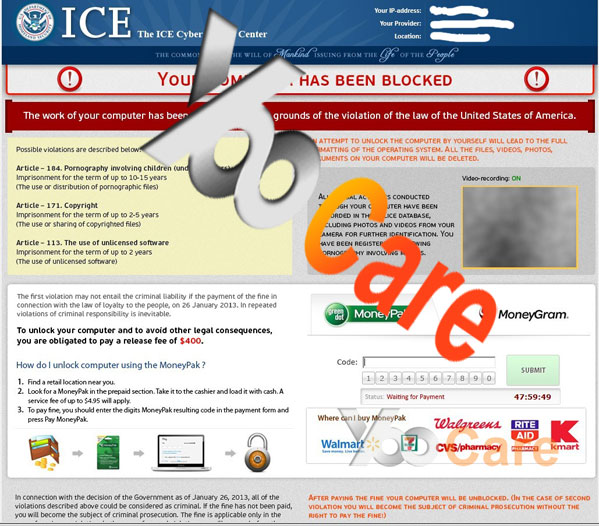 ICE Cyber Crimes Center Moneypak Virus $450 Scam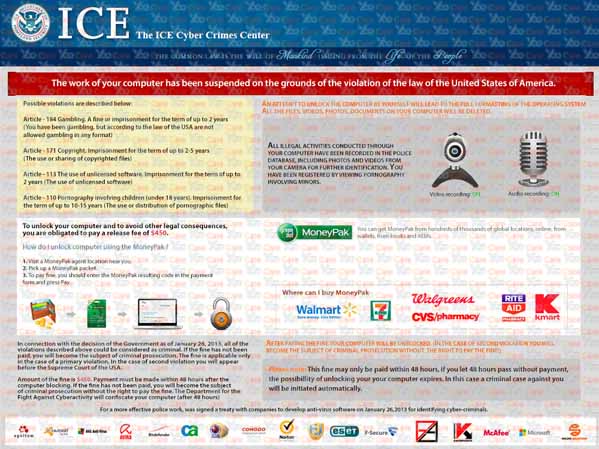 New Screenshot of ICE Cyber Crime Center Moneypak Virus $300 Scam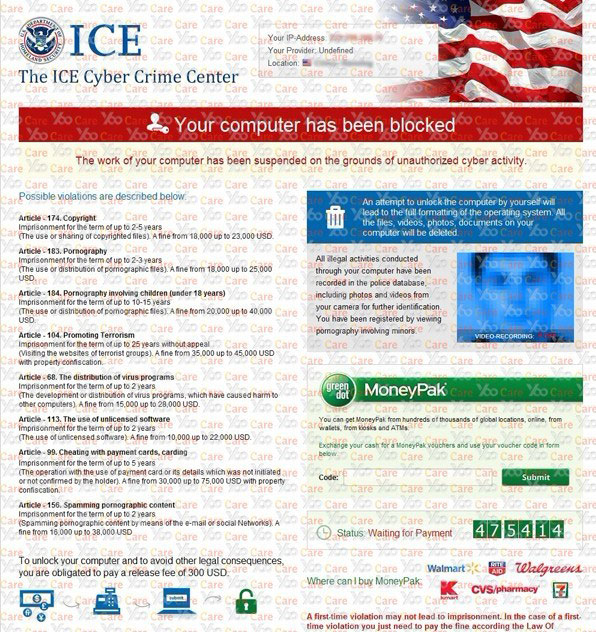 New Version of The ICE Cyber Crime Center Moneypak Virus $300 Scam – Your Computer has been blocked!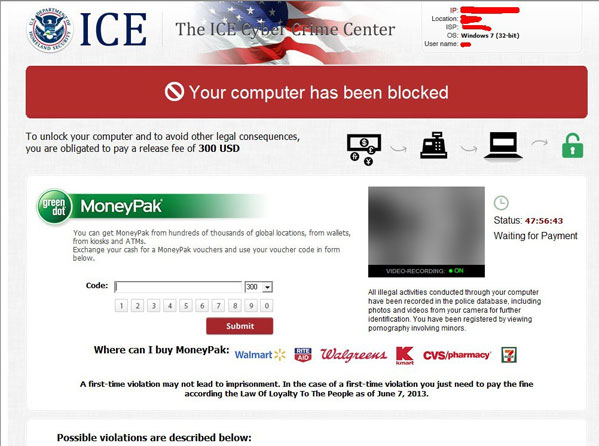 The Main Characteristics of This Ransomware Include:
It will take control of your computer rapidly once it is downloaded.
It will pretend itself as a legit warning and then ask for a ransom.
It can disable your task manager and even pop up in safe mode.
It can connect to a remote IRC server and forward the data to cyber criminals without a computer user's awareness.
It can't be simply uninstalled or removed in control panel.
Never Become The Victims of This Malicious Virus.
Although this ICE Cyber Crimes Center Moneypak Virus page seems to be legitimate, it is 100% fake. It even uses web cam control to make users panic and makes them to pay for the ransom wrongly. If your computer is infected, you will detect your webcam will be on without your permission as if it is recording you. If you do not have a web cam connected, the video screen on the page will appear to be blank. As mentioned above, we can see how this scam works to deceive innocent users. It is good at using scare tactic to extract money from victims. Hence, users must remove this virus manually as soon as possible.
How To Unlock Computer From ICE Cyber Crimes Center Scam Virus?
Since the virus can block your antivirus programs to stop them from running even lock your PC entirely, under such circumstance, manual removal is required to handle with the virus. This manual removal guide is for advanced computer users to follow. If you are not 100% confident of what you will have to do, it's suggested to get help from experts.
Please do a system backup before you start to delete The ICE Cyber Crimes Center virus manually.
1. Restart your PC before windows launches, tap "F8" constantly. Choose"Safe Mode with Networking" option, and then press Enter key.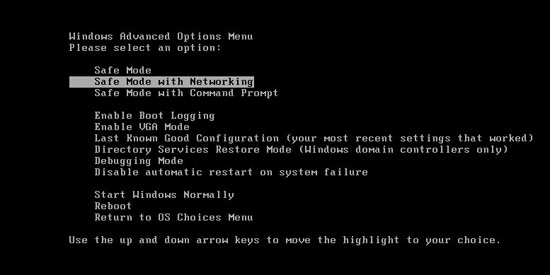 2. Press Ctrl+Alt+Del keys together and stop the Ransomware processes in the Windows Task Manager.
Random.exe (The name of the virus process may be different all the time)
(If you can't figure out the process of the virus, you can end the process called explorer.exe first so that virus won't come up)
3. Delete associated files from your PC completely as follows:
%Temp%\[RANDOM CHARACTERS].exe
C:\Documents and Settings\<Current User>
C:\Users\<Current User>\AppData\
4. Search for all related registry entries infected by this dangerous virus and wipe them out:
HKEY_CURRENT_USER\Software\Microsoft\Windows\CurrentVersion\Policies\System "DisableTaskMgr" = 0
HKEY_CURRENT_USER\Software\Microsoft\Windows\CurrentVersion\Run\random
5. Reboot the computer to normal mode when the above steps are done.
ICE Cyber Crimes Center Moneypak Ransomware Manual Removal Video
A Step-by-step Manual Removal Guide On Android Phone
1. Restart your phone to safe mode.
Note: "Safe Mode" on Phone starts up without loading any third-party add-ons and different devices have different ways to access safe mode.
For Samsung Galaxy S4 S5 NOTE: 1. Power down. 2. Turn on and repeatedly tap the soft-button for "Menu."
For Samsung Galaxy S3 and others: 1. Power down. 2. Turn on, then press and hold Volume Down (Galaxy S3 and others), Volume Up (HTC One and others), or Volume Down and Volume Up together (various Motorola devices) when the vendor's logo appears.
If you have managed to select Safe Mode, you will see the text "Safe Mode" at the bottom left corner of the screen.


2. Once you have put your phone in safe mode, you are suggested to contact an expert for further removal help.
In conclusion:
Computers or Mobile devices like android phone, tablet, kindle fire or ipad nowadays can face many cyber threats and some of them may not be well prevented by Anti-virus. This is usually the case when hackers get in between and want some benefits from users. This ICE Cyber Crimes Center Moneypak virus, for instance, is a dangerous ransomware that has just been released by computer hackers to lock computer systems or mobile devices and scare computer or mobile users by accusing them for violating laws online. Victims of this ICE virus block will be accused of watching or distributing banned content or pornography online whether or not they have conducted these cyber activities. Then in order to unlock PC or android phone screen and get oneself out of further illegal troubles, a fine of $400 or $450 will be required to submit in time. Despite the trustworthy appearance, it is fake. It is believed that lots of PC or mobile device users have no idea how they get this thing installed because they were not asked for permissions of this install. Actually, there are many possibilities for users to get ICE Virus installed since this tricky virus can be spread rapidly all over the Internet. Most of time, if a user has accidentally clicked on some malicious ads or visited the pornographic websites, as well as open any unknown downloaded files, he/she will probably have the chances to fall into this ICE virus trap. No matter how you get this virus, the most important thing is you should never believe in this fake warning or pay for the ransom. In fact, this virus only seeks to get money from you. No official institutions would be asking to pay any fines using prepaid cards like this one using MoneyPak payment system for this purpose. Buying the MoneyPak coeds to stop "ICE Cyber Crimes Center Moneypak Virus" from blocking your computer or mobile device should not be an option. Users can remove this threat with the manual guide above. But Manual removal is a skillful and risky job, if any mistakes are made in the process, you may damage your computer or mobile device immediately.
Note: If you have spent much time to fix this big problem but with no success, to save your computer or android phone please contact YooCare PC experts 24/7 online in time for help .

Published by & last updated on August 10, 2015 7:41 am