Malta Police Force (As known as MPF virus ) is another scam designed to deceive users into paying a fine in order to unlock the computer. Although this warning seems to be scary and legitimate, victims should not spend your money on this hoax. Even if you paid for that, computer will still be locked. Instead, users should learn how to unlock computer from this nasty ransomware as soon as possible.
Is your computer locked by Malta Police Force virus? What is it?
Malta Police Force virus is another variant of the infamous Ukash Virus that sneaks into the targeted PC without any permission and consent. It can also be treated as another version of the famous FBI Antipiracy Warning virus. As soon as it accesses the computer, it will automatically display a bogus warning which pretends to be from the Malta Police Force and then it states that your computer has been blocked because it is involved with the distribution of pornographic material, spam and copyrighted content. At the first glance, this message may look scary and convincing if a user has ever watched pornographic website so that many unwary users has fallen into this hoax and send money to the criminal as required in order to unlock their PCs. Is it necessary to pay for Malta Police Force? The answer is No. This is just a virus aiming to steal your money and the warning is not real at all.
Once infected, the virus will lock your computer automatically each time system boots up. It blocks you from accessing the infected computer desktop, Task Manager, Registry Editor and other services and applications. And recently such type of virus has become very popular among Internet criminals, they keeps creating new designs and distribute their deceptive screen lockers to Internet users all over the world. This virus scares innocent users by detecting computer's IP address and turning on your webcam automatically, and it displays the fake messages in your language. Its final goal is to ask computer users into paying a ransom in order to unlock their computers. From here we can know this thing is nothing but a nasty virus. If you see such message blocking your computer's screen, you can be sure that you are dealing with a ransowmare infection and you shouldn't pay the fine at all. All you need to do is to use the manual way to unlock your computer completely. Learn more from the following guide to get rid of Malta Police Force virus now.
The following instructions require certain levels of computer skills. If you're not sure how to delete Cybercrime Investigation Department Virus, please live chat with YooCare experts now.

Ransomware Screenshot:
Once this malware resides on your computer, it blocks users from accessing to the infected computer and users can't open any files and applications. Instead, it displays a large message that fills up the victim's screen as the following picture shows.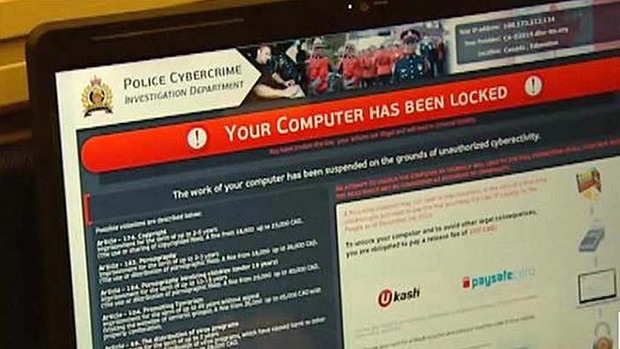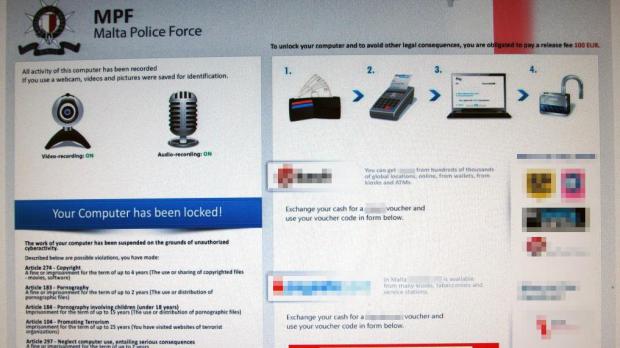 Fake message will take over your computer once the virus is downloaded:
                                                   Your computer has been locked!
The work of your computer has been suspended on the grounds of unauthorized cyber activity.
Described below are possible violates, you have made:
Article 274 – Copyright
A fine or imprisonment for the term of up to 4 years. (The use or sharing of copyrighted files – movies, software)
Article 183 – Pornography
A fine or imprisonment for the term of up to 2 years. (The use or distribution of pornographic files).
Article 184 – Pornography involving children (under 18 years)
Imprisonment for the term of up to 15 years. (The use of distribution of pornographic files)
Never Become The Victims of This Malicious Virus.
Although this virus page seems to be legitimate, it is 100% fake. It even uses web cam control to make users panic and makes them to pay for the ransom wrongly. If your computer is infected, you will detect your webcam will be on without your permission as if it is recording you. If you do not have a web cam connected, the video screen on the page will appear to be blank. As mentioned above, we can see how this scam works to deceive innocent users. It is good at using scare tactic to extract money from victims. Hence, users must get rid of Malta Police Force virus manually as soon as possible.
How To Unlock Computer From Malta Police Force Ukash Scam?
1. Restart your PC before windows launches, tap "F8" constantly. Choose"Safe Mode with Networking" option, and then press Enter key.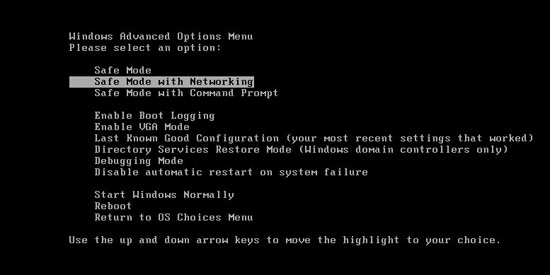 2. Press Ctrl+Alt+Del keys together and stop the Ransomware processes in the Windows Task Manager.
Random.exe (The name of the virus process may be different all the time)
(If you can't figure out the process of the virus, you can end the process called explorer.exe first so that virus won't come up)
3. Delete associated files from your PC completely as follows:
%Temp%\[RANDOM CHARACTERS].exe
%AllUsersProfile%\Application Data\~r
%AllUsersProfile%\Application Data\.dll
4. Search for all related registry entries infected by this dangerous virus and wipe them out:
HKEY_CURRENT_USER\Software\Microsoft\Windows\CurrentVersion\Policies\System "DisableRegistryTools" = 0
HKEY_CURRENT_USER\Software\Microsoft\Windows\CurrentVersion\Policies\System "DisableTaskMgr" = 0
HKEY_CURRENT_USER\Software\Microsoft\Windows\CurrentVersion\Run\random
5. Reboot the computer to normal mode when the above steps are done.
In conclusion:
Malta Police Force virus is malicious and it can appear every time you turn your PC on so that you can't do anything on your PC at that time. The ukash police virus is designed to attack computer users from Malta. Like all the variants of the virus does, it displays a bogus notification pretending to be from Malta Police and states that your computer has been blocked due to some illegal activities detected from your computer. However, users should never believe in this fake police warning. This ransomware is hard to be uninstalled because whenever you try to log on into your Windows operating system or even Safe Mode with Networking, it will lock your computer immediately and then asks you to pay a fine first. Thus, you can get the control of your computer at all. In addition, no anti-virus has the ability to detect or get rid of this police virus at this point. Therefore, if you computer is already infected with Malta Police Force virus, use this manual removal guide above and eliminate it from your PC timely.
Note: Manual removal is a skillful and risky job, if any mistakes are made in the process, you may damage your computer immediately. If you are not sure how to do, please contact YooCare PC experts 24/7 online for help right now.

Published by & last updated on May 28, 2013 10:07 am