Has computer just been blocked by a pop up XP Total Security 2013 screen? Why there is an unknown PC protection software in your computer? Have you ever given permission for it to install? Besides, it can't be stopped or removed. What do we do to fully get rid of this unwanted XP Total Security software?
XP Total Security 2013 Rogue Program Brief Introduction
XP Total Security 2013 is defined as a rogue antivirus tool that has been reported recently to infect innocent users' PCs among many areas. It's in fact coming from a group of rogue tools among which Vista Total Security 2013 is another series that you can come across. You may have installed two or three antivirus programs on your personal PC to keep it away from online viruses. Unlike the antivirus tools you install manually, this XP Total Security 2013 does not need your permission to get itself installed. Hackers have put it online and spread it among the networks. So this rogue software can come bundled with other adware or unfriendly toolbars into your computer without notice. And your authorized antivirus can't stop it successfully because of the fact that it's created specifically by hackers in order to deceive money.

A screen shot of XP Total Security Unregistered Version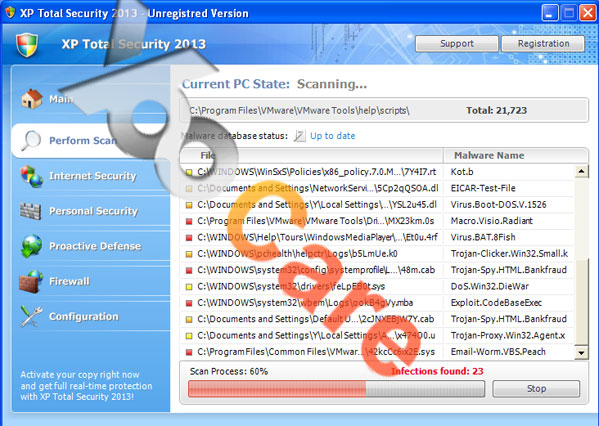 Generally, a fake antivirus software will dress up as authorized as it can to deceive PC users. From the above screen shot of XP Total Security 2013 we can see that it's quite real and looks like it is providing some PC protection service. What you don't know, unlike real antivirus, is that this rogue software is quite stubborn and aggressive. As soon as the infection is done, XP Total Security malware will automatically pop up and run a scan through your computer after each reboot. And you can't even stop this scanning process manually. The reasons for that include 1) it's a virus for sure and 2) it has already changed default settings or structures of your computer to make its stay stable. During and after the scan, this fake antivirus software will report to you that it has found many problems or viruses inside saying the computer system is in risks. You will need to fix these problems as soon as possible before any damage occurs.
XPTotal Security 2013 alerts examples
1. XP Total Security 2013 Firewall Alert. XP Total Security2013 has blocked a program from accessing the internet. Internet Explorer is infected with Trojan-BNK.Win32.Keylogger.gen. Private data can be stolen by third parties, including credit card details and passwords.
2. Sensitive areas of your system were found to be under attack. Spy software attack or virus infection possible. Prevent further damage or your private data will get stolen. Run an anti-spyware scan now. Click here to start.
3. Security Hole Detected! A program is trying to exploit Windows security holes! Passwords and sensitive data may be stolen. Do you want to block this attack?
Since XP Total Security 2013 itself is a virus, all the alerts or errors listed by it are not real as well. They are believed to be fake statements trying to threaten you. To uninstall this rogue program from your computer, simply reinstall it in Control Panel may not successfully remove it. Please contact YooCare Online PC Expert for assistance online if you are not a computer literate.

Screen-shot of Activate XP Total Security2013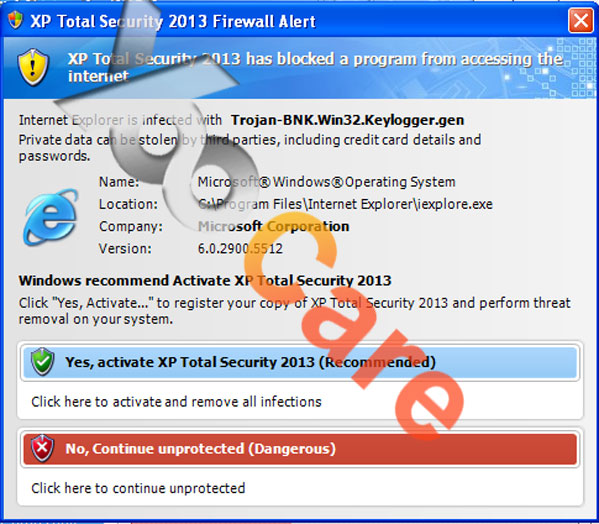 As mentioned before all the scanning results are not real, the errors or viruses inside your computer do not exist as well. So you may not be able to get rid of them by any way. However, XP Total Security 2013 says it can help you remove these troubles if you Click "Yes, Activate…" to register your copy of XP Total Security2013 and perform threat removal on your system. Money will then be required in order to register. The fact is, there isn't a registered copy of XP Security 2013 antivirus and the money you spend will be sent to hackers' accounts instead of providing you a better PC protection tool.
Manually Remove XP Total Security2013 Virus
Manual removal way is suggested here because it is a guaranteed way to get rid of this XP Total Security 2013 Firewall Alert virus completely. But it also requires advanced computer skills and abundant PC knowledge to manually remove this unwanted program from your computer. If you don't want any risk to lose any of your files and data, you are suggested to back up necessary files and programs beforehand with the assistance of a flash drive or external hard drive.
1. Reboot your infected computer and keep hitting F8 key on your keyboard and next use the arrow keys to select "Safe Mode with Networking" and press E/Enter;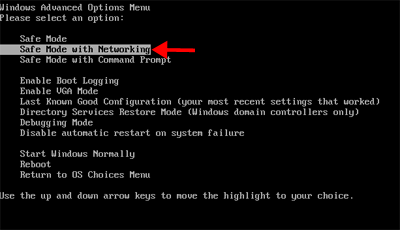 2. Press Ctrl+Alt+Del at the same time or right click on the Task Bar to open the Windows Task Manager; then scroll down to End processes related to [XP Total Security 2013].exe;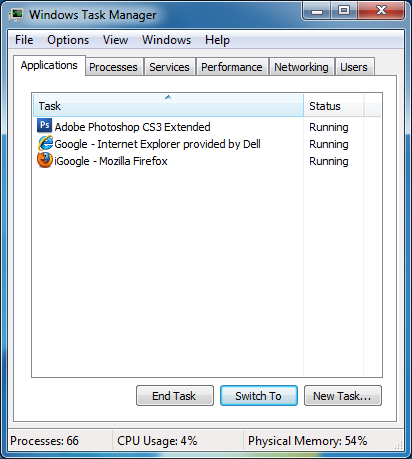 3. Find out and delete files and registry entries from your machine and registry editor:
%AppData%\random\""
%AppData%\result.db
%TEMP%\Random\all
%CommonStartMenu%\Programs\XPTotalSecurity2013.lnk
HKCU\SOFTWARE\Microsoft\Windows\CurrentVersion\RunRegedit32
HKEY_CURRENT_USER\Software\Microsoft\Windows\CurrentVersion\Run ""
HKEY_CURRENT_USER\Software\Microsoft\Windows\CurrentVersion\Policies\System "DisableRegedit" = 0
HKEY_CURRENT_USER\Software\Microsoft\Windows\CurrentVersion\Policies\System "DisableRegistryTools" = 0
Similar Video Shows You How to Remove Rogue XP Security 2013 Firewall Alert

4. Restart the system back to regular mode to find out whether the manual removal is complete or not.
XPTotal Security 2013 Rogue Conclusion
You may not notice anything wrong with this XP Total Security 2013 program in the beginning as it pretends itself as a smart PC protector and has a trustworthy appearance. But think a litter. Have you ever given permission for this software to install in your computer? If not, is it really good for your computer? The more antivirus programs you have does not mean the safer your computer will be. Be careful when choosing protection tools online because this rogue antivirus can also come together with malicious programs you've installed. Once the infection is done, XP Total Security 2013 Firewall Alert can be very dangerous! It not only can help remote hosts follow and record all your activities on the infected computer to benefit later on, but also create system flaws to bring more viruses, malware and ransomware to do further damage to compromise the PC. The last thing you want to do is to pay. It's going to be a total waste of money!
Notice: Cannot locate certain files listed above? Not sure which entries can be deleted because some are forbidden by administrator? Due to the fact that the virus files can be changeable, you may not be able to find the exact same ones in the instructions. Please contact YooCare 24/7 Online Expert now to help you get rid of this XP Total Security 2013 virus.


Published by & last updated on June 11, 2013 8:51 am