GotHotResults.com is a redirect virus that comes from a translation application. Maybe someone thinks this translation application is useful. But at last, you will find that it is a redirect virus and this program is hardly uninstalled from your computer system. The Babylon Toolbar allows you to perform translations without having to navigate to the Babylon homepage. When you run a Google search on a computer that is infected with this virus, your search results will be redirected to GotHotResults.com. The search engine virus is very hard to remove because it uses complex methods to conceal its presence from antivirus programs. This redirect virus also shows lots of advertisement, which disturbs normal life of our PC users.
GotHotResults.com Hijack Virus spreads by the help of Trojan virus which have some similar features with other browser hijackers. This Hijack Virus has two types of threats: one is search hijacker, another is Trojan. A search hijacker will redirect your Google, Yahoo, Bing and other search engine search results to unwanted websites. Search hijackers will prevent you from changing your browser's default search engine, and they tend to slow down performance of your PC. A Trojan threat will bring high risk to your PC because the hacker may control your infected computer, then steal your personal financial information and destroy your PC system. Whatever, you must remove the nasty virus from your computer as soon as possible to protect your computer and your privacy.
If you have some problems dealing with GotHotResults.com manually, you are welcome to contact with YooCare 24/7 Online Expert anytime you are available. YooCare will help you with any kind of PC problem.

Image of GotHotResults.com Hijack Infection: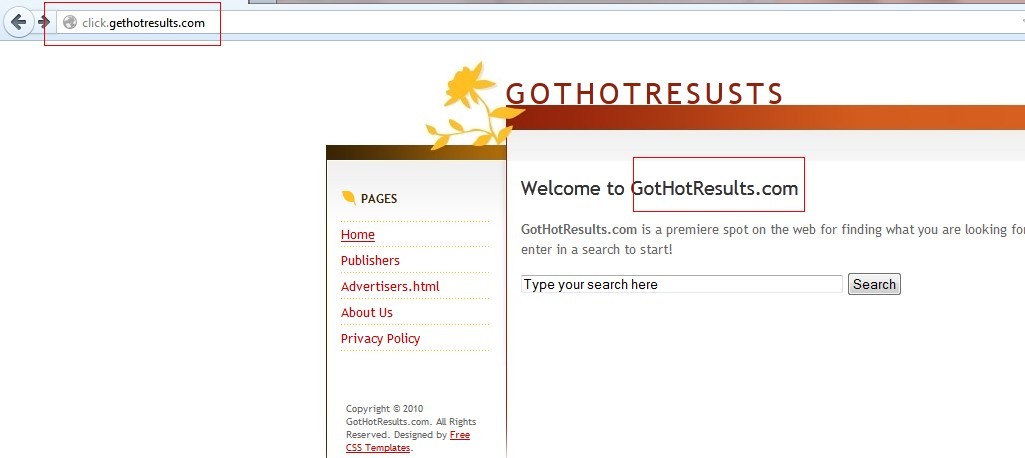 In fact, removal of GotHotResults.com redirect malware is a difficult thing. This program is not completely deleted by changing related browser setting and requires PC users to find out the hidden files of this malware.
Symptoms of GotHotResults.com hijack infection:
1. Your computer will get many error messages and performance of your PC will become slow.
2. This Hijack Virus will change your homepage.
3. GotHotResults.com Hijack Virus will redirect other search engine when you execute a query.
4. You will achieve much spam in your Email without your permission.
Dangers of This Hijack Virus Exist in Your Computer:
This infection will change homepage and redirect your other search engines. If GotHotResults.com Hijack Virus is not removed, it can cause a complete computer crash. It contains Trojan and keyloggers which can be used to steal sensitive data like passwords, credit card, bank account information etc. So it is very important to remove this virus as early as possible before it steals your information.
GotHotResults.com Hijack Virus step by step manual removal instructions:
Step 1: Reset your Internet Explorer.
Run internet Explorer, click Tools,


Select Connections Tab and click to Lan Settings button.


Uncheck "Use a proxy server" box. Click OK to close Lan Settings and Click OK to close Internet Explorer settings.
Step 2: Disable any suspicious startup items that are made by GotHotResults.com Hijack Virus.
Click Start menu, click Run, type msconfig in the search bar. Click on open System Configuration Utility; disable all possible startup items generated form this Hijack Virus.
Step 3: Press CTRL+ALT+DEL or CTRL+SHIFT+ESC. Open the Windows Task Manager.
Within the Windows Task Manager click on the Processes tab.


Step 4: Delete associated files and registry entries of GotHotResults.com Hijack Virus
Video Shows You How to Safely Modify Windows Registry Editor:
To sum up: From the above passage, you can realize GotHotResults.com is turning to be a dangerous hijacker virus. The main threat of this malware is that it redirects your search results to unsafe websites contains false contents, which bring you into a scam. This hijacker virus makes your system be shown into threat and even use antivirus delete it, it will come back to users' computer in a minute. It cannot be completely removed by antivirus. It is also bundled with numerous virus and malware. hijacker virus is designed to escape the antivirus software which this virus creates many files and hide them under system folders. Therefore, it is important to remove this virus immediately before it makes you lose money and makes your computer crash. If you encounter difficulties to handle this virus according to above passage, your computer may be infected with its variant of hijacker virus. Manual removal is a hard work with great risk. You need to remove all the virus infected files and registry entries manually. If you have not sufficient expertise in dealing with program files,.dll files and registry entries, it may lead to mistake damaging your system. If you have some problem dealing with this Trojan virus manually, you are welcome to contact with YooCare 24/7 Online Expert anytime you are available. YooCare will help you with any kind of PC problem.
Note: If you found it is difficult to follow the removal guide above, please contact with YooCare PC experts 24/7 online , YooCare experts will help you remove GotHotResults.com from your computer completely.


Published by & last updated on September 6, 2012 12:30 pm