"Il Suo computer e'stato bloccato da sistema di controllo d'informazione automatico" is a message wrote in Italian popping up on your screen. In English, it means that your computer has been blocked by the control system of automatic information.. In fact, it is caused by a ransomware virus that is similar to GVU virus can lock your computer. It seems that this ransomware is popular in Italy. In fact, many people all around the world have become its victims. This virus has a legal appearance like official notice. It states that you have been found visiting illegal websites and local government has blocked your computer. To unlock your computer, you need to pay 100 pounds. Many people have been cheated with its false legal appearance. After they finished the payment, they got nothing but lost their money.

Half of computer users may get infected with it by visiting some malicious websites. Once your computer is attacked, it disables editing the registry, accessing the task manager and getting access to the system in any way. You can't access your own system anymore. Hence, the most important thing you should do is using the effective manual removal guide to remove it completely.
The following instructions require certain levels of computer skills like editing Windows Registry and other related operations. If you're not computer literacy or need instant solutions to resolve this
"Il Suo computer e'stato bloccato da sistema di controllo d'informazione automatico"
virus, please
live chat with YooCare experts now
.
Screenshot of this ransomware infection: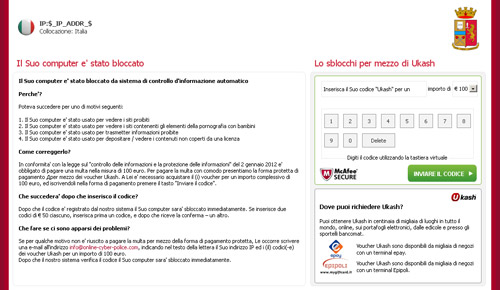 Some symptoms of this ransomware infection:
1. It installed into your computer without your permission.
2. It locks your screen, your Windows Task Manager, you task bar and so on.
3. It pretends as a legit security warning stating that your computer is locked.
4. You must pay 100 pounds to unlock your computer.
This ransomware is dangerous and needs to be removed ASAP:
Once this ransomware virus sneaks into your computer, it would block some functions of your computer and display false alerts and pop-ups, stating that your computer is doing some illegal activities, and local police office has blocked your computer. 100 pounds is required to unblock your computer. This is a big scam. If you trust what this message said, your financial security would be taken into danger. From above description, you should keep in mind that this virus is a threat to your computer and your financial security. You need to remove this ransomware from your computer as soon as possible.
The Most Effective Way to Remove this ransomware -Manual Removal?
Step 1: Press CTRL+ALT+DEL or CTRL+SHIFT+ESC. Open the Windows Task Manager.
Step 2: Within the Windows Task Manager click on the Processes tab. Find the associated processes. Select it with your mouse or keyboard and click on the End Process button. This will kill the process.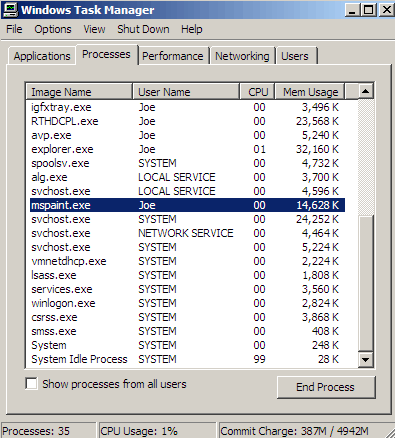 Step 3: Delete malicious registry entries.
HKEY_CLASSES_ROOT\PersonalSS.DocHostUIHandler
HKEY_CURRENT_USER\Software\Microsoft\Internet Explorer\Download "RunInvalidSignatures" = "1?
HKEY_CURRENT_USER\Software\Microsoft\Windows\CurrentVersion\Internet Settin
Step 4?Remove malicious files
%Documents and Settings%\All Users\Application Data\[random]\
%Documents and Settings%\All Users\Application Data\[random]\[random].exe
%Documents and Settings%\All Users\Application Data\[random]\[random].mof
Based on various situations and computer skills, you can choose the following solutions fit for you.
1. Follow the steps we provide to manually remove the virus.
2. If you failed to remove "Il Suo computer e'stato bloccato da sistema di controllo d'informazione automatico" with the method above, please consult YooCare certified professionals to remove it completely. Live chat with professionals now


Published by & last updated on June 14, 2012 9:41 am