Alureon is a type of Trojan virus that is designed by cyber criminals to steal computer users' personal data. The Trojan virus can follow the tail of a computer system's network traffic and steal account information, passwords, online banking data and credit card number and so on. This is one of the most dangerous malware infections. The Trojan virus will damage your system files and make your system crash, once you get infected with this Trojan virus, your system be shown into threat and even users use antivirus delete it, it will come back to users' computer in a minute. This is because Alureon Trojan virus is designed to escape the antivirus software. This Trojan virus will open a security hole that is used to download other malicious malwares. Before your computer is overrun with malwares, you need to remove Alureon from your computer immediately and completely. Manual removal is the most effective way to handle this Trojan virus.
Screenshot of Alureon Infection: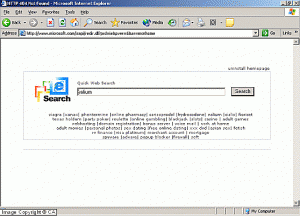 If you failed to remove Alureon , please consult YooCare certified professionals to remove it completely.
Why Did You Get Infected with Alureon Trojan Virus and What Will Happen after Get Infected with That?
Computer victims may get Alureon Trojan virus after they download and install a rogue security programs. Sometimes computer user uses freeware or shareware which contains Alureon virus. Sometimes users click on unsecured links or open unsafe files received in your Email. Sometimes users search in illegal websites which Alureon can install by itself when you click the site links. Once the Trojan virus enters a computer system, it takes over the Windows service and injects a malicious code into infected computer. It can damage system drivers. Once computer system is infected with this Trojan virus, it will cause browser redirects and lead its victims to fake search engine websites. This is really nasty.
Alureon is a threat proved by those harmful symptoms:
1. Alureon installs or runs your computer without your permission at the background.
2. Alureon redirects searches and homepages, and changes your desktop background image and Browser homepage settings.
3. Alureon slows down your computer considerably.
4. Alureon is not be removed completely by antivirus software.
5. Alureon installs other types of spyware/adware.
Dangers of Alureon Trojan Virus infection:
Alureon infection will change your registry settings and other important windows system files. If Trojan horse Alureon is not removed it can cause a complete computer crash.Alureon Trojan virus will help hackers to steal personal information like passwords, credit card, bank account information etc. The virus is really a big threat to computer and users' financial security. So it is very important to remove Trojan horse Alureon as early as possible before it steals your information. This Trojan horse Virus will display fake infections of security warnings on your computer. And it is hardly removed by antivirus security tools. Computer victims should use manual removal way to get rid of this Trojan virus from their computer completely.
Steps to remove Trojan horse Alureon manually:
Step1. Press CTRL+ALT+DELETE to open the Windows Task Manager. Then stop all the Trojan horse Alureon processes.
Step2. Click on the Processes tab, search for Trojan horse Alureon process, then right-click it and select End Process key.
Step3. Click Start button and select Run. Type regedit into the box and click OK to proceed.
Step4. Once the Registry Editor is open, search for the registry key "HKEY_LOCAL_MACHINE\Software\Trojan horse Alureon" Right-click this registry key and select Delete.
Step5. Search for file like %PROGRAM_FILES%\Trojan horse Alureon and delete it manually.
Step6. Search for file like c:\Documents and Settings\All Users\Start Menu\Trojan horse Alureon \ and delete it manually
Step7. Search for file like c:\Documents and Settings\All Users\Trojan horse Alureon \ and delete it manually
However, please note that manual removal of Trojan horse Alureon is a time-taking process. Moreover, it does not always ensure full removal of Trojan horse Alureon infection due to the fact that certain files might be hidden or even may be restored automatically after you restart your computer. In addition, such a manual interference might damage the Computer.
Similar Video Shows You How to Safely Modify Windows Registry Editor:
Based on various situations and computer skills, you can choose the following solutions fit for you.
1. Follow the steps we provide to manually remove the virus.
2. If you failed to remove Trojan Alureon with the method above, please consult YooCare certified professionals to remove it completely. Live chat with professionals now


Published by & last updated on May 26, 2012 1:46 am