Have been infected with Windows Secure Surfer rogue and required for money for the "licensed" version so as to remove all the threats? Have tried every antivirus applications and none of them work? This malware should be removed manually and immediately out of your computer before more dangerous consequences happen.
What is Windows Secure Surfer Virus
Windows Secure Surfer is known as one of the fake antivirus programs from the Rogue.FakeVimes family. This scam as usual has a trustworthy but deceitful look and pretends to be a legitimate PC system protection software. But the intention is always the same–to get your money out of your pockets. It is said to be an Internet crime that has been quite popular in these days.
Windows Secure Surfer rogue will boast to you that it can help to remove malware and viruses found in your computer, optimize and speed up your computer system. The most popular way to be infected is via the help of trojans in system backdoor activities. Once being infected, no antivirus applications can remove it and it will just appear each time after you reboot the computer. Lots of pop-ups will show on your desktop. Windows Secure Surfer will run a fake checkup through your computer as soon as the reboot is done. Then it states your computer is full of critical errors, viruses and malware and other problems that will do harm to the system. But none of the above is truly existing. By saying that, this bad malware will strongly recommend itself to you as a authentic malware remover. After the installation, you will be asking money to pay for the full version of it so that it can completely help you remove all the detected errors and bugs etc. Even if you do make the payment, it is not only useless in removing those viruses, but may cause a lot more damages to your system. Therefore, it is the best option to not believe in it and to realize that it should be removed without any doubt.
Screenshot of Windows Secure Surfer Virus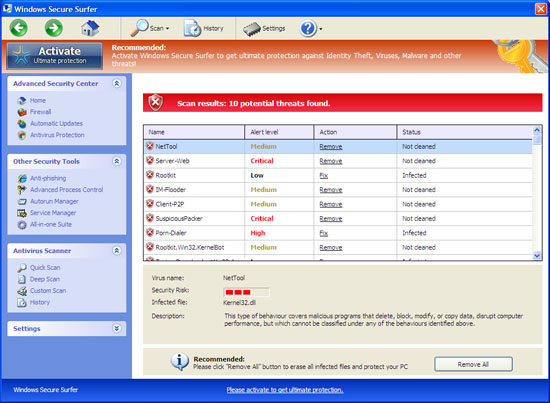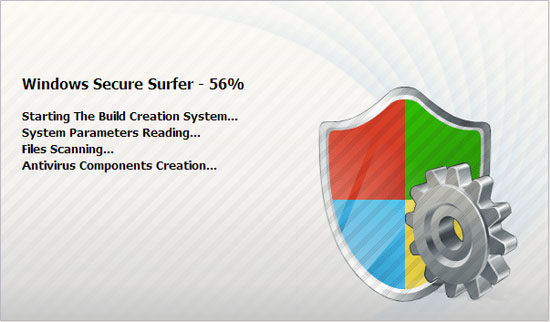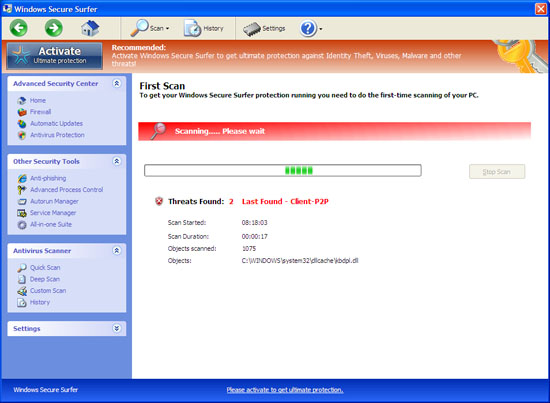 Fake Security Alerts Examples
Warning created by Windows Secure Surfer virus
Firewall has blocked a program from accessing the Internet
C:\programs files\Internet Explorer\iexplore.exe
Is suspected to have infected your computer. This type of virus intercepts entered data and transmits them to a remote server.
Error
Attempt to modify Registry key entries detected.
Registry entry analysis recommended.
Some Consequences to Notice
1. Other spywares and viruses will be installed without your permission;
2. Personal privacy is in high risk of exposure to the open;
3. Icons from both the desktop and the Start menu will be disappeared;
4. Shortcuts won't work any longer as this rogue has relocated the files;
5. Significant files, folders, system data, pictures, musics, etc. will be hidden from you to find.
Similar Video Shows You How to Safely Modify Windows Registry Editor:
Manually Remove Windows Secure Surfer Scam Step by Step
Normally this kind of rogue needs to be removed manually as it cannot be 100% removed by antivirus programs. Following are some steps for your consideration:
1. Press Ctrl+Alt+Del to open the Windows Task Manager;
2. End the process Windows Secure Surfer.exe;
3. Find out and delete all these associating files :
%AppData%\NPSWF32.dll     %AppData%\Protector-[rnd].exe      %AppData%\result.db     %AppData%\NPSWF32.dll
%AppData%\Protector-.exe    %AppData%\Protector-.exe        %AppData%\result.db
%CommonStartMenu%\Programs\Windows Secure Surfer.lnk        %Desktop%\Windows Secure Surfer.lnk
4. Find out and remove all these associating registry entries:
HKEY_CURRENT_USER\Software\Microsoft\Windows\CurrentVersion\Run\"Windows ProSecurity Scanner" = "C:\Program Files\Windows Secure Surfer\Windows Secure Surfer.exe"
HKEY_CURRENT_USER\Software\Windows Secure Surfer
HKEY_CLASSES_ROOT\.keyHKEY_LOCAL_MACHINE\SOFTWARE\Microsoft\Windows\CurrentVersion\Uninstall\
HKEY_CURRENT_USER\Software\Microsoft\Windows\CurrentVersion\Run "Inspector"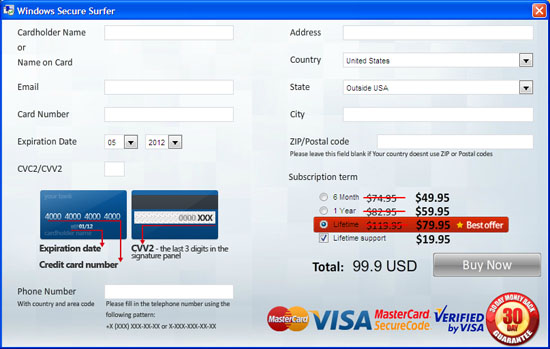 Note: If you don't have much computer background knowledge and in case that any mistake might occur and cause unexpected results, please contact YooCare professionals in taking care of users' computers for a fast and immediate help.


References: 
Published by & last updated on November 13, 2012 6:12 pm