Attacked by Data Recovery virus? Don't know how to get rid of it?
Data Recovery virus is a fake antispyware program that comes from the same family as PC Repair, Windows XP Repair, and Windows XP Fix etc. It is also known as the clone of S.M.A.R.T HDD. All this kind of rogues is actually the same but with various names and appearances. The creators have to put them in different outlooks in order to escape from the detection of antispyware programs. When you visit webpages including malwares or download files that contain viruses, a special Trojan hidden in the files will be able to create the way for the Data Recovery virus to get into your PC system and do further damages. Once being infected, you will be seeing numerous pop-up alerts stating that your PC system has been severely infected in order to make you believe it is true. But the truth is, none of the viruses that have been detected really exist. Besides, you will also be forbidden to download anything from the Internet. The only purpose of this fake result is to convince you in every possible way to finally purchase the full version of this fake antispyware program. It is quite obvious to users who are familiar with computer viruses that this rogue is just trying to rip off your money as much as it can and will not solving your problems.
Overview of Data Recovery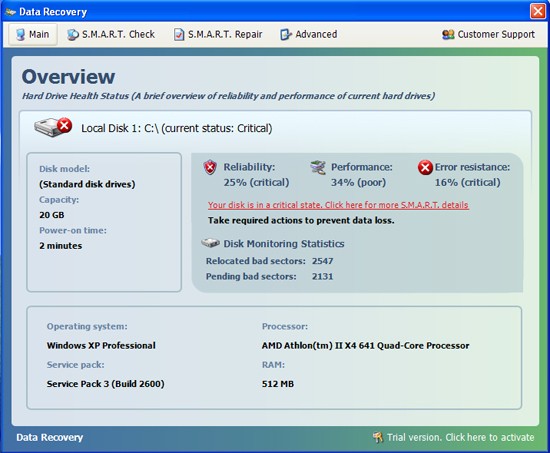 Symptoms and Warnings
– All the icons in the START menu and on the desktop will be all gone.
– The wallpaper of the desktop will be changed to a blank and black one without permission and right click of the mouse won't be working any longer.
– The properties of files in your disks will be automatically marked as hidden so that you can find any of them.
– Warning: A write command during the test has failed to complete. This may due to a media or read/write error. The system generates an exception error when using a reference to an invalid system memory address.
– Hard Drive Failure: The system has detected a problem with one or more installed IDE/SATA hard disks. It is recommended that you restart the system.
How to get rid of Data Recovery virus manually?
If you don't feel 100% certain in removing the viruses completely, it is suggested that you backup your system before the fixing session in case that any mistake might occur and your computer won't work. Several steps have been given in the followings:
1. Restart your computer and keep pressing F8, then use arrow keys to select "Safe Mode with Networking" and press ENTER;
2. Click Start button and search for the register entries and files of Data Recovery virus;
3. Restart again and run scan with the authentic antivirus software to check and make sure if everything's fine.
Fake Data Recovery Virus Removal Video Guide

Important Note: Since the removal of this virus requests expert skills, please contact YooCare professionals without any hesitation to fix your problem if you failed to remove it.


Published by & last updated on June 7, 2013 12:21 pm